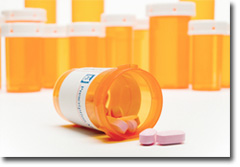 In June, 2012, Walmart became the first national pharmacy retailer to offer free, Talking Prescription Containers to people with visual impairments.  The ScripTalk Talking Prescription program is offered to customers across the country through Walmart mail order.  In addition to the national mail order program, Walmart now offers ScripTalk at 33 stores around the country.
If you'd like to order ScripTalk talking prescription containers, first you should contact Walmart. You can call Walmar's dedicated toll free phone line for ScripTalk requests.  The toll free number is 1-888-227-3403.
To listen to the talking label provided by Walmart, you will need reading device from Envision America, the company that makes ScripTalk.  The device you will need is called a ScripTalk reader (or the ScripTalk machine or device) and is
available free of charge to Walmart pharmacy customers who are blind.  Envision America has a dedicated toll-free line for requests, and for general ScripTalk service & inquiries.  You can reach Envision America by calling 1-855-773-2579 (1-855-SPEAK-RX.)
If you are a Walmart customer with a visual impairment who's store is not yet offering ScripTalk, contact Walmart at 1-888-227-3403 to request that the ScripTalk containers be offered at your store.