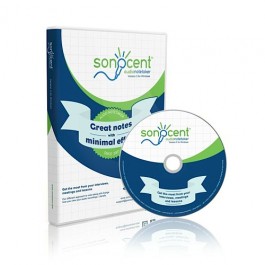 Sonocent Audio Notetaker is a visual, creative and interactive approach to note-taking for students with dyslexia, ADHD and other learning difficulties. Instead of writing things down, students create their own notes from audio recordings; by formatting, annotating, coloring and adding presentation slides to a visual representation of speech. Students can take notes live during class or import digital recordings and create notes at their leisure.
Audio Notetaker is an audio-based software program for note taking. Instead of relying on taking written notes, you use the original audio itself to take notes. Whether you're recording meetings, lectures, interviews, dictations or even VOIP/Skype phonecalls and webinars, Audio Notetaker makes it easy to get the most value out of your audio. Take screengrabs, import presentations slides or PDF documents and annotate your recording with text and color to create the most comprehensive notes ever.
Instead of a single stream of information, Audio Notetaker splits your recording into individual phrases and displays them on screen as a bar. You can then organize these bars by color coding sections and removing sections. You can add meaning to these bars, annotating them and importing PowerPoint or PDF slides to create comprehensive and meaningful notes. However you use text or color is up to you.