Podcast: Play in new window | Download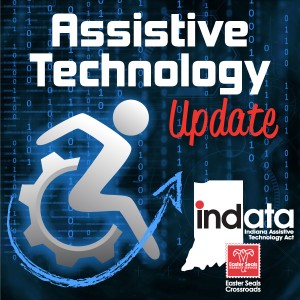 Your weekly dose  of information that keeps you up to date on the latest developments in the field of technology designed to assist people with disabilities and special needs.
Show Notes:
GW Micro Announces that Windows is now free for Microsoft Office owners.
——————————
Listen 24/7 at www.AssistiveTechnologyRadio.com
If you have an AT question, leave us a voice mail at: 317-721-7124 or email tech@eastersealscrossroads.org
Check out our web site:  https://www.eastersealstech.com
Follow us on Twitter: @INDATAproject
Like us on Facebook:  www.Facebook.com/INDATA
—–transcript follows—–
JEREMY CURRY:  Hi, I'm Jeremy Curry, director of training for GW Micro, and this is your Assistive Technology Update.
[Music]
WADE WINGLER:  Hi, this is Wade Wingler with the INDATA Project at Easter Seals Crossroads in Indiana with your Assistive Technology Update, a weekly dose of information that keeps you up-to-date on the latest developments in the field of technology, designed to assist people with disabilities and special needs. Welcome to episode number 138 of Assistive Technology Update. It's scheduled to be released on January 17 of 2014.
We have a special episode today. The INDATA Project is an Indianapolis, Indiana, and we have another producer of assistive technology stuff here in the states, GW Micro. GW Micro is in Fort Wayne, so they are our neighbors to the north, and they have been producing assistive technology for many years. They are the manufacture of the popular screen reader Window Eyes, and they invited me to come and spend the afternoon with them just a few days ago as they had a press conference and made a big announcement that they are now going to be making their product available for free to individuals who have Microsoft office 2010 or higher. This is a software that cost almost $1000 in the past, and making it free certainly changes things for folks who need a screen reader.

I'm going to start by playing an excerpt from the press conference where they make the announcement to the world, then I'll spend a little time talking to Dan Weirich who's one of the co-founders of GW Micro. I'll talk with Dan Hubble from Microsoft, he's there accessibility evangelist on what's means for Microsoft, and then we're going to get a little more nitty-gritty with Jeremy Curry and talk about the details of what this announcement means. We hope you enjoy this special episode of Assistive Technology Update and will see you next week. After this one, we're going to have an interview with some folks talking about wheelchair basketball. We'll see you next week.
DAN WEIRICH: Okay, thank you very much. Just want to thank everyone for being here today. We've invited a number of guests to come here, so will run through some quick introductions and you can talk to them later. Certainly thanks to the mayor, Tom Henry, whose here today. He'll give a few comments. David Nelson with the League for the Blind and Disabled here in Fort Wayne. And no other particular order, Carlos Taylor has come from Paul State University, he's the adaptive computer technology specialist. I've known Carlos says maybe he was 16. He's a shining star. Wade Wingler is hear from Easter Seals crossroads, director of assistive technology. Eric Weidenfeld is from IPFW director of services for students with disabilities along with Julie Shrader, also IPFW, she's accommodations specialist and services for students with disabilities. Also like to introduce on my right is Dan Hubble from Microsoft. You've heard of Microsoft Corporation. He's a senior marketing manager, but the title I really like these he's the assistive technology evangelist. That really explains what he does. Jeremy Curry is to my immediate right. Jeremy's sales manager with GW Micro and Director of training. And my name is Dan Weirich, I usually use the title Vice President of Sales and Marketing, and I'm one of the cofounders along with Doug Joffrey who's in the office right now probably fielding tens of phone calls.
The reason we invited so many of these guest is to help tell our story. It's a difficult story. We provide products for people who are blind, and this is sometimes complicated, hard to explain unless that's you or you have a family member who is blind. So each of these people can kind of explain a little better from their perspective, from their point of view. If you could imagine if you're a small business, and you want to hire somebody who's visually impaired, you might be faced with where do I get this product and how do I pay for this product. Or maybe there's someone that's blind [Inaudible] enter trying to purchase products online independently. Or maybe you're a state agency like Voc Rehab, or you're a city agency, city government or state government or federal government, and you employ people with disabilities and are faced with a budget. I have this much money to spend. What can I do? All of these scenarios are being affected by this new project, this new announcement.
Of course the problem in the past has always been one of this particular person isn't considered employable by certain standards? So they may not get these services. In the United States, if you have a disability, and by and large the assistive technology is funded through vocational rehabilitation. It's tied to employment. So if someone doesn't fit in that category of being employable, that it may be difficult for them to get funding for these kinds of products. So this is all part of this story, and I will encourage you at the end to maybe talk with our experts, because they are the people that will be affected by this.
To get started, let me read our press release. GW Micro is proud to make a revolutionary announcement. GW Micro and Microsoft Corporation has partnered to make Window Eyes available for uses of Microsoft office at no cost. Window Eyes is a screen reader that enables people who are blind, visually impaired, print disabled to have full access to a Windows PC. It makes the computer accessible through speech output or braille output on the braille display. To better deliver Window Eyes to the people who need it most, GW Micro and Microsoft has collaborated in this global initiative – it's available in over 15 languages – to enable anyone using Microsoft Office 2010 or later to use Window Eyes for free. Access to technology is critical to people who are blind, visually impaired. It ought to have the same opportunity to compete in the workplace with people who are cited. This initiative between GW Micro and Microsoft has the potential to reduce barriers for millions of people who are blind or visually impaired around the world. Eligible customers using Microsoft Office 2010 or later are able to download a full version of Window Eyes starting now www.windoweyesforoffice.com. Website provides download instructions as well as additional details on downloading the software. To keep this brief, I'd like to invite Dan Hubble to give a few minutes to speak and give some of his perspective as to this announcement.
DAN HUBBLE: My name is Dan Hubble, I'm from Mark South Corporation, and I'm the technical evangelist for our accessibility group. This is a really important announcement for Microsoft and for users of Microsoft office. Microsoft vision and mission is to empower people and businesses throughout the world to realize their full potential, and people with disabilities sometimes have had a hard time doing that with technology, because technology can provide barriers particularly in the case of what we've been talking about, people with visual disabilities. So this opportunity for us to partner with GW Micro has really been about how we bring in most opportunity for people with disabilities to be productive at home and be productive in the workforce. So this partnership with Microsoft office and GW Micro really is an effort for us to show that the barriers to technology should be taken down as much as we can do to bring people to be more productive in the workforce. We're excited today to being a part of bringing technology to millions of people who may not otherwise have the opportunity and access to this technology and the past.
DAN WEIRICH:  Thank you. I'd like to ask Jeremy Curry if he could step up for a moment and give another perspective as to these opportunities.
JEREMY CURRY:  Good afternoon. Today here in Fort Wayne, Indiana, with a new global initiative, global collaboration between GW Micro and Microsoft, we are literally changing the world for thousands, maybe millions of people who are blind or visually impaired. People like myself who may have had barriers because of lack of access to assistive technology are now finally able to get past those economic barriers and be able to get access to jobs that they didn't have access to in the past. Not only is this effective in the United States, but since it's a global initiative, this is for developing countries as well. So people who didn't have the economic resources are now able to get access to this technology. This is a substantial leap forward in the assistive technology industry as well as for GW Micro and Microsoft as well as they continue to show their commitment to people with disabilities including people who are blind or low vision. And so we just want to say thank you very much for Microsoft for collaborating with us, and we're very excited about this announcement as we literally change the world today.
DAN WEIRICH: Are there any questions?
QUESTION:  How will it affect GW Micro to be giving away your main product, or will you be getting anything from Microsoft to at least cover your development cost, or are you transitioning to become a nonprofit?
[Laughter]
DAN WEIRICH: Some of the answers were going to know better than six months then we know today. Certainly working alongside Microsoft right now is providing us the ability to do that. It gives us an opportunity to look at how technology is evolving. Technology is evolving. People today expect to pick up a phone and do something cool with it for free. So that kind of environment is in a lot of places, so we're looking at that and we're determining how we're going to respond to that in the future.
QUESTION:  In the past, we've been accustomed to getting updates and that type of thing, how is that going to be addressed?
DAN WEIRICH:  So we're still supporting what I'm going to call a full retail version of Window Eyes. We are still planning to sell Window Eyes as we have in the past, and for people that already own Window Eyes, we're still providing upgrades just like we have, and major upgrades – I'm not going to get out dates as we always kind of hedge on one they're going to be released – those will still take place. If you think of two parallel products moving at the same time, we're still going to honor all those. All the people who already have Window Eyes still will have Window Eyes.
There are some differentiations. We don't want to get too technical, but there's people who have the full retail version of Window Eyes and have always gone full, unlimited tech support. People who have Window Eyes for office now are going to be getting charged for parts and technical support. Will support installation, but were going to be charging a fee for the technical support which is more in line with a lot of the industry. If you buy accounting software, you know you pay a great deal for technical support. That kind of a model. There's some other differences too. Before Window Eyes includes several speech synthesizers that are built into it though of course we pay for it. With the free version, that version is going to have e-speak and the Microsoft speech platforms, but if you want the very human sounding voices, will sell those voices. It's kind of an enhancement. Those are some good things that are different between the two products.
This is a game changer for them. This really changes the world. Thank you very much for coming here, and will be here for questions and answers. Thank you.
WADE WINGLER:  And I'm here with Dan Weirich, one of the cofounders of GW Micro. Dan, you guys that some pretty big news today.
DAN WEIRICH:  Yes, we announced today that there is a new collaboration with MacSoft and GW Micro, and anyone who owns Microsoft office 2010 or later can download Window Eyes at no cost. This is the full version of Window Eyes so it doesn't mean it only works with office, but that's the website, windoweyesforoffice.com
WADE WINGLER:  Excellent, and were going to have Jeremy give us some of the technical nitty-gritty on this, but tell me from somebody who's been in the industry since 1990 – and I remember spending some time with you guys and a candy factory here in Fort Wayne many many years ago when you are working on DOS 5 I think was a number – what does this mean for GW Micro?
DAN WEIRICH:  This increases our reach. It gives us a larger portion. We can now reach many more people than we were able to do before, because there are a lot of countries where there is no funding. There are a lot of people here in the United States that don't qualify for funding. Now were going to be able to reach those people; they'll be able to use Window Eyes to be more productive, increase their quality of life, they want to go shopping for his presence, they can do that easy. Maybe their students that wants to go to college or something. It's easier access for them. Maybe they want to be employed. All of those cases, this helps them, which helps GW Micro.
WADE WINGLER:  Dan, I know that you guys have partnered with Microsoft for years on many things. I'm sure this partnership means a lot to you as well.
DAN WEIRICH:  It's good to work this closely with Microsoft. We've had a good close relationship with them for many years, so we visit them, they visit us. We work very closely, but this is special. Effect to work extremely close with the office team in particular to make this work and function properly in the way we want it to function. Also with their people to make this announcement clear, to cover all our bases. How do we answer these increasing number of tech support calls. As you may know, Microsoft has a phone number for assistive technology support, so they are on board. They've gone through some Window Eyes training as well. To make this entire thing work, it was a very close relationship.
WADE WINGLER:  Excellent, I'm excited to be here and congratulations.
DAN WEIRICH:  Thank you very much, Wade. We are really happy you're here.
WADE WINGLER:  I am in Fort Wayne, Indiana today, and I am with Dan Hubble from dissolved. Dan, how are you?
DAN HUBBLE:  I'm doing very well. How are you today?
WADE WINGLER:  Doing great. Dan, thanks so much for being on Assistive Technology Updates today. We are talking about some pretty interesting news, some things that are happening here with in Fort Wayne with GW Micro. It's just been announced that Window Eyes is going to be available for our soft office users. Jeremy Curry has told us the details about that, but what does this mean from Microsoft's perspective?
DAN HUBBLE:  Well, from our perspective, this is about providing as much choice as possible to our customers with assistive technology and accessing office. We have our own product, Narrator, which we're going to continue to support and add improvements to, but we also recognize that it may not be as competitive as a tool as some people would like, particularly in the workplace. So we've partnered with GW Micro to provide Window Eyes free of charge for anybody running office 2010, 2013 currently, and it allows them to install and use it as a full screen reader, not just for office, but you can use it with any application within the Windows environment.
WADE WINGLER:  So this really is pretty groundbreaking information. I think the earth moved a little bit today. Don't you think?
DAN HUBBLE:  I don't know how prevalent earthquakes are here in Indiana, but being from the West Coast, I'm familiar with them and it certainly I think by the time we were done with the webinar, several of us had a flood of emails already coming into our inbox.
WADE WINGLER:  Good, where excited and will share more details in the rest of the interview. Thanks for being with us today.
DAN HUBBLE:  Thank you for having me.
WADE WINGLER:  I'm in Fort Wayne, Indiana, on January 14, and I just attended a webinar and a press release from GW Micro about some pretty groundbreaking news in the field of assistive technology. Standing here in front of me I have my good friend and previous guest on the show many times, Jeremy Curry. Jerry – I mean, Jeremy, how are you?
JEREMY CURRY:  I'm doing good, Wade. How's it going?
WADE WINGLER:  I'm calling you the wrong name. We've been doing a lot of talking today. You guys shook the earth a little bit today with your press release. Tell us what's going on.
JEREMY CURRY:  Yes, some groundbreaking stuff. Basically what it boils down to is you can now get Window Eyes for free if you own excellent office 2010 or later. If you got 2010 or later installed on your computer, you can download Window Eyes at windoweyesforoffice.com at no cost.
WADE WINGLER:  That's kind of a big deal. I've been working in this field for a long time, and products in this category generally cost in the thousand dollar range, and there has been changes in the few years that has free options out there. But this is the first time I have seen one of the solid, formally commercially available products take this route, so this is a big deal.
JEREMY CURRY:  Yeah, this is very huge. It's not only here in the US. We got over 15 languages, so this is a global initiative, and the way this has happened is Microsoft and GW Micro have collaborated together. We are not owned by Microsoft; we are still GW Micro, they are still Microsoft, but faith enabled us to make this available at no cost. It will work exactly like it's always worked.
There are some minor differences, so for example if you own Window Eyes right now, if you're a current Window Eyes customer, you get unlimited text support. If you want to tech support with this free version, it's the insulation tech-support that's free, but beyond that you got technical support plans you pay for. So that's one difference, the tech support. You do not get an installation CD with the free version, but you can download it, and you could buy an installation CD if you wanted to. Braille and hotkey guide if you're a Window Eyes customer, you got that. Was this refreshing, you don't get that, but you can order it. Synthesizers, or some of you know them as "voices." If you want the high quality stuff, you can add those for a cost. This Window Eyes, the free one, ships with e-speak and Microsoft's speech platform. In addition was the full page copy of Window Eyes, get an ad free experience with GW connect, our Skype clients. You don't get that with the free version, but against that something that you can add out if you want to. You can add on basically everything with an added costs if you want to. Those costs are significant. If you don't want to add that stuff, you don't have to and it doesn't cost you a dime.
WADE WINGLER:  So let me recap those who prepared the technical support will be a little bit different. You're kind of taking what's becoming the industry standard approach where you're going to charge for per incident, and I think the pricing is $25, or 12 incidents over the course of a year for $99. Is that correct?
JEREMY CURRY:  Yeah, $99 for what we call a 12-12 plan, or $25 for a single incident. But all the insulation issues are free.
WADE WINGLER:  You will get at on GW connect with this particular version, and you're not going to get all of the supporting material in the printed documentation, just the stuff that can't be downloaded, right?
JEREMY CURRY: You got it.
WADE WINGLER:  Excellent, so people who have a copy of Window Eyes now, and they're doing scripting and Window Eyes, or they are doing at on apps in the exact that, is that going to continue to work in the new version?
JEREMY CURRY:  Good question. All of those apps and scripts are going to continue to function just like they always have. In fact, if you went and downloaded the free version, you really wouldn't see a difference at all in the interface. It would look exactly the same, you would download the same apps. It works in all the web browsers. It works just like it has with any other copy of Window Eyes.
WADE WINGLER:  This is going to be available for free to folks who own excellent office 2010, 2013, 365 as well?
JEREMY CURRY:  If you have 365 and you basically have to make sure that the client is installed. As long as the client is installed, then it will work. It's real simple. The snow activation process, because as long as office is installed and activated, you download Window Eyes and then it basically just works because it sees if office is installed and activated. If it is, it works just like normal. If not, it goes into a 30 minute demonstration copy.
WADE WINGLER:  I know that Microsoft has changed the way that you can get access to Office, and that's become more cost-effective, but if folks don't have Office, if they've just got Windows, they are going to have what in terms of Window Eyes?
JEREMY CURRY:  If they don't have office, you can still get the paid version if you wanted to, but if you don't have office, there's a 30 minute demonstration copy. Of course you mentioned office 365. You can get that for $10 a month, so if you were doing that, you could basically run Window Eyes for that much money they are paying for office.
WADE WINGLER:  So although not totally free in that scenario, that's a very low price want to get involved. I mean, you're talking whatever the cost of 365, around $10 a month or so, you can have a version of the operating system and the office suite as well as a full copy of Windows with those differences we talked about.
JEREMY CURRY:  Absolutely, so whether you're a professional student, or personal user, it's very inexpensive if you want to do that if you don't have office already. If you do, then it doesn't really cost you a dime.
WADE WINGLER:  I thought I heard somebody mention a lot of universities provide Microsoft office either free or at very low cost for students. Those are going to work two?
JEREMY CURRY:  Yeah, absolutely, all of those versions will. In fact, there's a version of 365 called University or something like that. If you're using that, as long as you have the client installed, or if you bought one of the University licenses, as long as office is installed you're good to go.
WADE WINGLER:  Jeremy, you know I've been involved with GW Micro four years, and I absolutely love you guys, but you also know that I have an Apple thing going on the side. The question I would be remiss if I didn't ask, how does this relate to what Apple has done with Voiceover, and is now Window Eyes now kind of the Voiceover for Microsoft products? Where are we, what do you think?
JEREMY CURRY:  That's a really good question. Does that mean we are comparing apples and oranges? I think this is definitely a game changer for the assistive technology industry. I think it remains to be seen exactly what's going to happen in regards to Apple. Obviously Apple changed the paradigm, they changed the way people look at AT, so we had to make some changes to keep up with that. Microsoft recognizes that as well. We just came together and maybe this will be a direct competitor. I'm not really certain at this point. As of one we are doing this interview, we release testing maybe half an hour ago so it's going to be interesting to see how well it takes off. I think it may be a direct competitor to it.
WADE WINGLER:  I think you're probably right. As a look at the industry, and I've been doing this for a while, I think you guys have done something pretty impressive today. If folks are listening to this podcast and say, I've got to get me some of that, where do they go to download and what's that install process look like?
JEREMY CURRY:  It's all one word, windoweyesforoffice.com. It's real simple. There's a combo box, you choose your language comes to press enter, there's a link that says a download now, you downloaded, run the executable, and you've got Window Eyes.
WADE WINGLER:  Excellent. Jeremy, thank you so much for inviting us up for the press release today and talking with us. I look for to hearing some of the buzz around the industry over the next few weeks as this is kind of takes hold.
JEREMY CURRY:  Thanks for having us. It's always good to see you.
WADE WINGLER:  Do you have a question about assistive technology? Do you have a suggestion for someone we should interview on Assistive Technology Update? Call our listener line at 317-721-7124. Looking for show notes from today's show? Head on over to EasterSealstech.com. Shoot us a note on Twitter @INDATAProject, or check us out on Facebook. That was your assistance technology update. I'm Wade Wingler with the INDATA Project at Easter Seals Crossroads in Indiana.