Zippers, buttons, and tags–oh my!  These features are found on a majority of clothing.  To many, seams and zippers are, well, seams and zippers; but for several children with autism, these are often insurmountable obstacles. Lauren Thierry, the mother of a boy with autism, created the "Independence Day Clothing" line to help children with autism or other special needs be able to dress themselves independently.
Almost 9 years ago when her son, Liam, was 7, Thierry envisioned an easier morning routine. "A scratchy shirt tag, a twisted sock seam, an ordinary wristwatch–that stuff can send someone with autism into tantrums, can make them tear off a shirt while on a school bus or kick off a shoe in a shopping mall," says Thierry.  She was a former journalist and used her background to research clothing options for individuals with autism.
Years later, she met with New York City-based designer Dalila Anderson to see if her idea for a line of sensory-sensitive, fashionable clothing was plausible.  Anderson began sketching ideas of reversible clothing, seamless, etc.  Ergo, the Independence Day Clothing line was designed.  Thierry initially proposed the line to address safety and dressing issues for the special needs population, only to have focus groups tell her everyone wants stuff that's easy to wear.
Anderson commented, "Children want to be able to hang out with friends and feel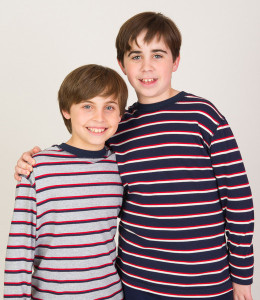 like they are just one of the other kids, not have their clothing unzipped, unbuttoned, or backwards, in a way other people take for granted."  The ID Clothing line features cargo pants, dresses, tunics, leggings, rugby shirts and hoodies–all of which are seamless, buttonless, tagless, zipperless and either two- or four-way reversible.
There is an even more compelling innovation in this clothing line: GPS tracker.  As mentioned in my previous blog titled Autism Resources in Fiction, the Centers for Disease Control and Prevention currently estimates that about 1 in 68 children in the U.S. has been diagnosed with autism.  And according to the National Autism Association, roughly "48 percent of those children will attempt to wander from a safe environment–a rate nearly four times higher than their unaffected siblings."  So the Independence Day Clothing line features soft, sensory-sensitive, hidden compartments that house a small GPS device.  The device is placed in a way where it won't bother the wearer and it wouldn't be visible to someone else.  For more information on the GPS device, visit the Independence Day Clothing's website on the Phoenix 5 Global Tracking GPS technology.
Applied behavior analysis therapist, Lisa Keane Herrera, attended a focus group for the clothing line.  Herrera, who has worked with children on the autism spectrum, including Liam, for more than 10 years, summed up the benefits of the the clothes:
 "You could see that the kids [with autism] were happier overall.  It's good for their self-confidence.  A task that may have taken thirty minutes may now take five.  I know parents that spend hours ripping out tags and seams.  This is cutting edge for someone who can't advocate for themselves."
To learn more about Independence Day Clothing, be sure to visit their website here.