This morning I awoke to sparkling frost covering blades of grass and my van's windows.  Though I am not at all ready for the cold (nor will I ever be!), the feeling of Jack Frost nipping at my nose always makes me grin from ear to ear because I know the holiday season will soon be here!  (44 days 'til Christmas–and counting!  Eeek!)  Anyone who knows me probably knows this is my absolute favorite time of the year.  However, I've noticed in recent years that many adults carry the "bah-humbug!" attitude through the New Year due to financial and emotional stress.
Gift giving has no doubt become more stressful as it seems all anyone wants nowadays is a fancy smart device with a price tag of $200 or more.  Reality is, we now live in a connected society where we spend most of our time staring at computers, tablets, and phones.  Though these gadgets offer many benefits, especially to individuals with special needs, it's advised that we all unplug every once and awhile.
If you're wanting to find interactive, engaging toys for your child this holiday season, look no further!  For the next few weeks, I'll be writing a series of gift ideas (priced $30 and under!) for children with special needs.  This week focuses on toys to work on listening and hearing skills.  In the upcoming weeks, we'll focus on toys designed to benefit: visual skills, creativity skills, social skills, cognitive skills and more!
8 Gift Ideas for Auditory Development: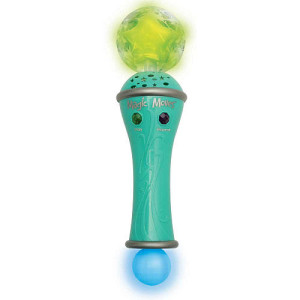 Ages 4 and up
The Magic Moves Electronic Wand is all about being active!  It features 90 fun, physical commands, twinkling light shows, and a variety of musical styles to get the kiddos moving.  The wand not only encourages physical activity, it also sparks one's creativity and helps develop listening skills!
Ages six months-3 years.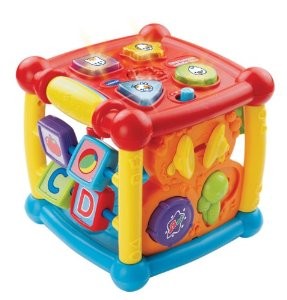 The Busy Learner's Activity Cube by VTech features five sides ready for little ones to explore.  It encourages imaginative play with music, light-up buttons, colors and more.  Shape and animal buttons introduce animal names, animal sounds, and shapes.  Sliding, spinning blocks also promotes interaction and fine motor skill development.
Ages 5-9 years
This product is a two-book set featuring Ace, "the Talking, Teaching Dog pen."  Ace will help teach children different reading and language arts skills: letter recognition, phonics, grammar, and more.
See also: Educational Insights Hot Dots Jr.: Let's Master Kindergarten Math.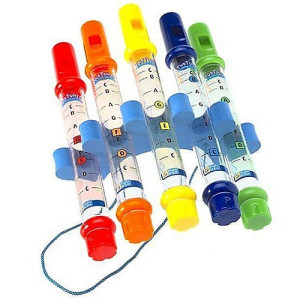 Ages 3 and up
Is getting your child in the tub a challenge?  The Tubtunes Water Flutes may encourage them for bathtime!  With the Tubtunes flutes, kiddos will have fun creating beautiful music during their bathtime.
Ages 12 months-5 years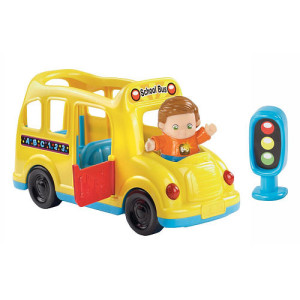 Go! Go! Smart Friends Learning Wheels School Bus by VTech features three MagicPoint locations that encourage imaginative play and emphasize cause and effect relationships.  It features Mr. Gavin, a character in the Go! Go! Smart Friends.  By placing him in the bus, children will bring him to life with fun phrases, motion, lights and more!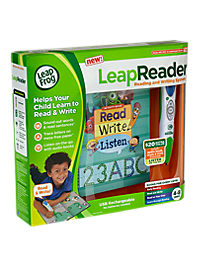 Ages 4-8 years
The LeapReader helps children learn how to read and write by guiding them through letter strokes and sounding out words interactively.  It features "imaginative stories with lively character voices to help build your child's vocabulary and reading skills."
Ages 3-7 years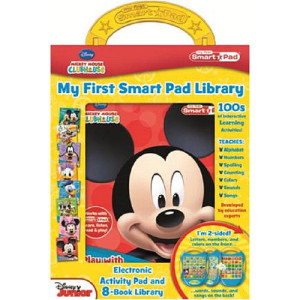 The Mickey Mouse Clubhouse My First Smart Pad Library features thousands of interactive educational activities.  It is a double-sided electronic activity pad developed by educational experts and teaches counting, colors, songs, numbers, spelling and more.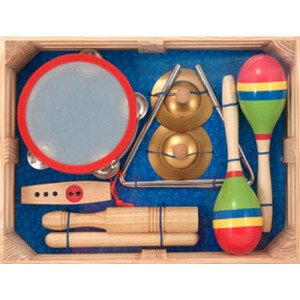 Ages 3 years and up
With this Sound Off! Musical Instrument Set, children will learn to enjoy the wonders of music.  The set includes a tone block and stick, tambourine, triangle, two cymbals, kazoo and two maracas to help them explore various sounds of these high-quality instruments.  Promotes listening skills, cause-and-effect and exploration of rhythm and musical sounds.