Looking for an affordable solution to help your child with reading?  The Sounding Out Machine is an app that transforms the iPad into an assistive reading device!  The app was developed by FizzBrain, "a mom-and-pop studio committed to bringing the latest and very best of educational practices into the world of apps."
The Sounding Out Machine app helps children focus on difficult words when reading, and then models/teaches them how to sound out those challenging words.  In other words, "The Sounding Out Machine does for students what a teacher would do if she were sitting next to them!"
Children are able to isolate and enlarge a challenging word with the Word Window.  Then, the app "models how to chunk the word into syllables and use phonics skills to blend the phonemes together and sound out the word.  Children can use their own digital word card to practice and become independent."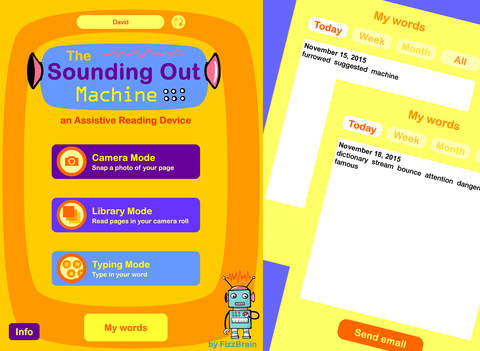 Who might benefit from using The Sounding Out Machine?
Individuals who need modeling in chunking words and using phonics strategies to sound them out
Students who have difficulty coordinating an index card on a book page
Those who prefer reading text on a screen
Students who "report their book page looks like a 'sea of words'–the Word Window helps them focus in on challenging words"
Features of The Sounding Out Machine:
3 different modes

Camera mode: take a picture of the book page
Library mode: load in page images from the photo library
Typing mode: type in challenging words

Ability to track students' progress

App emails teachers/parents a report of students' challenging words.

No root words necessary

"Figuring out the root of a word in order to use a dictionary can bog down many young readers.  So the Sounding Out Machine allows children to submit a word in many forms, such as 'reply,' 'replies,' 'replied' or 'replying.'  This allows them to quickly continue with their reading work instead of getting stuck."

Customizable

Digital markers and keyboards are customizable

Dictionary

The app has an extensive dictionary of more than 80,000 words
If the word is not included in app, let the developers know and they'll add in updates!
To learn more visit iTunes!