One of my favorite places to eat at is anything with Asian cuisine.  May it be Chinese or Japanese fusion (sushi, yum!), they always set the table with chopsticks in lieu of silverware.  Sadly, using traditional chopsticks is never an option for me with my tremors and clumsy fingers.  However, I stumbled across a company coined SmartStix that offers different chopsticks' solutions for individuals of all ages!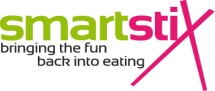 Before diving into the different products from SmartStix, let's cover the benefits of using the Edison Chopsticks!
They stimulate brain development:

"Elaborate movement and control help kids develop and stimulate their brain activities.  Compared to the aggressive nature of the fork poking motion, chopsticks are delicate and peaceful.  Using chopsticks exercises 30 joints and 50 muscles of the body and the precision for picking up small objects will improve concentration."

They're easy to learn and fun to use:

Edison chopsticks will help train your child to use chopsticks the proper way.  Plus, children love the colorful characters!

They help develop good handwriting habits:

"The posture and angles for using chopsticks are very similar to pen holding and writing grip."

Improved self-confidence and balanced diet:

"Children will develop self-confidence when they can confidently using chopsticks just like their parents."
Children have been known to want to eat their vegetables with the Edison Chopsticks!
Which SmartStix Chopsticks do I use?
The SmartStix website provides a helpful guide to help you decide which product may work best for you or your child.
Step 1 Preschool Training Chopsticks:

Ages 3 to 5 years

3+ due to the small parts.

Features a thumb ring and 2 other rings to guide the index and middle fingers into the correct positions.
The tips of these chopsticks are flat and embossed to assist in picking up food.
Has a top connector which is available in fun characters such as Thomas the Tank Engine.

Step 2 Training Chopsticks:

Ages 6 and up
In lieu of the top connector, these chopsticks are connected by a bridge to assist in aligning the chopsticks and ensuring they don't cross.
Silicone rings are provided for the second and third fingers and props to position thumb and fourth finger.

The rings can be removed for more advanced use.

Available in fun characters.

Junior Training Chopsticks:

Ages 8 and up

Also ideal for adults with small hands

They look like traditional chopsticks, but feature 2 silicone support rings for the 2nd and 3rd fingers and a bridge that connects the 2 chopsticks.
A prop is provided to support the thumb and the 4th finger to ensure correct placement on the chopsticks.
The ends are tapered like traditional Japanese chopsticks, and are embossed to help pick food up easily.

Adult Training Chopsticks:

The adult version of the junior chopsticks with a bridged connector.
The chopsticks are longer like traditional chopsticks
Soft, larger silicone rings suitable for all finger sizes.

Rings can be removed for advanced training

Available in orange and green.
Visit the SmartStix website to learn more!
Check out a review from an occupational therapist here!