Many individuals with arthritis, carpal tunnel syndrome, and more, often experience handwriting difficulties.  Traditional pens and pencils lack the ergonomic design which helps reduce fatigue and pain.  There are two products designed to benefit individuals with handwriting challenges: Ring Pen and Ring Pen Grip.
Ring Pen
The Original Ring Pen is noted to be "the next generation of ergonomic writing tools."  It is a unique writing pen that helps individuals with arthritis, carpal tunnel syndrome, repetitive stress syndrome, as well as those who lack fine motor skills.
To begin writing with the Ring Pen, simply slide your finger through the ring of the pen and begin writing!  The weight of your index finger will provide the perfect amount of pressure to write; the balanced weight and hand position takes the discomfort out of writing.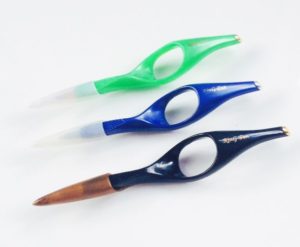 Features:
Easy to use, no need to tightly grip.
Relieves pain and cramping for individuals with carpal tunnel syndrome, arthritis, hand surgery rehabilitation, reduced fine motor skills and more.
"Puts the fun back into writing!"
Available in small and large sizes:

Small size: available in green or blue; fits students and adults with smaller hands/fingers
Large size: available in black; fits most adult-sized hands
Ring Pen Ultra Ergonomic Grip
While the original Ring Pen is a standalone pen, the same ergonomic stature can be available for most traditional pens and pencils.  The Ring Pen Ultra Ergonomic Grip allows you to convert any pen or pencil into a comfortable writing utensil.
To get started with the Ultra Ergonomic Grip, simply select what pen, pencil, or paintbrush you'd like to use and slide the Grip onto the utensil.  Now you can write comfortably on a conventional writing utensil!
Features:
Designed to help relieve writing pain and discomfort for anyone with arthritis, carpel tunnel syndrome, repetitive stress syndrome, or anyone who lacks fine motor skills in fingers or wrist.
"Better handwriting through ergonomic design."
Available in 3 different sizes:

Small: ideal for children
Medium: ideal for many women
Large: ideal for men

For right-handed use only