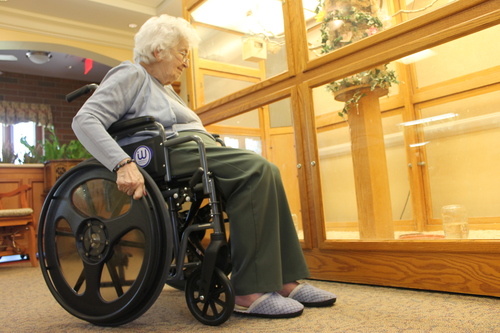 Moving freely in a standard manual wheelchair is often a difficult task for individuals living with disabilities. IntelliWheels Easy Push makes pushing a wheelchair twice as easy.
The Easy Push employs gears in each wheel to make it easier to move in whatever direction you choose — over any surface. The gears do the all the work, so you don't have to.
IntelliWheels Easy Push is easy to install and fits on any foldable wheelchair. Geared wheels remove the need for a motor or batteries. The Easy Push operates similar to shifting gears on a bicycle.
IntelliWheels move wheelchairs more than twice as far as the same force exerted on a normal wheel chair would. The gears are enclosed in heat-treated, weather-resistant aluminum, ensuring durability, efficiency and aesthetic appeal.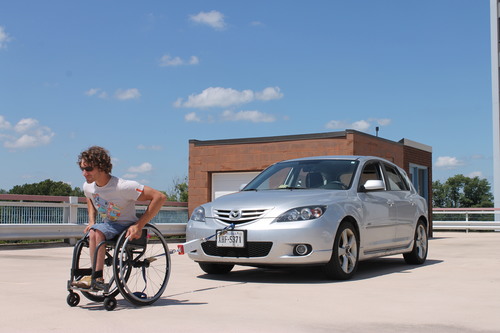 It works so efficiently, Josh George, a Paralympian was able to pull two cars. Watch the video.
"The advantage I found is that it is much easier to get around. You feel freer." — Joann, Resident at Clark Lindsey Assisted Living Facility

"I like it! It's not as hard to push; you don't have to feel like you are really yanking on it to go." — Peggy, Resident at Champaign County Nursing Home

"She (Peggy) was really receptive to this technology. Power chairs can be very intimidating, and it was not intimidating to her, and it was very intuitive for her to figure out how to push the chair around. She liked the design because she said she was able to grab onto the push rims and it was much easier than her regular wheelchair." — Jean, Occupational Therapist at Champaign County Nursing Home
"It's allowed for some of our individuals to stay in assisted living level of care as opposed to a skilled level of care, and that in insurance and reimbursement alone is just huge for the state." — Kellijo, Restorative Nurse / Wellness Coordinator at Clark-Lindsey
The Easy Push is intended to be used by aging wheelchair users and pediatric wheelchair users, people who need assistance in everyday activities like maneuvering through tight spaces in their homes or even going up and down short ramps.
Visit the website to learn more about the IntelliWheels Easy Push.