A little while ago, I wrote about how you can set up your very own multi-sensory room.  Sensory rooms benefit individuals with autism, ADHD, Sensory Processing Disorder, and much more.  However, creating your own sensory room can cost thousands of dollars!  If you're looking for a more affordable solution for your home, check out the Aura LED Projector.
The Aura LED Projector allows you to bring the many beneficial effects of sensory rooms around the world into your very own home!  The projector is available from Flaghouse for around $300.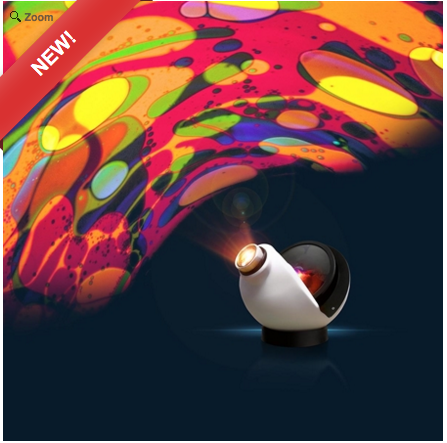 Aura LED Projector Features:
Dimmable functions
Off timer capabilities
LED: no bulb changes and less heat
Includes a Liquid Wheel (not specified)
May be remotely controlled via the Opti Aura app available on both Android and iOS
Built-in Wheel Rotator
Constant slow movement provides visual and vestibular stimulation
Ideal calming solution for "problem sleepers"

You can set the off-timer or use the Opti Aura app to turn off the unit once they're asleep.

Can be used with any 6″ Effect Wheel.  Examples of available Effect Wheels include:
Not compatible with:

Panoramic Rotator
Distortion Wheel
Clip-on Prism
Multi-Facet Mirror
Click here to learn more about the Aura LED Projector!