Podcast: Play in new window | Download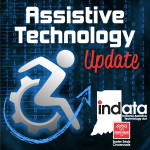 Your weekly dose of information that keeps you up to date on the latest developments in the field of technology designed to assist people with disabilities and special needs.
Part 1 – What's new with VFO – Eric Damery, JAWS, Zoomtext, Fusion and more
www.freedomscientific.com | www.aisquared.com
App: Jamie Oliver Recipes | www.BridgingApps.org
——————————
If you have an AT question, leave us a voice mail at: 317-721-7124 or email tech@eastersealscrossroads.org
Check out our web site: https://www.eastersealstech.com
Follow us on Twitter: @INDATAproject
Like us on Facebook: www.Facebook.com/INDATA
——-transcript follows ——
ERIC DAMERY:  Hi, this is Eric Damery, I am the Vice President of Software Product Management of VFO Group, and this is your Assistance Technology Update.
WADE WINGLER:  Hi, this is Wade Wingler with the INDATA Project at Easter Seals crossroads in Indiana with your Assistive Technology Update, a weekly dose of information that keeps you up-to-date on the latest developments in the field of technology designed to assist people with disabilities and special needs.
Welcome to episode number 304 of Assistive Technology Update. It's scheduled to be released on March 24, 2017.
Today I have a part one of an interview with Eric Damery over at VFO, formerly known as Freedom Scientific, about what's new with their company and products. And also the folks from BridgingApps to do an app review talking about an app that focuses on recipes by the famous Jamie Oliver.
We hope you'll check out our website at www.eastersealstech.com, give us a call on our listener line at 317-721-7124, or drop us  note on Twitter at INDATA Project.

***
Each week one of our partners tells us what's happening in the ever-changing world of apps, so here's an app worth mentioning.
AMY BARRY:  This is Amy Barry with BridgingApps and this is an app worth mentioning. This week's app is called Jamie Oliver's recipes. If you are familiar with Jamie Oliver, the British celebrity chef and restaurant tour, then you will know from his numerous food shows and TV appearances that he has an incredible energy and passion for good food. He has an excitement for cooking and fresh ingredients that is seen in his appreciation for healthy eating that is centered around happy meals with friends and family.
Jamie Oliver's recipes is a cooking app that connects users to a fun and delicious collection of recipes with weekly additions of new recipes. Anyone who wants a fun, motivating format to learn and practice their cooking skills while creating creative delicious food will appreciate the app.
The app is free to download and allows users to have access to 15 recipes a week released every Monday. The weekly recipes come in a series of different collections, each with three recipes. For example, we trialed epic curry night, warming winter salads, go Latino, and comforting classics. There is an upgrade available for a one-time fee of $6.99. The upgrade allows users to have access to over 600 recipes at any time, including all of the recipes and each week's collections.
Along with recipes, the app includes a section of tips and tricks for the kitchen. These include video and picture tutorials. We found these to be particularly helpful. For example, one tip was how to make perfect rice which included a video of Jamie Oliver teaching us how to cook the rice. The app also lists related recipes that go along with each tip. Our video tutorial on rice provided us with 12 recipes that include rice. The recipes within the app are easy to read and well organized, with each recipe beginning with an action word for preparation. Each recipe includes a shopping list which can be instantly downloaded for your trip to the store. The recipes also include an equal but list so you can have all of your essentials ready before you begin to cook. The recipes also include the number of servings and the time it takes to prepare. Recipes that are vegan, vegetable, gluten-free, or dairy free are noted but we found that some of the recipes lacked those notations.
Our favorite part of the app is the cook now button. Once you are ready to prepare your recipe, you simply click on click now and the app walks you through a picture tutorial of each step along the way.
This is a great app for young adults with disabilities that are transitioning from high school to college or work. This app can help them gain confidence with their competence and independence in the kitchen. There are several ways to use Jamie Oliver's incredible energy and his incredible story to engage students in a classroom environment before the cooking fun with the app begins. The app would also be great for families and seniors who are looking for new recipes.
Jamie Oliver's personal experience regarding his own diagnosis of severe dyslexia is extremely inspiring and powerful. Several audio and short clips with interviews where she specifically talks about having dyslexia and reading his first book at the age of 38 years old are available online.
Jamie Oliver's recipes is available at the iTunes Store and is compatible with iOS devices. For more information on this app and others like it, visit BridgingApps.org
***
WADE WINGLER:  What you are about to hear is a two-part episode of an interview with Eric Damery who is the vice president of software product management for the VFO Group. They make products like JAWS and Zoom text and fusion and magnifiers and all kinds of great stuff. We had so much to talk about that we are going to break it between two episodes. You will get the first half this week and the next half next week. Without further delay, here we go.
Around our shop, we talk about various assistive technologies, things that are coming out, new product that are happening, the industry happenings. One of the questions that have been buzzing around our meetings and our lab is wow, there is a lot going on with programs like JAWS and Zoom text, especially Zoom text 11. There is a lot happening with a group called VFO. Is in that freedom scientific?  Those questions about conversation to our group. I thought we would go ahead right to the source. We reached out to the folks over at VFO Group, and somebody that I've actually known for years, Eric Damery, who is the vice president of software product management at VFO Group. I thought, let's talk about what's happening at the company level and the product level and get the scoop on what's happening with products for folks were blind or visually impaired.
Thank you for taking time out of your day and hanging out with us.
ERIC DAMERY:  No problem. It's great to be here and nice to talk with you again.
WADE WINGLER:  It's been a while since we talked. I know you've been in the industry for a long time. I remember when Henry Joyce and Blaise became Freedom and people were talking about those kinds of things. You and I haven't been in contact a whole lot lately, but I thought it might be helpful for my audience to hear a little bit about you personally and how long you've been in the industry and what that journey has looked like, and I'm going to ask you some questions about VFO Group and get into some specific product related stuff.
Let's start by hearing about you and your journey in the assistive technology industry.
ERIC DAMERY:  It's been a great time. I have several decades now, causing on my third decade in the industry. Just briefly, I found this industry in 1993. My father was a visually impaired veteran. He had gone some technology from Arkenstone, the first open book. They delivered that technology to the house. He called and asked me to look at it. I was so impressed with what was being done and the independence that people could gain, it led me to look into this a little bit further. That's where I met Ed Hunter and the folks at Hunter Joyce and got started with them in 1984. It's been great working with the JAWS technology all of these years. I spent a great deal of time in the mid-90s learning how to use a screen reader and proving to myself and to customers that you could in fact try Windows. It was a lot of fun. It's come so far. It's amazing what we've done.
Freedom scientific formed in 2000, and most recently VFO Group was formed. I know a lot of people have heard about this name change, what it means. It's just a consolidation so to speak of several companies coming together that oftentimes are working on the same problems, trying to solve the same issues that people have, and provide technology through the same channels. Optelec from the Netherlands, Freedom Scientific here in St. Petersburg, and last June AI Squared from Vermont have all come together under the VFO umbrella. It's great because we are now in the same room working on the same problem putting out solutions that will work across the platforms and making sure that these products all come together and work together. I think it's a huge benefit to us. I just love the fact that we are now working with AI squared to make these products function together. I pointed this out at CSUN this year. Scott Ward was in the front row as I was in my presentation. I pointed out that we had both been at CSUN at 25 years and our products had never worked together until this year. It's a great thing getting the developers in the same room and realizing that everybody has solved problems a little bit differently. I think things are going to happen and move quickly. That's what we are seeing already, and it's only been nine months now that our teams have been together. We've made some huge strides.
WADE WINGLER:  A couple of things come to mind. I started in industry in 1993 as well so you and I have been doing this about the same amount of time. Wasn't that the version of Arkenstone that only worked on SCSI scanners and had 19 floppies to do the install?  I think that's the one.
ERIC DAMERY:  The one that might dad got came on a arc and clone computer. They built a computer box. It came preinstalled on a computer they provided.
WADE WINGLER:  That must've been a later version where you could do your own scanner. Back to VFO. It fascinates me from an industry perspective. What's the V-F-O?
ERIC DAMERY:  That's a great question. I think the F was freedom scientific. I think the O was Optelec. I think it didn't make any sense because we knew wouldn't be done with freedom and Optelec when freedom scientific came along. V happen to be an organization called vector capital that decided to help consolidate the industry, so vector capital got involved. None of us really quite know what it means. It doesn't really matter because the other brand still exists. There is still a freedom scientific brand, there is still a Optelec brand, there is still a AI squared brand. We are keeping those.
WADE WINGLER:  I would argue that it does matter because we are talking about it. I think at the very least it gets us talking about it. There are so many companies like that where we don't remember what the letters stand for. You talked about what this means from a development perspective. Tell me a little bit about what VFO means for the industry perspective overall.
ERIC DAMERY:  I recall when you and I got started in this, there were very small – what we refer to at the time as mom-and-pop operations. I know when I came into Hunter Joyce, there were nine of us in the company at the time. We were one of the bigger companies. Most of the companies were 2 to 3 people. It's really hard to continue to develop and stay on the cutting edge of technology if you don't have a fairly big organization, big not just from the development side but from the sales perspective, from the support perspective. So today as we look at being able to put together the Optelec group and the Freedom Scientific and the AI Squared group, we now have a major presence in Europe. We also have a very large support organization, people doing technical support, scattered all over the globe. They are all working together and all getting information disseminated to them from the main organizations. I think what happens is the customer experience becomes much better because it's easier to learn how you deal with something.
I'll give you a good for instance. JAWS for Windows has been licensed and authorized in a particular way. The AI Squared product has been licensed and authorized in a different way. They don't work the same. The distribution channel really wrestles with this trying to support the customers because they have two different teams they have to work with and two different organizations they have to contact and find out what versions they are out and what the process is to get upgraded. That stuff shouldn't be rocket science. That's not the technology that people are buying. That should just work. I think making the authorization, making the insulation, and making the ability for the distribution channel to help the client simplified by having a single way of doing it will really benefit everyone in the long run. That's where you're going to see our movement with a lot of the things that will go on and VFO. That's one of the big ones in my mind.
WADE WINGLER:  That makes sense. In some ways you are just describing what happens when a global organization starts to work well together. I think you're describing some economies of scale. You will redo some overhead of the business aspect and pull your development and integration together a little bit. Are there other impacts on the customer that you think might be there?  We going to have smoother integration between technologies?  Are we going to have better customer support?  What other kinds of benefits to see for the customer?
ERIC DAMERY:  All of those things. From the technology standpoint as far as how they work together, you see it in JAWS and Zoom text today. One of the big problems when you run the two products in the past is that there would be no tracking. You go on the webpage. A JAWS user knows you press the letter H to move between headings, but Zoom text wasn't tracking the JAWS virtual focus, so when you would move by heading with the quick navigation key, Zoom text wouldn't be there. Now they are because the technology is not talking to each other. Each product can be aware of what the other one is doing at the moment.
As far as tech support, we are cross training all of our people, both here in Florida, Vermont, and the Netherlands, and we are getting everyone familiar with each product so we can start having a much larger pool of support people to help a variety of customers that are often times having the same or similar problems, depending on which product they are running.
WADE WINGLER:  That makes a whole lot of sense. Here's another question I had. I was given a guest lecture at a local university last night, and some of the students – these were education students in a graduate program – said, "Well cautioned assistive technology be free and aren't these new, free options out there and available?"  We had an interesting conversation about the kind of support you get when you're getting a professionally supported product and the robustness of applications that aren't open source applications. I don't want to set up the debate to talk about that cobble what I am interested in is, do you think with the development of VFO and these economies of scale, will you see an impact on the consumer price of assistive technology?
ERIC DAMERY:  I think the consumer price for assistive technology has come down significantly over the years. I remember, and you will remember, that when we came into this business, if somebody wanted to get a screen reader with a good synthesizer, it was about $2,000. The synthesizer was over $1,000 on its own. Today we have high quality commercial screen readers with top of the line software synthesizes that can speak 30 languages, and users are participating in our home use technology, and they own the technology and they take advantage of it and use it for cost of about $50 per year. The cost of consumer assistance technology has come down significantly and I think it will continue to improve. When you think about owning a screen reader, getting tech support, getting monthly updates, and all at the cost of about a dollar a week for the people in the US on the home use program. There are thousands of people participating in that that have gotten into the program either through their place of employment or attending the national conventions. I know that that program's been so successful, we are even looking at expanding it further in other ways. I hope people who are not in it today ask and find out how to participate in a program like that because this is going to be expanding and there are lots of opportunities for people to get into it.
WADE WINGLER:  I think that's a great time that we should probably talk about contact information. If they are interested in that particular program or just learning more about VFO and products, what's the phone number?  What's the website?
ERIC DAMERY:  If you're employed, if you work with an organization, please check with your organization and find out if they are in the home use program. Basically any organization can get into it if they own a current Freedom Scientific or AI Squared multiuser license and they mentioned it, its current, then that organization is perfectly capable of getting into the home use program. If somebody wants to learn more about it, they can contact Freedom Scientific customer service and ask to speak to a sales representative that would be able to help work with their organization and we will get someone talking to them and get them signed up.
FreedomScientific.com is still a website people can go to, as is AISquared.com. Those are the places you seen. However you've been contacting us in the past is how you should continue today. That hasn't changed just because of VFO.
WADE WINGLER:  Excellent. I know there's a whole lot going on with products. I know there are some things happening with Windows 10 and development in those areas that we decided we wanted to talk about today. Let's start with some of that. I hereby Zoom text for example and JAWS. What's going on with those product lines?
ERIC DAMERY:  As you know, JAWS for Windows has been released on an annual basis with upgrades. Generally the end of October each year, a software management agreement paid-for upgrade is released. This past year was no exception. JAWS 18 came out at the end of October. Then during the course of the year, continue to flow with changes based on consumers calling in to support, identifying an issue, and us getting it resolved and that update getting out in the next monthly update, or features that we were not able to finish and complete in the initial release then getting rolled through the course of the year. Those are ongoing.
Zoom text is now going to be brought into that model. Zoom text we hope to get released at the same time as JAWS, but it slipped. Zoom text 11 release came out in the January timeframe. I know the first update, at the time of this recording is just after 10 o'clock on the 16th, so the first update for Zoom text 11, which is going to be an 11.2 update is free for all users of 11, just posted 20 minutes ago. It's already out and there'll be another one coming in the second quarter. There will be another JAWS 18 update coming out around April 4. We will continue to make modifications and pump them out very quickly. If you go to the AI Squared website, get a hold of the link to that update, and look at the release notes, you'll see that there were a ton of changes in there. I know they have been working on things back in the fourth quarter that slipped out of the initial release, but they kept going and kept working on them. This update that just came out today is actually been going on for the last few months. There are a lot of good things that people will get.
I want to point out something else, something that is very important for all of our customers to be paying very close attention to. Microsoft made an announcement a couple of years ago that they were going to change the way they've delivered technology to people. A used to be in the past that they would work on a new version of the operating system for a number of years and roll it out. We had Windows 3.1.1 when we first came in. There was Windows XP. There was Windows 7. There was Windows 98 at one point before that. There was Vista. There was Windows 8, Windows 8.1, and now Windows 10. Now that Windows 10 is out, they said that the change is going to be that at the last operating system, and they are just going to keep updating it. As we are seeing, they are coming out with major updates on about a 6 to 9 month schedule.
Last August or July was the anniversary of the of Windows 10. That was a pretty radical change. They put a lot of change into it and it actually impacted most assistive technology products and certainly hours, and we had to do updates and have them ready to go as soon as it came out. We were able to make that, but I know there was a scramble. They are also now coming out with something called a creators addition. I think that's going to hit in April, this April. We've been working on it through their insider build program for the past few months. It's got a lot of changes in it. Just as with the anniversary edition, it requires modifications to your assistance technology product. Anyone who's going to be getting the creators addition, and it will be pushed to computers, so if you accept updates you will get it. I'm not sure if it's going to hit you in April, May, June, but it will be coming. It's important that you update your assistant to budget and keep it current.
We've actually taken steps and put out updates for JAWS 16 users, JAWS 17 users, JAWS 18, Magic 13.1, and Magic 14, as well as Zoom text 11.2 that just got posted. All of our products have now just been updated. If you are getting Windows 10 updates, it is highly recommended that you go right now, get the latest version of whatever version you have. We only went back to 16 because 16 was the first version that worked in Windows 10. Get those update and install it right over your current build, and you will be ready for the Windows 10 update when it comes. I can't express the importance of this to users. Make sure that you update your assistance technology. When we come out with an update, please take those updates and take them right away because we don't want to interrupt your behavior.
What is the risk?  What would happen if I don't?
***
WADE WINGLER:  I'm not sure we've ever done a cliffhanger ending on an interview on our show before but we are out of time for this week. We will come back next week and into that question on what happens if I don't do my upgrades. We will be rejoined by Eric Damery and will also get into a discussion about Zoom text and fusion and some of the other things happening with the VFO group. We would take you back here next week.
WADE WINGLER:  Do you have a question about assistive technology? Do you have a suggestion for someone we should interview on Assistive Technology Update? Call our listener line at 317-721-7124, shoot us a note on Twitter @INDATAProject, or check us out on Facebook. Looking for a transcript or show notes from today's show? Head on over to www.EasterSealstech.com. Assistive Technology Update is a proud member of the Accessibility Channel. Find more shows like this plus much more over at AccessibilityChannel.com. That was your Assistance Technology Update. I'm Wade Wingler with the INDATA Project at Easter Seals Crossroads in Indiana.
***Transcript provided by TJ Cortopassi.  For transcription requests and inquiries, contact tjcortopassi@gmail.com***