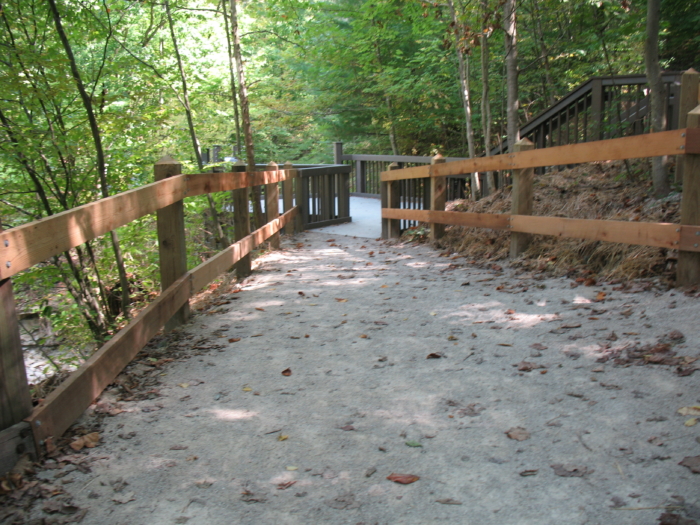 "Indiana is becoming more accessible now than ever before," said Ric Edwards, the Americans with Disabilities Act (ADA) Program Director for the Indiana Department of Natural Resources (DNR).
A wheelchair user since 1970, Edwards has watched closely as the state's level of accessibility has evolved over the years. His work for the DNR involves keeping people up to date with the efforts implemented to make the state's parks more accessible to visitors with disabilities.
His department's 2017 Outdoor Recreation Guide details areas of the state's parks that meet ADA standards.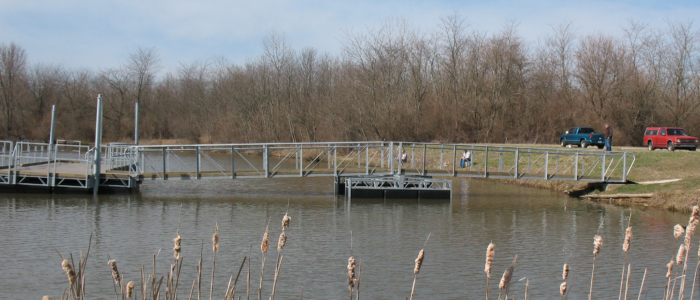 In terms of accessible spots for summer activities, the guide offers an abundance of riches — paved trails, accessible beaches, boardwalks, paddling launches and so much more.
"My personal favorites just depend on what kind of mood I'm in," Edwards said. "If I'm in the mood to commune with wildlife, then I'll visit McCormick's Creek or Turkey Run or Shades State Park, where I can get lost in nature pretty easily. There are more accessible places for summer fun in Indiana than you'd imagine — not just state parks but all sorts of great outdoor spots."
Here are a few of the best places to have accessible adventures this summer, including DNR properties and more!
Clifty Falls State Park
Although it's known for its rugged hiking trails, this popular park in Madison, Indiana also includes many accessible trails and an accessible overlook of its titular attraction, which dazzles visitors even from a distance.
As the DNR website states: "The park's waterfalls change moods with the weather and the seasons, and can range from roaring plunges to delicate bridal-veil mists to gleaming frozen titans."
Holiday World and Splashin' Safari
Along with its reputation for being one of the most family-friendly theme parks in America, Holiday World in Santa Claus, Indiana boasts a slew of accessible features.
First, free parking is available for guests with disabilities. All restaurants and gift shops are wheelchair accessible. The park also has three theaters that accommodate wheelchairs — Santa's Storytime Theater in the Christmas section, Hoosier Celebration Theater in the Fourth of July section, and the Aqua Stadium in the Halloween section.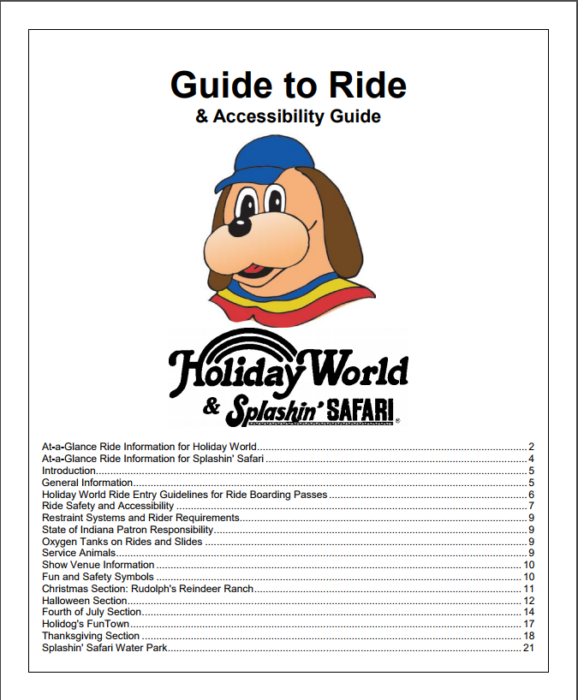 A new, unique feature for guests with disabilities or special needs is the Calming Room located inside the First Aid building, where guests can take "a quiet, relaxing break from the park's sensory stimulation."
Best of all, Holiday World offers an in-depth accessibility guide that was compiled in cooperation with the Easterseals Rehabilitation Center of Evansville, Indiana.
Indiana State Fair
This event is coming up soon — August 4-20. The Indiana State Fair offers several services in accordance with ADA standards, including: free assisted listening devices; accessible seating on all levels of the Indiana Farmers Coliseum; accessible parking; service animals; and more.
Hearing/visual impaired seating is also available, and ASL interpreters can be requested for performances a minimum of 10 business days prior to the date of the event. For more accessibility information, visit http://www.indianastatefair.com/coliseum/plan-your-visit/adaaccessibility-info/.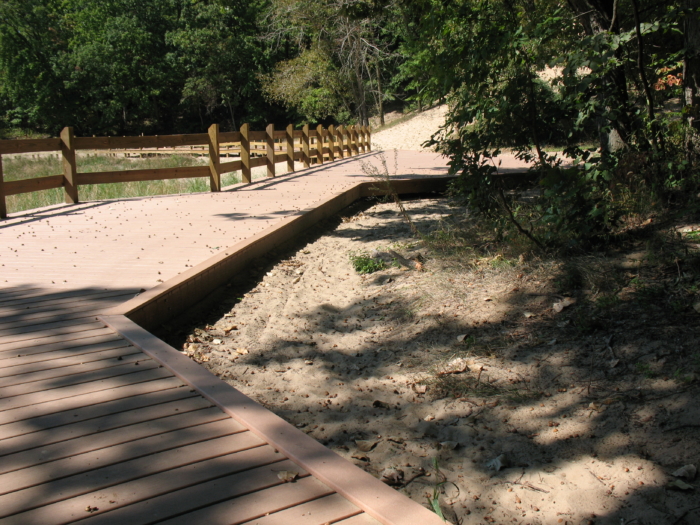 Indiana Dunes State Park
With a 25-mile stretch of sand that hugs a body of crystal-blue water on the southern shore of Lake Michigan, the Indiana Dunes State Park is "the closest thing to the ocean that you'll experience here in the Hoosier State," Edwards said.
But the experience isn't limited to climbing up sand dunes and splashing around in the waters of Lake Michigan. There are plenty of accessible adventures in store for people with disabilities.
The boardwalk on the Great Marsh Trail is an ideal spot for birdwatching while the Portage Lakefront and Riverwalk offers an accessible fishing pier and a paved trail that passes through the dunes.
There's also an accessible paddling launch at Marquette Park, and the Lake View area provides grilling areas, picnic tables and a stunning view of the Chicago skyline.
Taylor's Dream Boundless Playground
Located in Fort Wayne's Kreager Park, this inclusive playground was built from the imagination of an 11-year-old girl.
In 2008, fifth-grader Taylor Reuille conceived the idea for this playground during recess when she noticed a fellow student who wasn't able to enjoy the slides, swings and monkey bars like the other kids.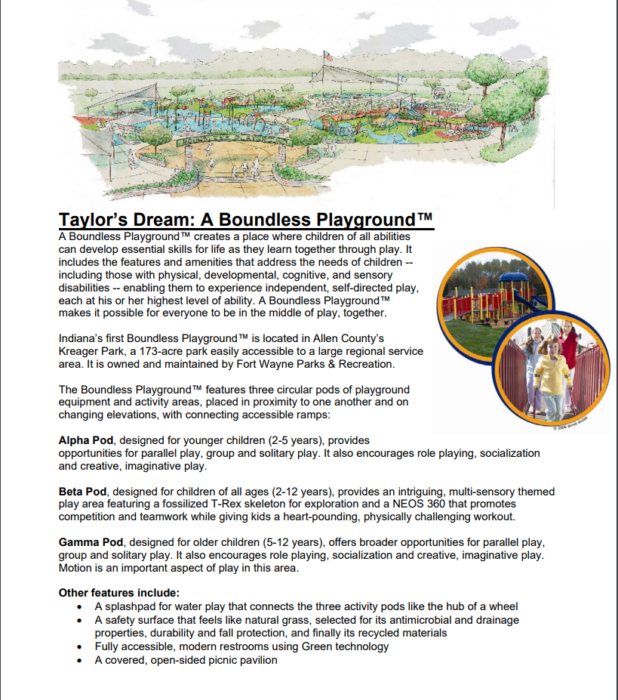 "There are thousands of kids with disabilities — most of them are not able to play at a regular playground because their needs are not accommodated. A Boundless Playground™ serves all children so that we can play together," Reuille said in a statement for Fort Wayne Parks and Recreation.
After years of fundraising and fierce determination, Taylor's dream turned into a reality, opening in the summer of 2011.
Indiana's first Boundless Playground™, Taylor's Dream features three circular pods of playground equipment connected by accessible ramps. Each activity area accommodates children with physical, developmental, cognitive and sensory disabilities.
Although this playground was developed for children, it brings joy to people of all ages. In an article for Accessible Playground, one of the park's attendees, 50-year-old Sherry Woodman, talked about how Taylor's Dream allowed her the chance to fully experience a playground for the first time in her life.
"I'm a disabled parent, and I couldn't come when the kids were little and play with them anywhere on a playground because I couldn't get through with the mulch — you know mulch is really hard for wheelchair tires and stuff," said Woodman. "Parents with disabilities are going to be able to come here and feel like normal parents and be able to just enjoy their kids. I didn't leave here till I'd been on every part of the playground — I wanted to do it all."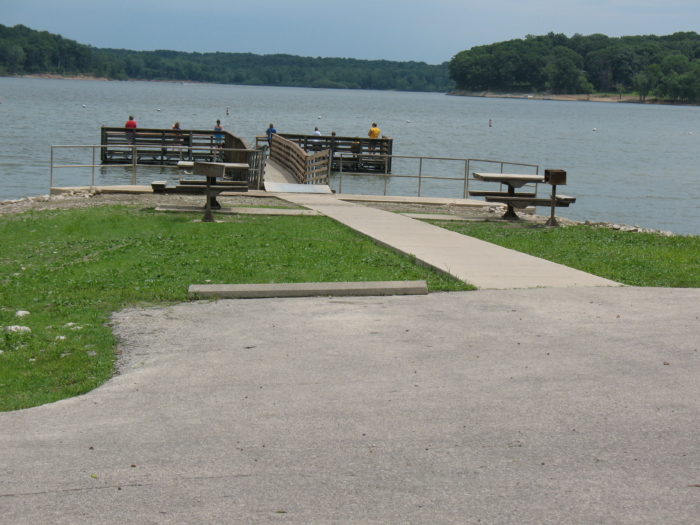 Start Your Adventure Today!
Keep in mind — these are just a few of the many accessible adventures Indiana has to offer. There is plenty more in store for people with disabilities this summer and all year round.