WinBridge WB003 Voice Amplifier:
You've probably seen people using a voice amplifier when they're giving a tour, teaching a course, or speaking at a special event.  However, did you know a voice amplifier, such as the WinBridge WB003 can also be a vital piece of assistive technology?
Individuals with certain conditions, such as muscular dystrophy, may not have the strength to speak loud enough for people to hear.  The WinBridge WB003 is a compact gadget that can help them speak loud and clear.  This can be an essential piece of technology in both social and business settings.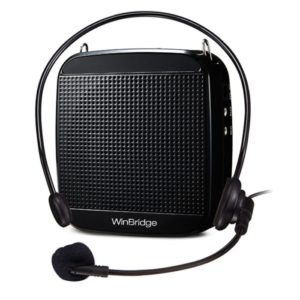 What's inside the box:
Amplifier
Waistband (3.9 feet)
Wired microphone headset
Audio cable
Charging cable
9V wall charger
Specification
WinBridge WB003 Features:
18-watt voice amplifier
Rechargeable battery provides up to 10 hours of operation from a fully charged battery
Removable clip allows users to attach amplifier to their belt
Frequency response: 90Hz-18KHz
Aux/Line In port allows users to plug into cell phones, laptops, MP3 players
Click here to learn more about the voice amplifier.
WinBridge Carrying Case:
The company also offers a protective carrying case for the amplifier (sold separately).  The case features a wrist strap and metal carabiner to make transporting the device easier.
Features of Carrying Case:
Specifically designed for WinBridge voice amplifiers
Made out of durable, lightweight material
Waterproof cover
Users can use the amplifier while it's inside the mesh section of carrying case
Includes one strap for easy carrying
12-month warranty
Click here to learn more about the carrying case.