Last week, I introduced the Orbit Reader 20, which is an affordable ($449) refreshable braille display.  If you're looking to compare, another available braille display is the Refreshabraille 18.
The Refreshabraille 18 is a "unique handheld refreshable braille display and braille keyboard for desktop computers and mobile devices."
Although the device has been around for a little while, it has been revised with many new features:
Ability to choose secure or simple Bluetooth pairing:

Simple pairing allows the device to automatically pair with any device users initiate pairing on
Secure pairing requires a code to pair with device

Reverse the advance bars:

Reversing the advance bars allows users to advance with their left hand while reading with right hand

More ergonomic space bar
Now uses industry-standard micro-USB which is easier to plug in and also to replace if lost
New PC software means updating and using device via USB has never been easier
The device is designed to work with other equipment.  "It provides the screen and keyboard for the primary device."  Whether that device is a PC, tablet, or a cell phone, "every effort has been made to make the process simple, reliable, and trouble-free."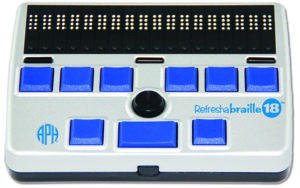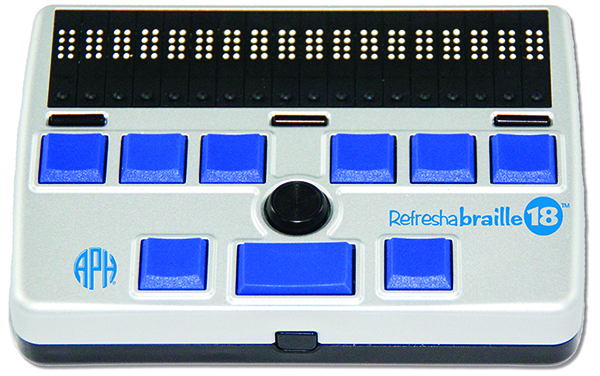 Includes:
Refreshabraille 18 display unit
USB cable (Standard-A to Micro-B)
CD-ROM
Quick Start Guide, in UEB braille and print
One-year limited warranty
Features of Refreshabraille 18:
18 eight-dot braille cells
18 cursor routing keys
Eight-dot braille keyboard input
Five-position directional pad
Forward and back scroll buttons
Auxiliary space bar
USB connectivity
Two kinds of Bluetooth pairing (simple or secure)
Long battery life
Rechargeable lithium-ion battery (not user-replaceable)
Customizable:

Users can flip the braille display so the braille is closer to them OR flip the scroll bars so they can read with right hand and advance with left hand or both

Measures 5.12 x 3.54 x 0.98 inches
Click here to learn more.