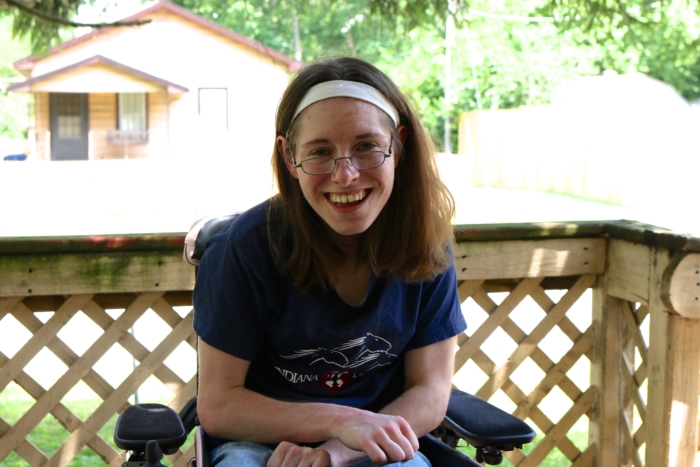 Sarah Jones received a computer from The INDATA Project's Computer Reutilization program and I visited her to learn about her experience in receiving this equipment. The Equipment Reutilization program gives away free computers to anyone in the state of Indiana who has a documented disability and has no means of getting one on their own. These computers are received from donors, wiped of all previous data, refurbished, and provided at no charge.
I met Sarah at her home and learned that she graduated from Shelbyville Central High School in 2005. In high school, Sarah did not use assistive technology in the classroom. She had an aide that took notes for her in class. Sarah has Cerebral Palsy (CP). CP is a group of permanent movement disorders that appeared, for Sarah, in early childhood. Due to the CP, Sarah has quadriplegia. Sarah has limited motion in her arms and legs and also, because of reduced lung capacity, is difficult to understand at times.
During her senior year at high school, Vocational Rehabilitation referred her to Easterseals Crossroads for an assistive technology evaluation. Vocational Rehabilitation (VR) is a state agency that assists individuals with disabilities in obtaining or maintaining employment. An assistive technology evaluation is a one-on-one evaluation to determine the appropriate assistive technology to meet an individuals needs at work, school, or in the community. She was assigned to work with Brian Norton; Director of Assistive Technology who was then working as an Assistive Technology Specialist to determine what equipment she would need to be successful in college. Brian recommended a computer with speech-recognition software. Vocational Rehabilitation purchased a computer that Brian set up for Sarah and he trained her on the speech-recognition software which she used throughout college.
With limited motion in her arms, Sarah has trouble accessing a computer. For computer access, she uses Dragon Naturally Speaking, which is a speech-recognition software that allows you to use your voice for computer input. Sarah has had to work hard for the software program to understand her speech. She also often gets tired from trying to speak clearly and loudly enough for the software to understand her speech. Sarah told me that on a good day she can get about five pages of a book written before she gets tired. She also said that when she gets a new version of the software she has to train it to get used to her voice. She also has to set up a new file if she has a cold because the software gets accustomed to your exact voice. Sarah said that she is thankful to have a tool that assists her in being able to write, but tells me there are some days she wants to throw it out the window.
Sarah went to the University of Illinois for two years before transferring to IUPUI and moving to Indianapolis. During the time Sarah was in school at U of I, she began to write a book. She is now finished with that book and trying to find a literary agent. She has taken a break from school to work on another book and is trying to decide if she wants to finish with her literature degree or change her major to creative writing. She began her studies in literature before she realized there was a difference between the literature degree and the creative writing degree. That is why she is now trying to decide if she should push forward with a degree that she does not enjoy or start over with the degree she enjoys.
We talked about the book she started writing in college and finished in 2010. She told me that it is about a girl with less severe disabilities than she has who is in college. The story takes place over three years and the main character thinks her college years will go a certain way, but then she meets someone and they turn out completely different. Sarah told me that she gave her character a less severe disability "so she could do more on her own." She also told me that she gave the character a lot of her personality and her own college experiences, but it is not a memoir. She said, "I never want to do a memoir, but the book is as close to a memoir as I'm ever going to get."
When Sarah's computer stopped working she reached out to Crossroads to see if she would qualify for a free computer. She contacted Brian who did her initial evaluation when she first went to college and he sent her an application for a reutilized computer. Within a few weeks, Alvin Alviar, ReUse Coordinator, reached out to her and told her that if she was interested in a desktop computer there was one available, but a laptop would be a long wait. Sarah decided that a desktop would work for her and she had her mom pick up the computer.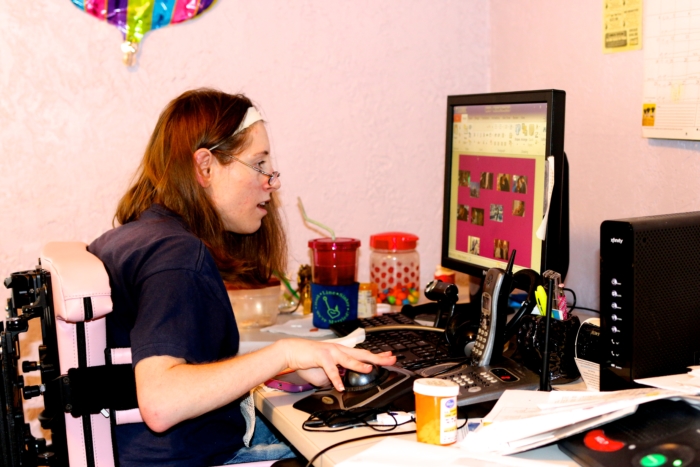 Sarah was happy to receive a computer and begin to shop her book around to different agencies. She told me that she is able to submit her work online and she is currently sending it to different agencies. She also told me that she can only submit her writings to one agent at any agency and it is very competitive. Sarah said she is happy that she took a break from school and completed one book and is now trying to decide if she is ready to go back to school or begin writing her second book.
I asked Sarah is she had any advice about using assistive technology and she told me, "I would tell anyone to BE PATIENT! If you get frustrated with it, back away from it. There will be days when you want to scream or throw it out of the window. I have days where I still feel that way, but for the most part it has been a godsend because I am unable to type and the voice-recognition allows me to do so. I would also advise anyone who is using Dragon to create another file when they have a cold and train the computer to recognize that voice and use any time they are sick and to give yourself a break on days things aren't going well and try again the next day."