Last February, I wrote a blog discussing the Tecla Shield.  The Tecla Shield is an assistive device that gives individuals hands-free control of their smart devices.  The Shield has been around for a few years now, but the same company has recently introduced the all-new tecla-e.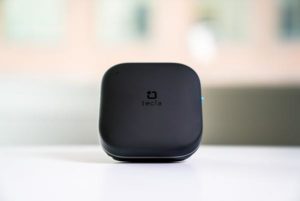 The tecla-e is the newest version of Tecla.  It is a cloud-connected assistive device that provides users with control of their smart devices and environment.  It is ideal for anyone with limited upper-body mobility resulting from spinal cord injuries, muscular dystrophy, ALS, multiple sclerosis, cerebral palsy, stroke, and more.
Features of tecla-e:
The tecla-e itself is a light-touch button switch that requires about 200 grams of force for activation
Can pair with up to eight Bluetooth devices

User can switch between them by pressing and holding one of their switches
Compatible devices include:

iOS devices with Switch Control (iPhone, iPad, iPod Touch)
Mac Computers (macOS with Switch Control)
Apple TV with Switch Control
Android devices with Switch Access
Samsung devices with Universal Switch
Windows computers (requires compatible scanning software)

The device can control Internet-enabled appliances via its WiFi connection.  Currently supports devices through IFTTT and devices controlled by Logitech's Harmony Hub
Has temperature, location, motion, and ambient light sensors built-in to it

Information gathered by these sensors can be uploaded to the cloud and accessed through the Tecla app (iOS and Android)
Check out Tecla's website to learn more!