Outloud is a Finnish app developer specializing in speech and hearing rehabilitation.  It was founded by a passionate speech therapist who specializes in working with toddlers with speech or hearing impairments.  One of the company's apps is the Outloud Timer 2.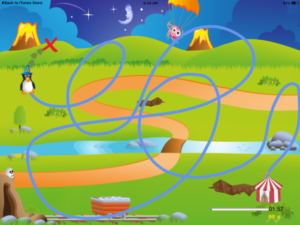 A few weeks ago, I wrote about the Time Timer and the benefits of a visual timer.  In sum, visual timers transform stressful transition periods, reduce resistance to routines, and help manage a therapy or class session.   Outloud Timer 2 is an interactive visual timer app that is engaging for children of all ages.
How the Outloud Timer 2 works:
Setting the app up is super easy; you can set it for either seconds or minutes
Once you set the amount of time, you (or the student) can draw a path on the iPad

You can draw a straight line, a winding path, or a bunch of loops

As soon as you lift your finger off the screen, a cute little pirate penguin waddles his way down the road you made
Children will be able to see how much time is left by how far away the penguin is from his destination
Click here to learn more about this app and more from Outloud.