Bedwetting alarms are great tools for children and adults alike who struggle with bedwetting or urine incontinence.  However, many of these alarms require parents or caregivers to sleep in the same room to ensure the child or patient wakes up.  The DryBuddyFLEX 3 Bedwetting Alarm is a powerful, flexible, and adjustable alarm that will get the attention of caregivers even if they're in a different room.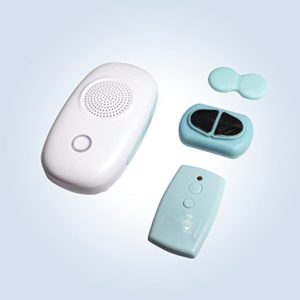 Unlike other bedwetting alarms, the DryBuddyFLEX 3 allows children or patients to move without the constraints of wires.   This feature is especially ideal for children and adults with urine incontinence who cannot sense wetness.  You simply attach the magnetic sensors to traditional cotton briefs and the alarm will notify you if there's any wetness.
Features of DryBuddyFLEX 3 Bedwetting Alarm:
Parents or caregivers can sleep in their own room; they'll wake only when child or patient has a bedwetting accident
The wireless range (up to 200 feet) and wireless remote allows easy use and control
"Stop and control bedwetting, enuresis, and incontinence with ease, comfort, and convenience"
Works with either magnetic sensor or optional DryBuddy wetness sensing briefs
Customizable alarms:

Each transceiver has an extremely loud built-in audible alarm with volume control
An optional alarm (audio alarm and bed shaker or vibrating alarm) can be used to suit  your needs
Two sounds: uplifting trumpet fanfare or a more serious Berlin police siren
Comes with a 1-year warranty (optional wetness sensing briefs 6 months)
Click here to learn more about this bedwetting system.