Podcast: Play in new window | Download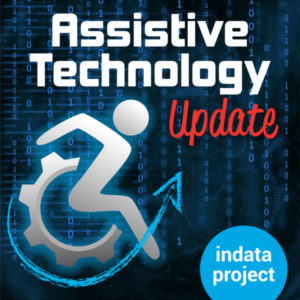 Your weekly dose of information that keeps you up to date on the latest developments in the field of technology designed to assist people with disabilities and special needs.
ATU349 – Why Alexa is life changing for people who are blind or visually impaired – Bill Boules
——————————
If you have an AT question, leave us a voice mail at: 317-721-7124 or email tech@eastersealscrossroads.org
Check out our web site: https://www.eastersealstech.com
Follow us on Twitter: @INDATAproject
Like us on Facebook: www.Facebook.com/INDATA
——-transcript follows ——
BILL BOULES:  Hi, this is Bill Boules, Director of Rehabilitation at Vision Rehabilitation Services, and this is your Assistive Technology Update.
WADE WINGLER:  Hi, this is Wade Wingler with the INDATA Project at Easter Seals Crossroads in Indiana with your Assistive Technology Update, a weekly dose of information that keeps you up-to-date on the latest developments in the field of technology designed to assist people with disabilities and special needs. Welcome to episode number 349 – Wow! That's almost 350! – of Assistive Technology Update. It's scheduled to be released on February 2, 2018.
Today I'm going to talk about Alexa and Amazon Echo — I hope I didn't just off your device — with Bill Boules who is with vision rehab services.  A lot of work he is doing in that area.  Fascinating stuff.  Also RESNA is getting ready to offer another online ATP fundamentals course if you are interested in certification.
We hope you'll check out our website at EasterSealsTech.com, sent us a note on Twitter at and it a project.  Or call our listener line. We always love to hear from you.  The number is 317-721-7124.
Here at the INDATA Project, we do several full day free trainings.  You can come visit us in Indianapolis, or you can string them online.  First one is coming up in March on AT and aging.  You can learn more at EasterSealsTech.com/fullday.

Are you an ATP? Do you know what that means? It's assistive technology professional, and one of the nice things I get to do is talk about how I feel about the industry.  I am an ATP and we have lots of those folks here at Easter Seals crossroads.  One of the things that credentialing does is allows you to show the world that you know your stuff.  RESNA, the rehab engineering and assistive technology society of North America, is the body who does the ATP exam.  They have a fundamentals course coming up in 2018.  They have a few of them.  The ones in January and February and March look to be sold out, but once in may seem to be opening up.  If you want to learn about clinical applications of assistive technology, assessment, service delivery, seating and mobility, augmentative communication, computer access, environmental controls, and spend some time on some case studies, that's the content of the course.  It's going to cost you $700 if you're not a member of RESNA, $550 if you are a member of RESNA.  The whole point is that it gets you ready for the ATP exam, which again is the gold standard for certification for those who work in the field of assistive technology.
I'm going to pop a link in the show notes over to the website where you can learn more about this online ATP fundamentals course and you can study, take the test, be certified.  It's a good thing.
I can't hardly live my life without thinking about Amazon Echo.  I'm going to try not to say the A-L-E-X-A word during this whole interview, but I know I'm going to mess it up.  It's in my house, my newsfeed.  That's technology that I see all the time.  I recently heard about a very fascinating gentleman named Bill Boules who is the director of rehabilitation at the vision rehabilitation services, who is doing some similar stuff, but from the perspective of somebody who is focused on access technology for people who are blind or visually impaired.
I was super excited when he responded to our request after I saw an article about him and his work in PC Magazine.  He said, yeah, I'll come on your show.  It turns out he is a podcaster too. I've gotten to know him just a little bit.  Super nice guys.  Bill, welcome to the show.
BILL BOULES:  Thank you sir.  I'm going to be putting a check in the mail.  It's all good.
WADE WINGLER:  We have a lot of good stuff to talk about today.  I'm stoked about our conversation.  Before we start talking technical stuff, tell my audience a little bit about you, your day job and some of your podcasting work.  Let's get to know you a little bit.
BILL BOULES:  I work as the director of rehabilitation, and I have a website called BlindRehab.com. On BlindRehab.com, we have many free resources for people in the community who are looking for things like guide dogs, if you are looking to go to school in the field of blindness and low vision, if you want to be a teacher, an ONM specialist, an assistive technology person, we have a worldwide directory of information on blindrehab.com that will help you make that decision.  We don't recommend anything, but we put a ton of work into doing a lot of the heavy lifting with respect to having direct links to the information.  It is there for free for people to check out.
What I do is I work with people who are blind or visually impaired, whether they've been blind since birth or they are starting to lose their vision or have lost it, due to accidents or other stuff.  We work with people to help them get trained and help them learn more about options that are available to them in life, whether it be employment, being a parent.  We make sure that people have the tools in the skills that they need in order to be successful at whatever it is they want to do.  We do a lot of employment stuff, but it's a little bit of everything.
WADE WINGLER:  That's awesome.  You are doing some podcasting, right?
BILL BOULES:  I'm doing some podcasting.  BlindRehab.com has a link to it.  You can subscribe for free with Apple podcasts, Google play, all of the other podcast catchers out there.  I think we are on Tune-In Radio. You can ask A-L-E-X-A to play the field of vision podcast, and you will get the latest episode right on your Amazon Echo or any of the device that you have like the Amazon echo.  We are basically everywhere.  We do a show about vision.  We've had guests on that are anywhere from rehab counselors to orientation and mobility specialists.  We have a doctor, a quick interview with the doctor.  She's basically creating an artificial cornea for the eye, and they are implanting it.  So there's a bunch of interesting stuff.  We are going to be putting some new stuff.  The new Echo devices, we will be doing reviews on that type of stuff.  We are doing as best as we can.  We are not as big as you guys, but we are getting there.
WADE WINGLER:  I happen to know that you and I are talking to people who are interested in podcasts, so it's always good to make sure that anything we can do to help our listeners become her listeners is a good thing.
BILL BOULES:  Absolutely.
WADE WINGLER:  We have to get nerdy and techy now.  Why did you become interested in Amazon echo? Tell me the story.
BILL BOULES:  It was the first of its kind.  Three and have years ago, we started hearing rumors that Amazon was going to develop a speaker that is controlled with your voice.  They did some pretty interesting marketing on it.  They put out a thing where you had to request an invitation to purchase one of these devices.  I did.  I said I want in on the ground floor, I want to be one of the first to have this.  I was very excited about it.  I was selected to be one of the first people to get it, and there was an introductory price which was attractive, like half-price.  So instead of $200, it was $100.  I purchased it immediately, as soon as I got that invite.  They said you have a week to purchase this thing.  I said no, I'm doing it today.  I purchased it, and it shows up at my house a couple of days later because I had Prime. It was very easy to connect.  The app was relatively accessible at the time.  It had a few bugs, but I managed to get my device connected.  It went from there.
There was a list of things you could ask it to do.  It was very basic at the time because it was the first one.  Just turned into anything that little by little you can't live without.  You use it more and more, they added skills to it. I've had to plug in and working for three and half years. I think I got it July 2014 or something like that.
It's a great device.  It's fantastic as far as the audio quality.  It can hear you from anywhere in the room.  You don't have to run up and scream A-L-E-X-A! I think it's funny to make everybody's — and I do this on my podcast every now and again — to make everybody's Echo, go off at the same time just by giving it a command.
WADE WINGLER:  We'll end up doing it before we are done.
BILL BOULES:  Alexa, what time is it?
WADE WINGLER:  Yes.
BILL BOULES:  It started off as a fun device, and now it has turned into a very impressive tool for grabbing information may easily and quickly.  I don't have to navigate a complex webpage anymore.  If I want the news, I said Alexa, play the news.  And everybody's Alexa is going to do that right now.
WADE WINGLER:  You just shut off our podcast.
BILL BOULES:  Did I really?
WADE WINGLER:  I don't know.  Probably, because they are listening to the news instead of us.  Thanks.
BILL BOULES:  You're going to have to listen to my intro all over again.  It's gotten impressive.  It's not just about the news.  It's not just about music.  It's about setting accessible ways to do different things.  If you want to prepare a meal, you can set a timer.  If you want to not be late to work, you can set a wake-up alarm.  You can control your household environment.  They call it home automation.  You can control that stuff.  For people who are not just visually impaired, for people that have multiple disabilities, or if you are lazy —
WADE WINGLER:  Or both.
BILL BOULES:  Or both.  If you have a physical disability and you are just lazy sometimes, it is what it is, we are all human.  You can have it do that type of stuff just by the use of your voice.  I think it has really changed the game for a lot of people.  We no longer have to solicit help if there's something we can't do.  If you have a hard time, if you have a wheelchair and you have a hard time getting to the light switch because there is a rocking chair or recliner in the way, you can now just use your voice.  It's gone so easy.
WADE WINGLER:  As I was taking about our talk today, what I want to get you to do is tell me some things that it can do.  You've done that a little bit.  Let's do the day in the life approach.  Tell me what it's like in a typical day when you're using your Amazon echo device.  What kinds of things are you doing?
BILL BOULES:  My day starts the night before because I have to tell my Echo to wake me up.  I'll set an alarm to wake me up.  You use it with your voice.  The first thing you do in the morning is you hear this thing playing a wake-up sound, and utility shut up. A-L-E-X-A, stop, is the command. You get up, and you might want to listen to the weather so you'll say, check the weather.  What's the weather like? It'll tell you.  Sometimes a call it "It." Sometimes I call it "She." I talk about her as if she is a real human.  Many people do.  She has become a household name more and more.  They are ruling the industry of these was active in speakers.  Continuing forward, you can listen to the news.  I'm kind of a news junkie, especially lately.  Every things going as crazy as it's going with the news.  I'm a news junkie see you can tell it to play the news.  You have a preprogrammed list of the news outlets that you like, see don't have to listen to a particular one.  Everybody doesn't have the same choices when it comes to news.  I listen to the news before I get up out of bed.  Throughout the day I like to use it.  If I'm going to cook a meal, also a timer.  If I'm going to play a game, I have these Echo buttons now.  You can actually play a game.  Some of them are visual.  They light up so you might need some vision to play them, but not all games.  Some of the games are where you use the button to buzz in and answer questions.  I might do that with friends.  I love people over and we will use the button to play games and stuff like that.  That's relatively new.  The buttons just came out a couple weeks ago.  I believe it was mid-December when they were released.  For $20, you get two buttons and you can have some fun with it. I'm still exploring what the buttons can do.  I know they are going to at stuff.
News and music, and the other thing I like to do is listen to podcasts and listen to audible books or Kindle books.  You can listen to Kindle books using your Echo.  I should be a much bigger reader than I am.  I think all of us can benefit from reading some more here and there.  I do some reading with that type of stuff.  If I purchase a Kindle book, I can read it using the echo which is very comfortable.  Just sit in a recliner and listen to a book.
That's a day in the user's life of an echo if you are using it a lot.  Otherwise you can add some stuff.  You can delete some stuff from the regimen.
WADE WINGLER:  I sort of have a similar experience.  We have them in our house as well.  We use it for a shopping list a lot.  We are constantly saying had some avocados to the shopping list.  It's sort of nice because my wife and I usually grocery shop together, and we divide and conquer the grocery store.  It's all on the list so I can see her checking things off in real-time and we hit the grocery store that way.
This was a marriage win moment for me was when I set the fan that she likes to have running all night long, and the lab in the bedroom, so that I can just tell it to turn on good night and it will turn on the fan and turn off the light in those things.  I was happy when I made it do that, but when she did it the first time, it was like yes, she's using the technology.
BILL BOULES:  Absolutely.  That's the beauty of it, is for people who may not be into all of this technology, people who don't want to learn how to use a tablet or don't want to learn how to use a computer.  This can basically do what they needed to do without you having to learn all those complex things.  There are a lot of folks who are older who are starting to lose their vision.  I'm not saying that older folks can't use computers or shouldn't use computers. They absolutely should.  But this is a game changer for these folks.  If you are people who doesn't want to use a computer, you don't want to have to learn how to navigate a complex website, you can do some of that stuff using the echo.  Especially like getting information, Wikipedia stuff.  That stuff comes up as well.
WADE WINGLER:  Are there any blindness specific factors the people should be taking about when considering this technology? We've talked about how the app is pretty accessible at this point.  Is there any hard-core blind stuff that is part of this conversation? I'm struggling to find it because it is such a different thing.
BILL BOULES:  Reading is one of the major ones.  Reading has always been a challenge because of accessibility to material.  The fact that you can use this to read your Kindle books. Even if some developer breaks an app that is out there for Kindle, you can still read your book using this thing.  It's also affordable.  When these things are on sale, I've seen them as little as $30 for an Echo Dot. The highest priced one right now I think is $200 for the Show which has a screen on it so you can watch her Amazon prime movies and stuff like that.
The beauty of it is there are lots of different choices as far as how small or how big you want to go.  It's just a dealbreaker when it comes to reading.  All of the other stuff, searching for music would've been difficult if you are a computer user.  There were always challenges with accessibility with respect to her music playing apps.  Now all you have to do is ask it to play the song you want to listen to and it's on.
It's a deal changer for people that have vision loss, but it's also for people — like I said, it's a household name.  The echo is not a human being essentially.  Everybody refers to her as a person.
WADE WINGLER:  I'm glad you mentioned the cost.  I grabbed one of those 30 dollar ones during the holiday and put it in our holiday gift exchange at work.  People were like really? That's in the gift exchange? Yeah it is.  They are on sale right now. What about it frustrates you or needs to be improved? Where are the gaps?
BILL BOULES:  Some of the gaps that are still being worked on, accessibility of accessories and stuff is still growing.  You have accessories out there for it.  There could be more choice with those types of accessories.  I think with more choice, you will have the price drop on some of those accessories.  Right now some of the higher and accessories are pretty expensive.  Even the light bulbs, a lightbulb is $12 for the Hue lightbulbs.  As more stuff comes out for these devices, you're going to see a price drop.  I think one of the gaps are now is some of the accessories are a bit pricey, anything that's going to change.
As far as functionality, I don't see a whole lot of problems right now.  I think people talk about security, and that's definitely an issue.  When is it listening? When is it not listening? What information is a going to remember about you and about what you are saying? Those are some legitimate concerns.  What happens if someone accesses that information? Now they are going to know what you're talking about if they want to.  There are some gaps, but every Friday you get an email from Amazon telling you what all the new features are.  You know they are always working on it.  It's just going to get bigger and bigger.
WADE WINGLER:  What about the non-Amazon products? What about Google Home? Is it sort of one is a Ford and one is a Chevy and they are basically doing the same thing? What do you think about that?
BILL BOULES:  Just and no.  I do agree that one is a Ford and one is a Chevy and there are different features.  The technology on the Google Home seems to have some improvements.  They built a little differently see you can ask the questions, I think they are called layered questions, see don't always have to start at the beginning.  You can ask a question about the weather, and then ask you to follow-up question.  For example, can you tell me the weather, and will there be snow.  You can do things like that with it.  I think is going to be one of those situations where one of them adds features and the other one eventually catches up and surpasses, and then the first one again will catch up and surpassed that one.  There is always going to be updates and competition between the two.
Right now, A-L-E-X-A is a household name.  Google Home is not. It is out there and people know about it and they are getting some publicity — Amazon has had a three and a half year head start.  You don't just jump into a market that has been dominated by Amazon and expect that you're going to — even if you are Google.  Amazon has had some amazing marketing techniques and strategies.  You're going to see this product do very well and continue to do well.  It depends. Some people are Amazon haters and they will go with Google home or the Apple HomePod, whatever that comes out.
WADE WINGLER:  For our listeners who are easily offended, turn down your speakers for a minute with my next question.  Bill, my kids love Amazon Echo, and their favorite thing to say is Alexa, ask for a fart.  They just roll when it does that sound.  Give me a couple of tips or tricks or ask or think that you enjoy like that.  They don't have to be stinky.
BILL BOULES:  Exactly.  Just for the record, it took somebody to enable that skill for them.  They are not exactly the only ones guilty in those shenanigans.  I think dad may have done that.
WADE WINGLER:  He may have had a hand in that.
BILL BOULES:  I will say some of the fun stuff that you can do, obviously the fart stuff is funny, but one of the things you can do is tell it Simon says, and anything you say after Simon says it's going to repeat for you.  If you want to mess with your spouse, if you want to mess with one of her friends who is hanging out with you, you can say "Alexa, Simon says 'whatever'," and it will repeat the whatever part.  It won't say Simon says.  You can mess with people, especially if they are in another room.  It could probably freak out some people.
They are always inventing stuff like that.  The fart stuff is pretty funny.  Fart equals funny.  It is what it is.  It's not Amazon that is doing all this stuff.  It's actual developers who want to put skills into the echo.  They are developing this stuff and making it fun for people.
WADE WINGLER:  Absolutely.  We are almost out of time for the show, but what I want to do is make sure we plug your podcast.  What kinds of things what our listeners here when they become your listeners and how do they find your show?
BILL BOULES:  The easiest way to find the show is go to BlindRehab.com. Click any of the podcast links that are on there. It will take you to a page with all of the different direct links to Apple podcast and Google play in tune in radio and all that stuff.  If you use a blindness device, there are links there too. What you're going to hear coming up on the podcast we are going to be talking about all the brand-new products that were just released by Amazon and by Google.  We are going to be talking about Bose Sound Wear, which is a wearable speaker that allows you to not have you are hearing impaired while you are out and about.  It kind of sits around your neck.  It's a high end product, but it works very well. Those of you who use Ira or any of the other blindness related GPS apps, you can have your sound go through this wearable speaker.  It's going be very cool.  Lots of interviews coming up this year.  We will be dropping a podcast some time — by the time you're listening to this thing, there will probably be three or four episodes.
Go to BlindRehab.com or check iTunes, Apple podcasts, and Google play and will be there for you.
WADE WINGLER: Bill Boules is the director of rehabilitation at vision rehabilitation services, somebody who is doing life with Amazon echo, and a heck of a nice guy.  Thing for being on the show.
BILL BOULES:  Thank you so much.
WADE WINGLER:  Do you have a question about assistive technology? Do you have a suggestion for someone we should interview on Assistive Technology Update? Call our listener line at 317-721-7124, shoot us a note on Twitter @INDATAProject, or check us out on Facebook. Looking for a transcript or show notes from today's show? Head on over to www.EasterSealstech.com. Assistive Technology Update is a proud member of the Accessibility Channel. Find more shows like this plus much more over at AccessibilityChannel.com. That was your Assistance Technology Update. I'm Wade Wingler with the INDATA Project at Easter Seals Crossroads in Indiana.
***Transcript provided by TJ Cortopassi.  For requests and inquiries, contact tjcortopassi@gmail.com***