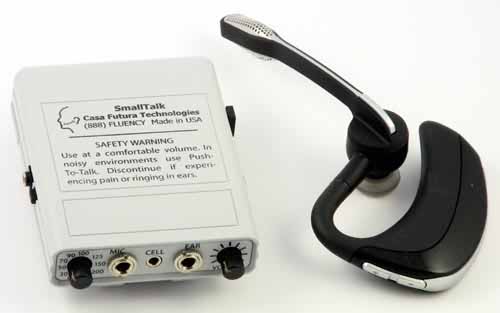 The SmallTalk DAF/FAF device by Casa Futura Technologies helps control stuttering and Parkinson's speech. For people with a stuttering disability, it can immediately reduce the stutter while also training you to no longer need the device. It's a revolutionary product helping those suffering all across the world.
It's the world's smallest DAF/FAF anti-stuttering device, and it now includes Bluetooth wireless technology. Features include delayed auditory feedback (DAF) and pitch-shifting frequency-altered auditory feedback (FAF). Both can immediately reduce stuttering about 70% at normal speaking rates and induces speech motor changes in stutterers. When you combine DAF and FAF, the effectiveness increases. Makers of the SmallTalk device recommend using the device in conjunction with other forms of speech therapy.
SmallTalk comes with three different headsets for everyday use. They are usable at a speech clinic, home and talking on the phone.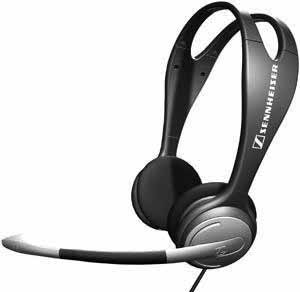 The Sennheiser PC131 full-size headset gives you the best sound quality and maximizes the SmallTalk's effectiveness.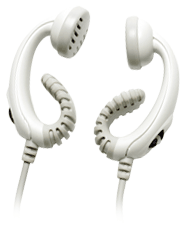 A Plantronics MX100S binaural (two ear) wired iPod-style earset sounds good, is comfortable and simple and easy to use.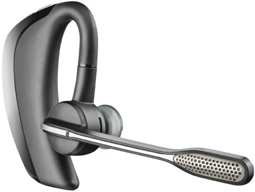 Also included is a Plantronics Voyager Pro Bluetooth wireless cellphone earset.
The SmallTalk includes active background noise reduction.
It is the only AAF device that works in noisy environments, such as restaurants and classrooms. The push-to-talk feature is great for a student in a classroom who is listening to the teacher and is called on to talk occasionally, or if you go out to dinner with friends and spend more time listening than talking. The SmallTalk can also plug into telephones for easy use.
Take a look at these ratings. You'll why see people are loving the SmallTalk!
GREAT!
5 stars – Bob Fay on casafuturatech.com
"I've stuttered for a lifetime and have participated in many speech therapies, none of which helped. About the age of 50, I discovered this device, which was amazing and that helped tremendously. I highly recommend its use. Using the device gave immediate fluency, the confidence and the feedback I could really speak without stuttering."
Wow! What a Difference
5 stars – Shane Furnish on casafuturatech.com
"I got my SmallTalk, and wow, what a difference it has already made. I went to the mall and spoke to everyone who was wanting to talk. I even went to the drive-thru and had no issues with the person understanding me."
Made a Big Difference In My Speech 
5 stars – Eric on casafuturatech.com
"When I started school, everybody understood me better and paid attention when I talked to them. This system has made a big difference in my speech because I am fluent and talk more slowly. My friends and teachers can understand my speech for the first time."
If you or a loved one suffers from a stuttering disability, check out SmallTalk!
Watch this video for more: