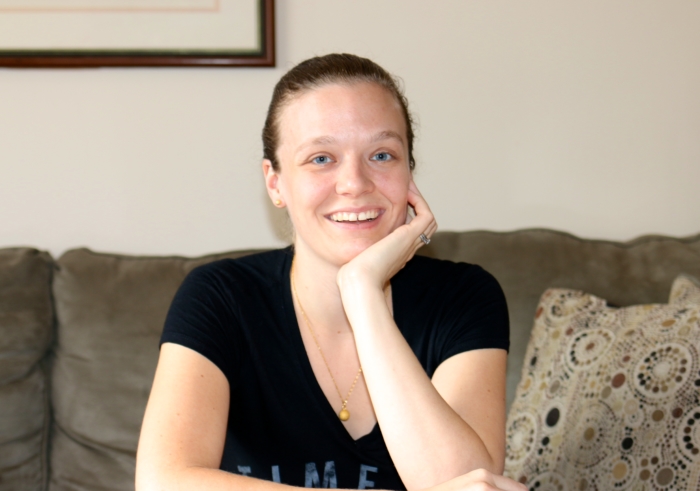 I traveled to Jeffersonville, Indiana to meet with Megan Perkins so I could learn about her experience using our services. Megan greeted me at the door and welcomed me into her home. I instantly felt like I was visiting an old friend.
She invited me to have a cup of coffee as I got to learn a little about her. Megan shared with me that she was born in Lexington, KY. Her dad was a congressman and her mom was a stay-at-home-mom. When she was 5, her parents divorced and she remained to live with her dad, brother, and grandmother. Megan's father got into some legal trouble along with 50+ other congressman and in 1994 ended up receiving a sentence to serve in federal prison. She then went to live with her grandmother and at age 14 she was put into the foster care system.
Megan then lived in Rosehaven in Louisville, KY, which is a residential treatment center. Rosehaven services young women who have been traumatized by abuse and/or neglect. She then went to stay with her uncle who got her in touch with her mother who she had not see in years. This period of life did not last very long and when she turned 16-years-old she started living on the streets where she lived for a couple of years.
She then met her first husband and had her daughter when she was 19-years-old. Despite acquiring her GED and driver's license because of her husbands encouragement early on during the relationship, she left when her daughter was 9-months-old because her then husband became increasingly violent. Megan said, "As the cycle is hard to break, a few years later I found myself in another abusive relationship and had my second child." At that time, she was working two jobs and trying to become independent. Megan had been living in this chaotic situation when her mom introduced her to a Pentecostal family in Frankfort, KY. This family took her in and helped her get set up with food stamps, daycare, and housing.
Megan told me that this family was wonderful and was the biggest influence in helping her get where she is today. She reflected, "The biggest influence was being well loved by this family. They really liked helping people in need and helped me so much." Megan continued to be involved with church in one way or another after connecting with the Pentecostal family in Frankfort.
She eventually moved to Louisville, KY where she then began working at Walmart in Louisville. She was working as a manager at Walmart when she befriended Babak who would later become her husband. They started talking about religion and began an instant friendship. At the time, he was going on vacation to Washington D.C. and had planned to move back to his home in Norway. However, after meeting Megan, he returned from his vacation and decided to stay. Her husband teaches 8th grade Integrated Science and Megan said, "He is a fantastic teacher and a fantastic person."
When they began to date, Megan decided to move away form the Pentecostal church and they started going to gospel community group together which eventually led Megan to become a member of Immanuel Baptist Church of Louisville, KY. They are still active members of Immanuel Baptist and now host a gospel group most Sunday evenings in their home.
Megan and Babak married in December of 2013 and shortly thereafter Megan started attending college at Jefferson Community Technical College (JCTC) in Louisville,KY. When she started attending JCTC, she was struggling with school particularly with math. Megan told me, "I cried through three semesters of college algebra not yet understanding the root of my seemingly impossible-to-reach task of learning math until I transferred to Indiana University Southeast (IUS)to continue my education."
During the Fall 2015 semester, Megan was taking an Elementary Chemistry class with Dr. Victor Waingeh who suggested that Megan reach out to Disability Services on the IUS Campus. Dr. Waingeh believed that Megan's struggles could be overcome with some accommodations and Megan would need an official campus approval to get those accommodations. Through Disability Services, she learned that she was most likely dyslexic and the Disability Services Manager, Matthew Springer, referred her to Vocational Rehabilitation to see what resources were available to her. Vocational Rehabilitation (VR) is a state agency that assists individuals with disabilities in obtaining or maintaining employment.
Megan's Vocational Rehabilitation counselor, Lora Coffee, then referred her to Easterseals Crossroads for an Assistive Technology evaluation. An assistive technology evaluation is a one-on-one evaluation with an individual to determine the appropriate assistive technology to meet their needs at home, work, school, or in the community.  
For the evaluation, Megan was assigned to work with David Frye, Assistive Technology Specialist, at Easterseals Crossroads. Once assigned, David contacted Megan to determine a time and place to meet her for the evaluation. David then came to Megan's home and discussed her struggles in school. She told him that she was reading the same thing over and over and just wasn't retaining the information. He asked her what her short-term and long-term goals were and he learned about the classes she was taking. Megan told him that she is interested in secondary education and would like to become a chemistry teacher.
After talking with Megan and discussing her cognitive processing challenges and learning about her goals, David recommended an iPad Air 2, and Kurzweil software. The Kurzweil software is an assistive technology tool and literacy product that uses optical character recognition to read aloud anything on a computer screen. Having things read to Megan allows her to comprehend and retain written material. It has many great features that benefit students with disabilities. The software is equipped with multiple text-to-speech voices, which allows a user to choose a voice that is most similar to their own voice which is proven to help with retention of written material. It uses a natural voice and has 18 languages and dialects to choose from. It will also allow a user to scan in written materials as a .pdf and then read it aloud, which allows printed materials to become accessible for someone who learns better by auditory cues.
As Megan is an auditory learner, this software allows her to be successful in college. She is now taking 16 credit hours and can't believe she is able to carry that load successfully. During the middle of the semester, Megan had a computer failure and had the resources she needed to reach out to David so they could schedule a second consultation. It was then that David recommended a Macbook Air and Vocational Rehabilitation purchased that for her.
While waiting for VR to purchase a computer for Megan, she was able to borrow a PC out of the INDATA Project Equipment Loan Library so she would be able to keep up on her school work. The INDATA Equipment loan library is a program that allows individuals in the state of Indiana to borrow assistive technology for free for 30 days. These short-term loans assist clients in making informed decisions about the assistive technology they might use at work, school, or home or in this case to use if their equipment is broken.
When Megan received her MacBook Air, the Kurzweil license she had on her old computer was not the correct license for a Mac so she began to use Read & Write, which is a free text-to-speech program. Megan said that she does not like Read & Write as well as Kurzweil, but that it works pretty well for a free program and was made available to her as a student. Read & Write offers many support tools such as text-to-speech, dictionaries, and word prediction. You can highlight text from documents or the web that can then be simplified and summarized and can create and listen to voice notes.
David also recommended several apps to use on her iPad Air 2 such as Audio Note 2, which is a note taking app that will allow Megan to record lectures. Megan can write down key words and it will record the audio from the lecture and she can play the notes back from any point in the notes. This allows Megan to listen to the lecture and not worry about capturing it all in writing and then allows her to go back and access the information at any time. Audio Note 2 also allows Megan to take pictures in class and highlight the most important information from the lecture. Megan said, "Another great feature of my technology assistance is that I can use my iPad Air 2 primarily for taking notes and then share them to my MacBook Air using the iCloud feature of the software program on Audio Note 2. Audio Note 2 and my iPad Air 2 allow me to seamlessly share data between my laptop and my iPad so that the notes are ready to review on my laptop when I get home from school. I also love the fact that the iPad Air 2 is extremely light. With the heavy books I pack around, the iPad is not cumbersome in my heavily filled backpack."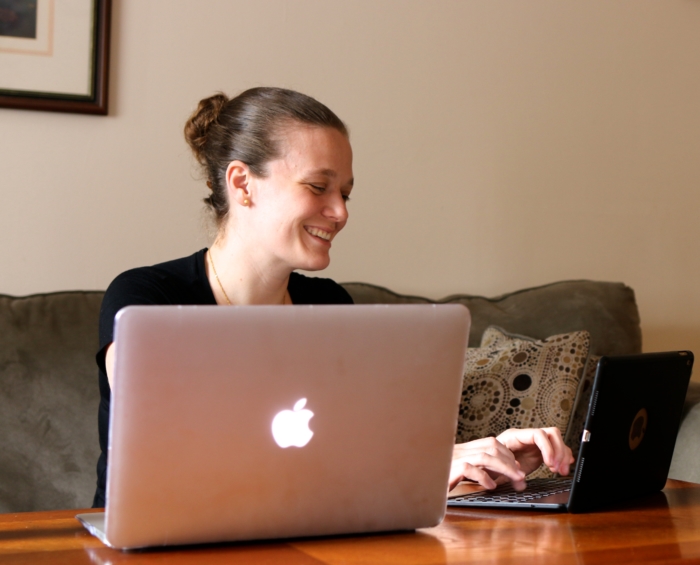 Megan told me that another software that has been very helpful to her is the ChemDraw Professional, which is a chemistry molecules drawing software. This is another program which has been provided to Megan as a student at IU Southeast through their student and teacher IUware program. ChemDraw Professional has chemistry symbols built into it which enable Megan to draw out electron movement, draw out clear images of chemistry mechanisms, write balanced chemical equations, access several online databases for name lookup of chemical structures and reverse structure lookup of chemical names. The software also allows Megan to create unique chemistry drawings for research projects and newly proposed developments for various branches of Chemistry no limited to Analytical Chemistry, Biochemistry, and Polymer Chemistry.
For presentations, Megan uses Screencast-O-Matic, which enables a user to record what is seen on their computer screen. With this software you can capture your screen and use a webcam to add narration to cutomize your video. It also has has editing tools that will allow you to edit the video and add tools such as zoom, text, images, and automated captioning to presentations. It also has cloud hosting so videos can be shared and collaboration tools if it is a group project.
Megan hopes to use this tool one day to provide virtual field trips, supplementary lectures of various chemical-mathematics, and also as a tool to introduce introductory chemistry laws for her students to access whenever needed as a flipped classroom option. She reflected that one of the primary concerns most American teachers face is lack of funding to provide a quality educational experience for their students. Megan said, "It's a great tool that could allow me to provide a field trip experience to schools that lack funding for these opportunities. There are less and less field trip experiences and I think it's so valuable. You can get someone much more interested in something when they can experience it."
David also recommended the Prizmo app, which is a photo based scanner app that lets a user scan in photos and create pdf's. Megan said, "I use it on my phone to create PDF's from my books or my homework to turn in online. I also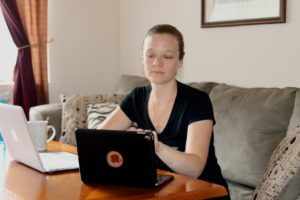 bought something called Comic Life, which I use in my lesson planning for my teaching program. It enables me to design comic strips. I basically can personify a principle or law of chemistry and make it seem funny or dangerous or exciting. I basically use it to give elements from the periodic table personalities, or different particles and subatomic particles personalities and interactive story-lines so the harder to understand ideas are more easily relatable for the students. Lesson planning and homework design is a large part of the program I'm in and all these programs and apps allow me to be successful in school and I will be able to share all these resources I have learned about with my students in the future so they can be successful." 
The last thing David recommended was a large monitor so Megan can view words bigger on a screen. Vocational Rehabilitation provided the funding and David purchased the monitor and set it up for her. Megan said, "This is super helpful when reviewing multiple pages for cross-referencing information for various tasks on my Mac. It gives me the ability to see larger print of multiple split screen tasks and allows for screen sharing to swap info as needed for larger views."
Megan told me that she believes one of her greatest strengths she will have when she becomes a teacher will be her ability to be compassionate and empathize with people who learn in different ways. She said, "We all choose how our experiences shape us. I didn't have an ideal past, but it does not define me or my future. I choose to take the negative experiences in my life and let them sharpen me and not make me weak. I think I will be much more in tune to the fact that people learn differently and I will use many different methods in teaching to try to accommodate all my future students."
Megan is excited about her future. She is successfully carrying a full class schedule and is armed with multiple technologies that make her a great student and are tools she will be able to share with the students she will one day teach. Megan said, "It's now becoming a reality that I will graduate and I look at where I have come from and know that without the help I received from David that I would not have made it. He was so great to work with. My schoolwork was not coming naturally to me and he taught me about tools and systems that allow me to be successful. He saw my needs and addressed every one of them in such a thoughtful and helpful manner. I can contact him any time I have a problem and he is so responsive."
Megan told me she is excited to graduate this summer and is trying to decide if she will work or continue her education and get a master's degree. She said, "I want to work as soon as possible, but I also love learning and after my husband's experience in public school, I feel I may be more suited to work with college students." Megan said, "Working with David and Easterseals Crossroads was my greatest educational blessing. I wouldn't have been able to pursue my field of study effectively if it weren't for the technology that he educated me about and enabled me to utilize."