Children of all ages love snapping and clicking plastic buckles.  Blizzard Penguin is a super soft plush that features 5 plastic buckles in an assortment of colors.  In addition to learning how to snap and click buckles, children will also develop and strengthen fine motor skills, hand-eye coordination, problem-solving skills, color recognition and more.
The Blizzard Penguin features numbers, fun shapes, and surprises to keep children busy in the car, bus, airplane, train, grocery store, and even doctor waiting rooms!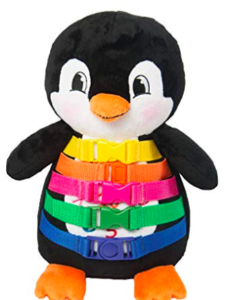 Features of the Blizzard Penguin:
5 child-friendly plastic buckles in a variety of clasp styles
Helps children develop and practice fine motor skills, cognitive skills, hand-eye coordination, and problem-solving skills
Easy-glide zipper pocket "hides hidden treasures"
Measures 11″ x 6″: ideal for small hands and to clip on a stroller, diaper bag, shopping cart, high chair, car seat
Decorated with numbers and winter theme embroidery
Surface washable
Click here to learn more!