Juniorbeads jewelry doesn't just look pretty, they also make great sensory items for children of all ages.  Each Juniorbeads sensory item comes in bright colors with soft, chewable textures.  This makes them especially ideal for individuals with autism, sensory processing disorder, anxiety, and more.  One example of their available products is the Juniorbeads Jane Jr. Necklace.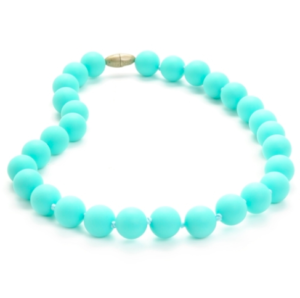 The Juniorbeads Jane Jr. Necklace is approximately twenty inches long "for a comfortable fit."  It is a piece of breakaway clasp jewelry and also contains no chemicals.
Features of Juniorbeads Jane Jr. Necklace:
For ages 3 and up
No BPA, no phthalates, no cadmium, no lead, no metals
100% silicone beads (similar to nipples and pacifiers)
Easily cleaned with dish soap and water
Breakaway clasp for added safety
NOTE: children with fully developed teeth or excessive biting may be able to tear the beads.  Children's necklace should be inspected before use.  Discard immediately if damaged.
Visit Chewbeads website to learn more.