Looking for a fun way to practice colors and more?  Check out The Sneaky, Snacky Squirrel Game by Educational Insights.   "Your forest friends are hungry and they need your help!"  Children will have a blast racing to fill up their log with "delicious acorns."
How to Play:
Spin the spinner
Squeeze the matching colored acorn with your Squirrel Squeezer, and place it into your log
Be the first to fill your log with acorns to win!
You can also spin 'pick an acorn,' 'steal an acorn,' or 'lose an acorn"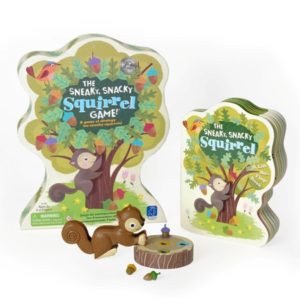 Features of The Sneaky, Snacky Squirrel Game:
For ages 3 and up
2-4 players
Reinforces color learning
Develops strategic thinking, hand-eye coordination, fine motor skills, and pre-handwriting skills
Encourages social skills and turn-taking
Practices memory and attention skills
Comes with:

4 logs
Sneaky Squirrel Squeezer
20 colorful acorns
Spinner
Game board
There is also a colorful board book based on this game.  In The Sneaky, Snacky Squirrel, "Winter is just around the corner, and the Sneaky, Snacky Squirrel has stored all of his acorns away.  But he hid them so well that now he can't remember where they are!"  This sturdy board book practices color recognition and counting.  It also features several flaps for little hands to lift and explore.
Click here to learn more.