Belkin has been creating products that "simplify your life and empower you to fully leverage technology" for 35 years.  The company's mission has been to help people realize the power of technology and make people's lives better, easier, and more fulfilling.  One of their available products is the Belkin Portable Tablet Stage.
The Portable Tablet Stage is a travel-friendly stand designed to enhance your tablet experience.  The Stage is ideal for reading, browsing the web, recording video, presenting and more.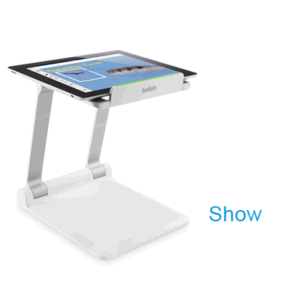 The Stage features an adjustable platform that allows users to position their mobile device at the ideal, ergonomic angle for recording video or capturing images of text, objects, or documents.  It also features a cable management system to help keep desk, workspace, or podium clutter-free.
Belkin Portable Tablet Stage Overview
Perfect for Travel:
The Tablet Stage easily folds up neatly and quickly so it's easy to carry along with a mobile device.  Its compact, lightweight design is perfect to use for a presentation or collaboration with others.
Easy Setup:
The Belkin Portable Tablet Stage is easy to set up!  Users simply connect their tablet or smartphone to a display system such as a monitor, HDTV, or projector and launch the Belkin Stage App.  Once they launch the app, they're able to share real-time images and notes with others.
Belkin Stage App:
The Belkin Stage app is a free interactive whiteboard and document camera app.  The app allows users to:
Freehand sketch over live video or images
Insert shapes, text, pictures, and labels
Demo everything (picture-in-picture features)
Record videos or capture screen images

Save directly to user's device photo library
*Video recording feature is available as an In-App Purchase
The app is available on both the App Store and Google Play.
Click here to learn more about the Belkin Portable Tablet Stage.