Looking for an app that can help your child who is deaf learn to read?  Huawei has created StorySign, a new storytelling app that uses artificial intelligence, a digital avatar, and sign language in order to help these children learn to read.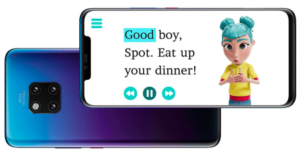 According to their website:
"There are approximately 32 million deaf children globally and many struggle to learn to read, often due to a lack of resources bridging sign language and reading.  We believe that technology can help to open the world of books to deaf children and their families."
StorySign is simple to use: first, the child or parent opens the app and selects a book from the StorySign library.  Next, they hold their phone up to the words on the page and Star, a friendly avatar, signs the story as the printed words are highlighted.  This allows parents and children to learn to sign and read together at their own pace.
Features of StorySign App:
Free app available on the Google Play Store
Available in 10 different sign languages: British, French, German, Italian, Spanish, Dutch, Portuguese, Irish, Belgian Flemish, and Swiss-German
The app is optimized on Huawei devices in the following ways:

Natural Reading: HiAI's Image Recognition allows children to hold the phone up to a 45º angle to the book and the app will recognize words perfectly
High Accuracy: HiAI's OCR allows the app to function with a greater degree of accuracy
Speed: The AI performance will also power the speed at which pages from the book can load in the app, allowing for an improved user experience
Click here for more information!