Stress balls are an ideal way to relax for individuals with and without special needs. MindWare Science Academy offers a fun way to make your very own with their Squishy Ball Lab kit!
With the Squishy Ball Lab, you can mix up your own "stress-relieving squishy balls with a special slime recipe, glitter, sensory beads, and other ingredients." The kit allows you to make 4 slime stress balls, 2 oobleck stress balls, and even a mesmerizing calming jar.
Children will also learn about the chemistry behind ooze and the chemical properties of oobleck. (Fun fact: funny name was inspired by the book 'Bartholomew and the Oobleck' by Dr. Seuss.)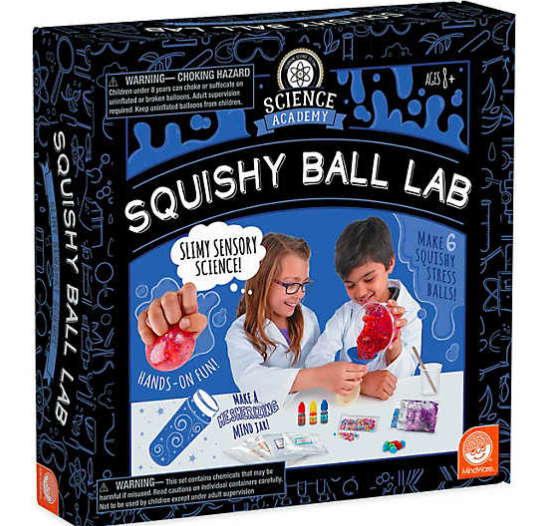 If you're unfamiliar with oobleck, it is an easy but messy concoction consisting of only two ingredients: cornstarch and water. This simple mixture demonstrates how changes in pressure, instead of temperature can change the properties. Here's a brief overview of the science behind this cool substance:
"Applying pressure to the mixture increases its viscosity (thickness). A quick tap on the surface of Oobleck will make it feel hard because it forces the cornstarch particles together. But dip your hand slowly into the mix, and see what happens — your fingers slide in as easily as through water. Moving slowly gives the cornstarch particles time to move out of the way."

from Scientific American
Features of the Squishy Ball Lab Kit:
This is more than just science for children: they'll learn about polymers and the non-Newtonian substance called oobleck

They'll also learn about relaxation and relieving stress in healthy ways

You can give your stress balls a special sparkle by adding sequins, beads, and glitter to the slime
The kit includes:

6 clear balloons
PVA glue base
Sodium tetraborate liquid
Corn starch
Fun mix-ins: sequins, beads, glitter, pom-poms
Small mixing bowl
Small jar
Stirring sticks
Funnel
Red, yellow, and blue coloring
Step-by-step instruction guide
Click here to learn more about the Squishy Ball Lab kit!