Podcast: Play in new window | Download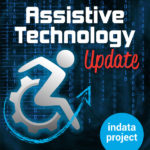 Your weekly dose of information that keeps you up to date on the latest developments in the field of technology designed to assist people with disabilities and special needs.
Show Notes: Joe Hodge and Alan Lovell from APH APH Connect Center: Phone: 800-232-5463 Website: https://www.aph.org/aph-connectcenter/
Braille Trail Reader LE info: www.aph.org
Braille Bug: www.braillebug.org
VR Game for Visually Impaired Story: http://bit.ly/2Ij37zj

——————————
If you have an AT question, leave us a voice mail at: 317-721-7124 or email tech@eastersealscrossroads.org
Check out our web site: http://www.eastersealstech.com
Follow us on Twitter: @INDATAproject
Like us on Facebook: www.Facebook.com/INDATA
————-Transcript Starts Here———————————————-
Alan Lovell:
Hi, I'm Alan Lovell with the APH ConnectCenter.

Joe Hodge:
Hi, my name is Joseph Hodge. I do quality assurance here at the American Printing House. And this is your Assistive Technology Update.

Joshua Anderson:
Hello and welcome to your Assistive Technology Update, a weekly dose of information that keeps you up to date on the latest developments in the field of technology designed to assist individuals with disabilities and special needs. I'm your host, Josh Anderson with the INDATA Project at Easterseals Crossroads in beautiful Indianapolis Indiana. Welcome to episode 423 of Assistive Technology Update. It's scheduled to be released on July 5th, 2019. On today's show. We're excited to have Joe Hodge and Alan Lovell on from APH to talk about the APH ConnectCenter and the Braille Trail Reader. We also have a quick story about a virtual reality game for individuals with vision impairment. Let's go ahead and get on with the show.

Joshua Anderson:
We get a lot of stories about virtual reality and maybe how it's being used as a piece of assistive technology to assist individuals with disabilities. But we don't talk a whole lot about virtual reality games. And if you really think about virtual reality games, a lot of them are based mostly on visual and audio cues. Well, I found a really cool story out of CTV News in Regina, in Canada, and it talks about a couple of groups coming together and trying to make virtual reality games specifically made for individuals with visual impairments. It says it's a collaboration between the CNIB, which is the Canadian National Institute for the Blind, and Saskatchewan Polytechnic. And it says the students there were challenged to create video games that people with visual impairments could access. So the first game they came up with was one called Climber Pro. And Climber Pro is a rock climbing game.

Joshua Anderson:
So if you think of the rock wall that you might see in some places, I don't know if you're an avid climber or somebody who enjoys actually working out much unlike the host of this show, you may have seen these in your local gym or kind of place. So there's usually some brightly colored, I don't know, I guess I'd call them large pegs that you reach up and grab and pull yourself up the face of the wall. Well, in this game they use really brightly colored kind of balls on a different colored background, and those are what the person reaches and grabs. So they have the VR headset, they have the hand pieces, and whenever they actually get to it, the handpiece will vibrate. So they'll know they have it and they can reach up for the other hand to grab another one and actually climb the wall.

Joshua Anderson:
So it actually looks pretty neat. And I'll put a link to the story over in our show notes. And there's actually a video there where you can see part of the game. So a pretty neat game. I mean, pretty darn good idea. It allows the individual to actually be able to play this totally immersive game and not rely purely on the vision. Some of the people they talk to in there also talk about other accessibility features that they're looking to put in more games. Such as, don't have the instructions or the menus or anything only in print, but also allow the individual to be able to hear all those options and be able to move through them. Maybe more audio cues, more sound and things of that sort.

Joshua Anderson:
As we get further along in video game accessibility, I'm glad they're already starting to look at making virtual reality games accessible for individuals with visual impairments as well. There are a lot of new products and services coming out of the American printing house for the blind or APH for short. We at AT Update wanted to have Joe Hodge and Alan Lovell from APH on to talk about a few of them, the Braille Trail Reader and APH ConnectCenter. Joe, Alan, welcome to the show.

Joe Hodge:
Thanks you.

Alan Lovell:
Thanks so much.

Joshua Anderson:
So guys, before we get started talking about some of these new and exciting things from APH, can you tell our listeners a little about yourselves?

Alan Lovell:
I'm Alan Lovell, I have worked at the American Printing House here for 23 years. And the bulk of that time has been a customer service sales tech support capacity. Only in the last year or so have we made some major changes and picked up new aspects to the company and started with what we'll talk about a little while called the APH ConnectCenter.

Joe Hodge:
Hi, I'm Joseph Hodge. I do a little bit of everything lately. I do some quality assurance here at the American Printing House. I've been here about three years, and recently I've just been named code project leader for the Braille Trail elite. So kind of been going through and doing some documentation stuff and all of that. So it's been fun.

Joshua Anderson:
Awesome guys. Well, I can't wait to talk about those, but before we get into that, for the folks who aren't familiar with APH, can you give us just a brief overview of the organization?

Alan Lovell:
Yeah, sure. The American printing house actually was founded in 1858. So we're 161 years old this year. For those of us who've been in the field or who are visually impaired or blind, most of us know APH as being a clearing house for educational materials. The printing of textbooks in braille, large print, audio recordings, downloadable electronic formats. But then we also have a catalog of products with over 2000 products, and the majority of them are geared towards education and in independent living. So we've got quite a legacy. We've got a 280,000 square foot manufacturing facility here in Louisville, Kentucky, where these products are assembled and shipped.

Joshua Anderson:
Wow. Well guys, I've got you on the show today to talk about a few things. So Joe, let's go ahead and start with you. You guys have introduced the Braille Trail Reader. Can you tell us about this device?

Joe Hodge:
Yeah. So many of you guys may have seen the Brailliant BI-14 at different shows or different places. So the Braille Trail LE is the same form factor. It looks the same, except it's red. It's got a red casing on it and it has 14 cells. For those who are not familiar with it, it's a 14 cell braille device. It does have cursor routing sensors. So most people are familiar with the buttons, this actually has sensors. So you just sort of press on the area, they're cut out on the casing and it vibrates and moves your cursor over just like a normal cursor running button.

Joe Hodge:
This is sort of geared towards the education sector. So we have a few different ways that it sets it apart from the Brailliant. So those things are, first for teachers, we have a PC tool and for students where you can put a file, like a VRF file or a text file from your computer onto the device. So you just plug it in through a micro USB cable, and then you can drag and drop through the program. You can drag and drop a file onto the device and a student could read the note. So I could see that being useful for things like if you want to send over directions to an assignment or even put a certain assignment on the device, I could then read through it.

Joe Hodge:
That file is a read only file, so the student cannot type in that file. So that's something to note. But basically the teachers can easily, if they have multiple students or have multiple Braille Trail devices, they can plug in and go through. Other features include a notes app so students can take notes. One really handy feature with the notes app is it also can sync up to iPhone or iPad. So there's an app on there by HumanWare that you can download for Google or iPhone. And basically once you add your Gmail or Outlook exchange account, you can sync your notes up there. So if a student writes a note, they can go in and then sync that up to the cloud and the teacher could have that instantly.

Joe Hodge:
One reason I find that very useful is, this is a feature that is not on many braille displays. So the other day I took down a number to my health savings account, I went to the doctor's office and I forgot my Braille Trail at home because I'm irresponsible. So I was like, "Oh man, I don't have my health savings account. I'm going to have to just pay with my own money." But then I realized, I remembered that, "Oh, it's on my phone." So I went in there and read off the numbers to the person at the front desk and they got a charge to that way. So it was really nice to … most brailles I've used have had an SD card or had some sort of internal memory that you can't get to on the go, they don't sync up like that. So I love that feature.

Joe Hodge:
For the deaf-blind, there's a feature I think that makes the device even more friendly to them than anything that they've ever had before. And that is, when you … it has vibration in it. So when you connect a device, so let's say they're connected to an iPad through the school system, a student's connecting to it, it'll vibrate. It vibrates if the device wakes up at all, it vibrates when it goes to sleep. So that person, the deaf-blind person would know exactly what's going on. So even if they're in, let's say taking a note, and they were to get an email message that came up on the display, their app, if the iPad woke up, it would beep. Beep and vibrate, and you can turn off the beeping or vibrating if you don't like that.

Joe Hodge:
What happens then is, there's a switch on the back. You switch it over into terminal mode and then you can read that message. And then you can go back, flip the switch back to the left and you're back in your notes and you're writing just as normal. So it gives them that feeling that they know when their device wakes up, they know when their device goes to sleep. I've actually showed it to a friend of mine who's deaf-blind and they were amazed, because a lot of times they don't know if their device is on or off. So it does have multiple connections. So this actually has a low energy Bluetooth chips. So similar to like what you see in an Apple watch. That means basically it doesn't lose connection very often.

Joe Hodge:
So a lot of times browse displays will lose their connection. They will time out, if you will, because of the Bluetooth chip. This one has a low energy chip, so it's always broadcasting a frequency. We're gearing this with the technology here, we're gearing this to students and to teachers. It's very reportable, very light. It does have a stopwatch as well, and it does also have a clock in it. So you can maintain that information. It does also sync up with your iPhone for the clock or iPad. So you actually get the time from those devices. That's also a nice feature because everything's in sync.

Joshua Anderson:
No, that's a very nice feature. And I'm glad you guys thought about the Bluetooth because I know that's one of some of the biggest frustration folks I work with have. It's always disconnecting or I don't know when it's connected, so I'm really glad you guys thought of that. That's an excellent help to folks.

Joe Hodge:
One other brief feature that I was going into there with the deaf-blind feature, but I didn't quite finish it off. And that is, you can actually tap a key and wake up your iOS. They only have it on iOS right now, so this feature is only available on the iPhone or iPad. But it will wake up your device and you would actually be able to unlock it without touching the device. So this is handy for students that maybe have dexterity issues or maybe if you're traveling home. I remember when I was a kid, I had to take tons of stuff with me and my backpack was heavy, and maybe you don't want to have your phone out, or your iPad out. You can actually unlock that from the braille device.

Joe Hodge:
So basically the braille device is the only thing that you have to have, the Braille Trail is the only thing you have to have on your body and you can unlock your phone and do anything from it. With the Braille Trail only. So that's a really cool feature.

Joshua Anderson:
For the deaf-blind.

Joe Hodge:
Yes. So there again, they're always in control of their device. This is a limited edition. So we're kind of putting these out to satisfy quota and get a browse flag in the catalog for the quota season. So we only have a limited number of these, and so act fast. Just to let you know, they are $995, and you can order them through aph.org.

Joshua Anderson:
Oh, excellent. And what was included in that cost? I mean, I know they get the braille display, but what else do they get?

Joe Hodge:
So with that, they actually get a case. It does come with a nice leather case and it also comes with the charging cable. And they get a braille bug sticker, it's a ladybug that they can put on the device. And there also is a limited … if you go to braillebug.org, if you're a teacher, there are some limited supplies that you can get. You can actually have some games that you can play for the whole classroom, and you can take part in getting that. That's a limited edition though, so act fast on that.

Joshua Anderson:
Joe, can you give us that website again, of where folks can find out more and order that since it's a limited time?

Joe Hodge:
Yes. Our website is aph.org. And for the supplies for the teachers for the games and the flashcards, that is braillebug.org.

Joshua Anderson:
Perfect. Thank you so much. So Alan, onto you, what is the APH ConnectCenter?

Alan Lovell:
Well, okay. APH ConnectCenter is the name that we have given to an 800 number, a hotline and four websites. All of which that we have taken over stewardship of in a partnership agreement with the American Foundation for the Blind AFB. AFB has been around a long time. It has been an advocate for all things blindness, visual impairment. They have had a shift in their directions, some of their funding. They were unable to maintain these services that they had built over the last many, many years. So along with some of their archives, physical archives, we have taken over stewardship of this information and referral hotline and a grouping of websites.

Alan Lovell:
The websites include VisionAware, FamilyConnect and CareerConnect. And then there is a searchable directory of services, and the contents on the directory of services is basically populating across the platform of websites. That's the information that these websites draw from when doing a search. We have also inherited a network of peer advisors. These are experts in the fields who are blogging and writing articles and blog posts about topics, you name it, as it relates to blindness, rehabilitation, how to … quick tips, things like that.

Alan Lovell:
And then on the phone line, it's available for folks who have basic questions about … if they need a particular piece of technology, how to use it, or what type of device would work best in any given scenario. It's been a real interesting challenge for us. As I mentioned earlier, APH, we're 161 years old, and we've always been known as a clearing house for information and resources. Not only APH products and services, but products across the board from other agencies in our field. And so now we feel that folks have a specific pathway to get the information that they need. That is the ConnectCenter summed up. I can tell you the types of calls that we expect, but also the types of calls that we didn't expect and how we're dealing with those.

Joshua Anderson:
Well, and that was actually going to be my next question. Was, what kind of calls do you get, and yeah, what didn't you expect when the project started?

Alan Lovell:
So clearly people are calling us and we get lots of these when we have people who have lost their sight at a midpoint in life. And sometimes it's in a traumatic way. Sometimes it's been real gradual. Sometimes people have been living a low vision for many years and have finally come to terms with the fact that they've never really been taught or learned to adjust to living with low vision. So they will call us and say things like, I'm above such and such age, and I have lost my sight in the last five years, for example. What services are available? And I will tell them about the rehab agencies in their area and how they can be taught to use assistive technology, how they can be taught orientation and mobility skills, the use of public transportation.

Alan Lovell:
If they want to learn braille, they can be taught that. Basically, these agencies build a program around where the person is in life. Whether it is only maintaining your independence, that's one way, one direction to build a plan. Or maybe you are looking to become employed or employable, or maybe you're looking to return to secondary education. We can provide them with the pathways for that and how to live, as the kids say, living their best life with low vision, and people really can thrive. We put the information out there that maybe they didn't know about.

Alan Lovell:
So those are the types of calls that we expect. The types of calls we didn't expect are people who are truly in crisis. Those of us who have family and friends are so lucky. I have learned, through this last year doing this job, is that there are people who really are on their own and don't have anywhere to turn. One example of a phone call is a gentleman who went into the hospital because he had a rapid decline with his eyesight. It turns out it was diabetes related and he had various other complications. He drove himself to the hospital, he stayed in the hospital for two months because of various complications. By the time he was discharged, he was blind.

Alan Lovell:
He called me from his truck that was sitting in the parking lot of the hospital because in those two months that he was there, he became unable to work, lost his labor type of job. And in that time he also lost his apartment. He also didn't have any friends or family in the area and didn't have any place to go or a way to get there. So we did some legwork for him to link him up with rehab services, which can also supply housing while you are receiving their services, and subsequently get him into some assistance housing while he is being trained to get back on his feet. We have a number of examples like that.

Alan Lovell:
And when we started getting these crisis calls as an agency, APH does not necessarily … that's not part of our history, being a crisis intervention service. So we have become members of an agency called AIRS, the Alliance of Information and Referral Systems, which provides us with the tools and information, the guidance and standards on how to address these types of situations. To maintain privacy, to say the right things, to use the right words and keep ourselves protected as well as the individual who's contacted us. So that's been a big help and we are taking steps to become certified as an INR service, which is a five year long process.

Alan Lovell:
We have to work up the various different levels of certification. But in the meantime, we're fielding these calls and we're getting lots of feedback, which is very gratifying that, how important this service is and how we are so glad that we took on these services. Because we're realizing every day that there are people out there who truly need a place to go to find out any tidbit of information as it relates to their condition.

Joshua Anderson:
Oh, definitely. And I know that's one of the big problems that people always run into is not even knowing what services are out there for them.

Alan Lovell:
Yeah. That's precisely it. I'll give you another example if we have time.

Joshua Anderson:
Sure, go ahead.

Alan Lovell:
I have a voicemail that I'll probably always keep saved as long as I can. It was a woman that I worked with, I spent a good amount of time with her on the phone and I'm not … this was no skin off my back at all. It was nothing for me, but it meant the world to her.

Alan Lovell:
She was a lady who has lost her sight, going through the same motions as so many people that we talked to. Needing rehab, needing to relearn how to live independently, yada yada and one of the things that she was upset about is that she could no longer read or read her mail and pay her own bills. That's been a constant struggle for blind people forever, having to have someone assist you with your printed material. And so I talked to her a bit about smartphones and the app, the Microsoft app, that's free, called Seeing AI.

Alan Lovell:
Most of us are familiar with that, it's a free app and it has multiple functions, like the ability to OCR, to read a scan texts and read it aloud. It can tell you the color of items, it can tell you if the lights are on or off, it can tell you the denomination of your dollar bills. But all I did was work with her on the phone and help her get that app downloaded and installed, and gave her a little bit of guidance on how to use it. Again, first time she's using a phone like this as a blind person. So I told her how to use it. So I get this voicemail a day or so later, and when you first start to hear the recording, it really sounds terrible.

Alan Lovell:
You think, "Oh no, what is wrong with this person?" But basically she's overwhelmed with emotion and is so grateful that I took the time to assist her with this, and that the app worked. She got this one little thing back, that she could read and scan her own mail. And the fact that someone was able to assist her with that, she couldn't express her gratitude enough. And she apologizes for crying and being emotional, but she just couldn't help it. And that just meant the world to me. That's something I'll always say, because again, I didn't do anything outside of the realm of what we do here, she just was so grateful. We're glad to get that kind of feedback when it really truly helps.

Joshua Anderson:
And I know exactly that feeling whenever you get to help someone and you know you have something that doesn't take you hardly any time or anything, and just a big difference that it makes in their life. And I think that's probably why folks like us stay in this business and continue to do what we do. It makes it a lot easier to get up and go to work in the morning. That's for sure.

Alan Lovell:
It sure does.

Joshua Anderson:
Alan, can you go ahead and give us that phone number and websites again. Just so that I make sure our listeners get those.

Alan Lovell:
Yes, absolutely. The INR, and that stands for Information and Referral. The INR hotline number is (800) 232-5463. The grouping of websites, one AFP had, and they each had their own URL. We have grouped them into one URL, there are still four websites. They are morphing and they're changing, we are enhancing what AFP has done and preserving the information that is there and building upon it.

Alan Lovell:
But to access it, you can go to … it's kind of a long one, so my apologies, aph.org/aph-connectcenter. So I'll repeat that, aph.org/aph-connectcenter. And there you will find links to all four of those websites. The Directory of Services, FamilyConnect, VisionAware, CareerConnect. And just to let you know, for each one, of course, VisionAware there's information on various eye conditions and research, things like that relating to your eye condition. FamilyConnect is designed for families of a person who is visually impaired and where they can find resources getting started. Toolkits, rehab services, quick tips, things like that. And then of course, CareerConnect is for job seekers and there are job seekers toolkits that can be found there as well as job postings.

Joshua Anderson:
Excellent. We'll make sure to get that number and website put it in the show notes as well so folks can access those. Joe, Alan, I cannot thank you enough for coming on the show and telling us about some of the new things at APH today.

Alan Lovell:
Thank you so much.

Joe Hodge:
We really appreciate you. Thank you.

Joshua Anderson:
Do you have a question about assistive technology? Do you have a suggestion for someone we should interview on Assistive Technology Update? If you do, call our listener line at (317) 721-7124. Shoot us a note on Twitter at INDATA project, or check us out on Facebook.

Joshua Anderson:
Are you looking for a transcript or show notes? Head on over to our website at www.eastersealstech.com. Assistive Technology Update is a proud member in the Accessibility Channel. For more shows like this plus so much more, head over to accessibilitychannel.com. The views expressed by our guests are not necessarily that of this host or the INDATA Project. This has been your Assistive Technology Update, I'm Josh Anderson with the INDATA Project at Easterseals, Crossroads in Indianapolis, Indiana. Thank you so much for listening, and we'll see you next time.