Many individuals with autism, ADHD, Sensory Processing Disorder and more benefit from sensory rooms. According to Experia, sensory rooms are a "specially designed environment designed to give a sensory experience for people with various abilities." The company eSpecial Needs offers a cool addition for sensory rooms: introducing the LED Glowing Ball Pit!
Sensory Room Benefits
Before diving into the LED Glowing Ball Pit (pun intended haha), I want to first discuss some benefits of sensory rooms. A few years ago I wrote about 8 things to consider when designing a sensory room. In this article, I wrote about the following benefits:
Sensory stimulation:

When users engage and explore their surroundings, they're beginning to learn how to react and interact with the much larger world around them

Increased learning and play:

Sensory stimulation engages different areas of the brain and helps children better absorb and retain information

Improved balance, movement, and spatial orientation:

"Sensory rooms can help develop users' visual processing abilities as well as their fine and gross motor skills, facilitating day-to-day living."

Helps tackle behavioral issues:

Multi-sensory environments can be "highly absorbing, providing a moment of comfort and calm for overactive and distressed individuals, and helping inactive individuals to feel better engaged. This improves focus and prevents users from getting the urge to 'act up'"
LED Glowing Ball Pit
The LED Glowing Ball Pit is a fun addition to any sensory room. According to the website's description, "This combination of classic ball pit play and LED illumination creates a unique space for sensory play that kids will want to return to again and again." The soothing light show calms children of all ages.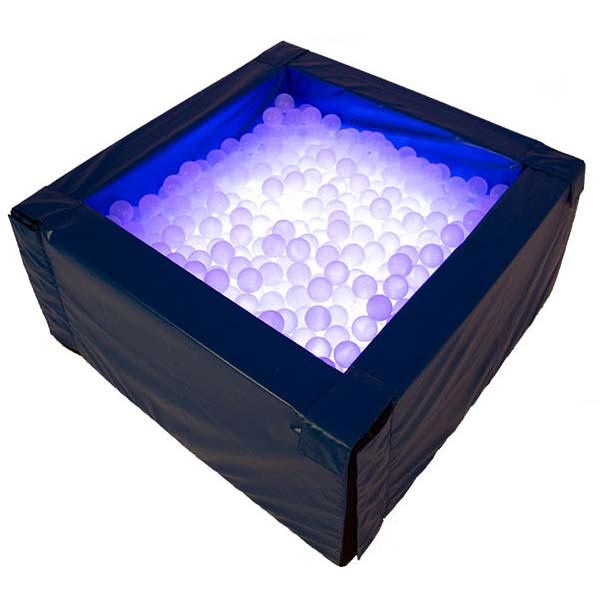 It features a special LED floor pad platform that cycles through eight colors to create a rainbow light show the user can relax in. Other features include:
Vibrant low voltage LED lights that you'll never have to change
Ball pit itself is made of a dense inner foam and an easy-to-clean vinyl exterior
Comes with 1,000 clear balls
Easy to assemble
Dimensions:

42″L x 42″W (inside)
48″L x 48″W (outside)
48″L x 24″H x 6″D (each wall)
Click here to learn more!