Reading opens up a whole new world to children of all ages. Looking for an app to help develop your child's literacy skills? The HOMER Reading: Learn to Read app is a fun, interactive program that adapts to your child's reading level and interests.
While using the app, children can develop reading skills through stories, phonics lessons, songs, their own voice recordings, drawings, and more! As your child travels around a map of activities, they follow the Wickle avatar that they choose and dress.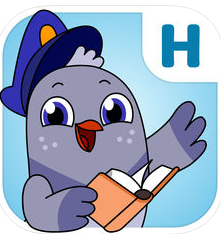 In order to use the app, you'll have to sign up for a HOMER membership. This membership includes two apps: HOMER Reading, the proven learn-to-read program, and HOMER Stories, a love-to-read library of interactive stories.
Features of the HOMER Reading App:
Proven to increase early reading scores by 74% with just 15 minutes a day
Combines your child's passions and interests with their age and ability to create a personalized learn-to-read plan
Thousands of expert-designed lessons on sight words, ABCs, and phonics for readers at every level
Hundreds of stories your child will love
Parents can track their child's progress with the Parent Dashboard and record their child reading their first book
Check it out on the App Store to learn more!