Podcast: Play in new window | Download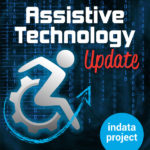 Your weekly dose of information that keeps you up to date on the latest developments in the field of technology designed to assist people with disabilities and special needs.
Show Notes:
Will Kurtz – Channel Partner Manager – The Learning Corp
Website: www.thelearningcorp.com
Phone: 1-888-233-1399  
ASL Tech Story: http://bit.ly/2LYOwN0
Study on AT Helping: http://bit.ly/2M2ei2Z

——————————
If you have an AT question, leave us a voice mail at: 317-721-7124 or email tech@eastersealscrossroads.org
Check out our web site: http://www.eastersealstech.com
Follow us on Twitter: @INDATAproject
Like us on Facebook: www.Facebook.com/INDATA
————–Transcript Starts Here————————————–
Will Kurtz:
Hi, this is Will Kurtz. I'm channel partner manager at The Learning Corp, makers of Constant Therapy, and this is your Assistive Technology Update.

Josh Anderson:
Hello, welcome to your Assistive Technology Update, a weekly dose of information that keeps you up to date on the latest developments in the field of technology designed to assist individuals with disabilities and special needs. I'm your host, Josh Anderson, with the INDATA project at Easterseals Crossroads in beautiful Indianapolis, Indiana. Welcome to episode 427 of Assistive Technology Update. It's scheduled to be released on August 2nd, 2019.

Josh Anderson:
On today's show, we're really excited to have Will Kurtz on to talk about the Constant Therapy app. We also have stories about some new ASL technology and a study coming out saying that AT can help people with disabilities.

Belva Smith:
Are you looking for more podcasts to listen to? Do you have questions about Assistive Technology? Are you really busy and only have a minute to listen to podcast? Well guess what? You're in luck because we have a few other podcasts that you should really check out.

Belva Smith:
First one is Assistive Technology Frequently Asked Questions or ATFAQ, hosted by Brian Norton and featuring myself, Belva Smith, and a bunch of other guests. What we do is we sit around and take questions about assistive technology, either about accommodations, different things that are out there or different ways to use things. We get those questions from Twitter, online, on the phone and in many other ways. We're also trying to build a little bit of a community as sometimes, believe it or not, we don't have all the answers, so we reach out to you to answer some of those questions and help us along. You can check that out anywhere that you get your podcast and wherever you find this podcast.

Belva Smith:
We also have Accessibility Minute. Accessibility Minute is hosted by Laura Medcalf. If you've never heard her voice, it is smooth as silk and you should really listen to that podcast. She's going to give you a one minute blurb about some different kinds of assistive technology, wet your whistle a little bit and let you know some of the new things that are out there so that you can go and find out a little bit more about them yourself.

Belva Smith:
So again, check out our other shows, Assistive Technology Frequently Asked Questions and Accessibility Minute, available wherever you get your podcasts.

Josh Anderson:
Found an interesting story over at 150sec.com. It's titled "Budapest Startup's Tech a Game Changer for the Deaf". It's written by Pat Rabbitte and it talks about a technology called SignAll, which will automatically translate American Sign Language into spoken and written English. This is a startup, so it's still in the phases of being figured out, but it says that the signs are recognized by the computer's vision systems.

Josh Anderson:
It has four cameras, motion sensing devices, a computer. They're recognized by the camera, processed by the PC, and then interpreted into clear sentences because as we all may or may not know, ASL does not have the same sentence structure as spoken English. There's some words missing, it's a little bit different. It says that the company's working on producing desk, tabletop systems, as well as a privacy booth. Actually, it even says here that they have had several of the booths already rolled out, including one at Gallaudet University in Washington, DC. They're also working on other R&D to bring the same result in real time interpretation on common consumer devices.

Josh Anderson:
Very cool technology. Again, still in the startup phase, maybe not out there and completely ready for everyone to have, but the fact that they have one at Gallaudet tells me that it is starting to work, that it is going. I'll tell you, in the videos and the pictures on here, it does show that the individuals signing have some very brightly colored gloves on, with different colors on the fingers, different colors on different areas. My guess is that it's so the computer can pick it up a little easier and be able to do the interpreting, but probably as the computer gets smarter and the technology gets better, you may not even have to wear those gloves.

Josh Anderson:
I know that a lot of times, at least with most of the individuals who I work with who are deaf and hard of hearing and use ASL to communicate, communication can be a big problem. There's some technology that you can use, there's always good old pen and paper to write and everything, but their preferred way of communication is ASL. If they were able to use ASL and someone who did not understand it was able to hear a voice speaking to them and be able to communicate back, that's the one thing that it doesn't say. It does not say if it does the whole two-way communication, but I'm sure that's something they've thought of and something that they're working on. I'll put a link to that story over in our show notes.

Josh Anderson:
Found an article over at thiis.co.uk titled "New report says assistive technology could transform care and help the social care crisis". I'm pretty sure that listeners of this show probably do not need to be told how transformative assistive technology can be or how it can help with independence, care, employment, with a lot of other things. I did want to put a link to this story as it actually does also have a link to that full report.

Josh Anderson:
The report itself was put out by Hft, which is a charity which supports people with learning disabilities, and Tunstall Healthcare, which is a company specializing in connected healthcare solutions. They came together to release this new report, and it looks at the untapped potential of assistive technology and how it can support individuals with disabilities. It can also increase their independence, free up careers to focus on more meaningful support, and also show how it can help bridge the disability employment gap. Again, things that we probably talk about on this show a whole heck of a lot. I feel like there's a possibility that someone listening to this may have even been in on this project, but it is nice to see that people are thinking about this and assistive technology.

Josh Anderson:
As we all know, for folks who are users of assistive technology or from those who work in this field, sometimes just the awareness of what is out there and how it can help is the biggest hurdle to overcome when working or talking about assistive technology. I will put a link over to this story. If you actually scroll down, at the bottom of the story is a link to the entire report, which is called "Improving outcomes, enhancing care: Assistive technology and the case for a Sector Deal for the learning disability sector". Most of the information in here and conclusions gathered probably will not come as giant surprise to the listeners of this show, but it is still nice to read some reports and see what even other countries are doing about this sector, and what they're trying to implement in order to help individuals with disabilities.

Josh Anderson:
Individuals who sustained a brain injury face a lot of challenges during their recovery. Improving their skills, speech and memory can be an ongoing challenge. Therapy and support groups can help, but what about when they're not in these meetings? Our guest today is Will Kurtz. He's here to tell us about the Constant Therapy app and how it can help individuals regain their independence after a brain injury. Will, welcome to the show.

Will Kurtz:
Thank you, Josh. It's great to be here.

Josh Anderson:
We're really excited to have you on and talk about Constant Therapy. Before we get into that, can you tell our listeners a little bit about yourself and your background?

Will Kurtz:
Yeah, absolutely. I've been working with the Learning Corp, makers of Constant Therapy, for about three and a half years now. Before my time with Constant Therapy, I was working in the educational software industry, so working with a lot of K through 12 schools and other folks working with educational software. I found that a really rewarding experience, particularly when we weren't able to reach and really affect the lives of individuals, maybe, with learning disabilities, or sometimes older folks who had issues like dementia and Alzheimer's and that type of thing.

Will Kurtz:
When I learned about Constant Therapy, which was a very young company at the time, I was really excited about the potential. Just reading about some of the work they had already done, working with people who sustained traumatic brain injuries in combat in Iraq and other situations and helping them and their lives for the better, it sounded like a really exciting organization to take a closer look at. I was able to bring my experience from my previous work to the company. Over the past three and a half years, it's really been fantastic to watch the company grow and be able to reach more and more folks and affect the lives of individuals who are struggling with different conditions.

Josh Anderson:
Well it sounds like with that background, you were uniquely skilled to be able to help them out, also.

Will Kurtz:
Hopefully, [crosstalk 00:09:27] it seemed to have worked out so far, anyway.

Josh Anderson:
That's definitely good. So Will, what is Constant Therapy?

Will Kurtz:
Constant Therapy is a mobile app that you get on your tablet or your smartphone. It has a library of over 80 different therapy tasks, and those are in speech, in language, in cognition, in memory attention, etc. The whole idea behind the program is, we want to serve each individual with a unique activity program that delivers tasks in the right domains, at the right difficulty levels for them, and based on what their diagnosis is and what they are working with, with possibly a healthcare individual or coming to us independently.

Will Kurtz:
There's actually two versions of the app. One is specifically for healthcare professionals who can use the program as an aid in their one-on-one therapy, to deliver tasks in those different domains and to be able to access analytics and reporting based on the client's performance. The other version of the app is for the patient or the individual. They basically log in, they tap on a big start button, and they're automatically delivered an activity program that's been put in place for them, as I said, based on their unique needs, their diagnosis, the skill levels that are appropriate to them. Based on that performance, it's going to continue to adjust with the clinician, based on what the clinician may put in for changes in tasks or difficulty levels, and also based on our neuro performance engine, dependent on how the person performs in their accuracy and latency scores.

Josh Anderson:
Very good. Will, why is this an important part of a traumatic brain injury therapy?

Will Kurtz:
It's an important part because it allows for the individual to engage with an activity program as frequently and for as long as they like. One thing that we find across the whole spectrum of individuals who are working with brain injury or related conditions is that it can often be very limited, as far as the therapy that they're able to receive in clinic due to insurance restrictions and other things. To be able to continue on with that therapy, at home or wherever they're comfortable at whatever time of day they want to engage with it and for as long as they like, can really benefit individuals and keep them engaged with a program that's unique to them, both in-between visits to the clinic and after they've been discharged.

Josh Anderson:
Very good. Getting into the two different versions a little bit more, you said there's 80 different things for the user. Can you tell us what some of those are?

Will Kurtz:
Absolutely. Some of those tasks, for any SLPs or healthcare professionals who may be listening, are tasks that are tried-and-true that you've been working with your entire career, but maybe in paper and pencil forms, flash cards or things like that. There are things like reading words aloud, reading pictures aloud, things like memory matching games, face matching, picture matching.

Will Kurtz:
There's also tasks that are specifically focused on what we call everyday skills, so tasks that correlate with what individuals are doing, hopefully when they're returning to more of a sense of normalcy in their lives after an incident. Those can be things like the currency tasks, where you're looking at different denominations of currency and saying how much money is there or doing math problems based on that, or the functional math tasks, where you're looking at a receipt, an email or a prescription and answering questions about that, a voicemail task, where you listen to voicemails and answer questions, or tasks where you're repeating sentences, repeating words, reading. Anything, pretty much, that individuals are working on in the language and cognitive areas, we have a task to deliver to them.

Josh Anderson:
Very nice. From the therapist side, they can, not only assign all these, but also gauge how the participant's doing on all those? Is that a "graphs and charts" way to help them out?

Will Kurtz:
Yeah, that's correct. Within the app, we have very extensive reporting features which allows the clinician to log in, particularly if they have a client who is working on what we call homework, working independently between their visits to the clinic. The clinician can log in at any time and get a real time update as far as how their client is performing on those tasks, how their scores have maybe changed from their baseline scores when they first started with the program, and how they've been progressing all along the way. That can help the clinician make decisions, first of all, as far as how they might want to alter those tasks, as they may want to increase levels of difficulty or introduce new activities to work on, and also get a sense of how their client is progressing and how they're hopefully recovering.

Josh Anderson:
Will, I know you said you've been with the company three and a half years. When did Constant Therapy actually start?

Will Kurtz:
Constant Therapy started a couple years before I joined. We were in clinical trials for about a year or two before launching the app publicly in 2014. We're still a very new company and digital therapeutics is still in frontier realm, as far as people's knowledge about what it can do and how it can reach folks. It's a very exciting industry to be in.

Josh Anderson:
No, it definitely is. I actually do know some folks that have used this and have really talked about how helpful it is. I know, especially from a therapist point of view, you do send folks out with different tasks and, "I need you to work on this, I need you to work on that", but you never know how much the individual actually does in between those times. So, having a tool where you can see how much they're working on it and see in real time… If they've progressed a lot faster than you think, you can go ahead and up it, instead of waiting to have to see them again and maybe let them fall farther behind. I can see how that can be helpful on both those sides.

Will Kurtz:
That's right. That's some of the positive feedback that we hear all the time, both from clinicians, who utilize the program and can use it to keep their clients somewhat accountable and motivated as far as logging in and doing activities at home, and clients, who oftentimes are very motivated. It's important to them to [inaudible 00:16:53] strides in their recovery and to be able to take that into their own hands and be personally proactive about engaging in therapy.

Josh Anderson:
Will, can you tell us some stories about, maybe some folks that have been helped by Constant Therapy?

Will Kurtz:
Absolutely. We are fortunate enough to, on a daily basis, have a support line that is open all day long. We have folks who call us and we're happy to chat with folks as far as any issues they might be having with the program, being able to log in, remembering their password or that type of thing. The thing that's really rewarding is, day to day, hearing those personal stories about people who have been able to utilize the program and have seen improvement in their daily living. Their ability to go out to a coffee shop, order a coffee, be able to make change, be able to order in a restaurant, be able to call their friends on the phone and chat, all these things that we somewhat take for granted, individuals who are recovering from a brain injury deal with these things every day.

Will Kurtz:
One thing that was very… Something that I always remember is, I had the opportunity, early on in my position here, to travel to an aphasia workshop. It was all individuals recovering from brain injury and they were doing different activities that I was able to participate in. It was an overnight camp that I went to, my girlfriend Emily came with me. Different activities like charades, Pictionary, singing songs and things like that, which we participated in as well.

Will Kurtz:
One thing that I learned about the community, particularly when you're talking about aphasia, is it's not a lack of intellect. It's a loss of ability and people are very aware of that. That awareness in that community is something that was really inspirational for me to learn about and to experience, and this shared sense of humor that oftentimes folks will have as well.

Will Kurtz:
I remember at this event, we were standing, my girlfriend and myself, waiting for dinner. They had a spaghetti dinner, we're waiting in line and chatting among ourselves, and an individual comes up, a gentleman. He walked up to us and introduced himself. He had some trouble speaking, but he knew what he was saying. He looked at me and he said, "You sound normal". I said thank you, and he looked at my girlfriend, Emily. He said, "And you, you sound normal". She said, "Thank you very much", then he threw his arms up and says, "So what the heck are you doing here?" I genuinely laughed out loud when he said that.

Will Kurtz:
It's one of those things, when someone can bring that humor and be funny on that base level. You don't even think about it, you just laugh out loud. Experiences like that, chatting with our users on a day-to-day basis is really incredibly rewarding and has been the most rewarding, honestly, experience of my professional life.

Josh Anderson:
It is. While we do work in different professions, getting to work with folks, help them, see them succeed and be able to give them a hand… I don't think most of them realize it, but it helps me as an individual probably as much as it helps them, too.

Will Kurtz:
I think that's right, yeah.

Josh Anderson:
It's very amazing. Will, you said everything's new and all that, but do you guys have anything on the horizon? Anything you're working for? Changes to the program or something new in Constant Therapy that you can talk about? Of course, not too incite.

Will Kurtz:
I think I'm at liberty to chat about some of this stuff. We are always working on the program, I mentioned that we have about 85 therapy tasks. When we launched, we had 15, so we were always working on expanding the library. Because we have such an open and real connection with our users, both our clinicians and our clients who give us feedback all the time, we're able to put those thoughts and feedback back into the program, based on what we've observed works for people and what people have told us they wish they had or would work for them. We're fortunate enough to be able to continue to expand the program, to have an amazing team behind what we do.

Will Kurtz:
As we're moving forward, we will continue to add new tasks to the library, continue to refine the task progression, as far as delivering the right tasks to the individuals who need them. We are also gearing up, actually a little later in this year, for a… I don't want to say a rerelease, but an update of the program, which is going to include [inaudible 00:22:26] exciting usability features. That's to help guide individuals through the program so they understand what tasks we're delivering to them, why we're delivering the tasks and trying to have an interface that really communicates to the individual, what they're receiving and understand why it's helpful.

Josh Anderson:
That's really nice, because I do know a lot of folks that I've worked with before. If you can really explain the "why" of "why are you having me play this game", "why are you having me do this", when you can explain the "why", they're more apt to want to try it, just like any of us. If we're sitting there doing what seems like menial tasks, if we know the point behind it, it can make it a lot easier to actually accomplish those.

Will Kurtz:
I think that's very true, and that's something that we hear from our users all the time.

Josh Anderson:
Will, Constant Therapy, is it available on both iOS and Android devices?

Will Kurtz:
It's available on both iOS and Android devices. You can get it on your iPad or iPhone and Android phone, tablet or the Kindle Fire HD.

Josh Anderson:
Okay, it's on the Kindle Fire, too. Very nice. How much does Constant Therapy cost?

Will Kurtz:
Great question. If you're working in the healthcare industry, if you're a speech language pathologist, an occupational therapist, a skilled nurser or another related profession, the medical version or the clinician version of Constant Therapy, we do provide for free within the medical community. You can contact us about getting started with a clinician account. That allows you to create as many unique accounts as you like for your clients, to continue to work on the program at home.

Will Kurtz:
If you're working on the program at home as a client or a patient, we have different options to continue on after, of course, a free trial period. We have a monthly subscription that's $25 per month. There's no long-term commitment there, that can be canceled at any time. I would encourage people to look at our longer term subscription options, however. For $250, you can have access to the programs for a full year and we're actually currently providing a Kindle Fire tablet along with that purchase.

Will Kurtz:
That can be really a good option for someone who could benefit from the app, or maybe already is benefiting from the app in their one-on-one therapy sessions with their clinician, but doesn't have a tablet at home to access the program, or maybe they tried the free trial on their smartphone but they want a larger screen. If you purchased the year subscription at $250, we'll send you a Kindle tablet at no additional charge.

Josh Anderson:
That's very helpful. That's nice, 'cause then you actually have the way to access and don't have to buy that. At the end, when you're not using Constant Therapy anymore, you're still left with the tablet, so that's nice.

Will Kurtz:
That's exactly right. People buy our tablet, it's fully functional. Use that for your email, download other apps, surf the web, whatever you like to do.

Josh Anderson:
Very nice. Will, how can our listeners find out more about Constant Therapy?

Will Kurtz:
Absolutely. You want to go to thelearningcorp.com. That's the name of our company, or if you just type in constantlytherapy.com, that'll reach us as well. If you have any questions, give us a call. Our toll-free number, that's 888-233-1399. As I said, we answer the phone live all day and we're happy to chat with our users and answer any questions that you have.

Josh Anderson:
Excellent. Will, thank you so much for coming on the show today and talking about Constant Therapy. As more changes and stuff come in, maybe we can have you back on and learn about some of the new features as they come out.

Will Kurtz:
Well thank you so much, Josh. I appreciate you having me on and I'd be happy to come back anytime.

Josh Anderson:
Do you have a question about assistive technology? Do you have a suggestion for someone we should interview on Assistive Technology Update? If you do, call our listener line at 317-721-7124. Shoot us a note on Twitter @INDATAProject, or check us out on Facebook. Are you looking for a transcript or show notes? Head on over to our website at www.eastersealstech.com.

Josh Anderson:
Assisted Technology Update is a proud member of the Accessibility Channel. For more shows like this plus so much more, head over to accessibilitychannel.com. The views expressed by our guests are not necessarily that of this host or the INDATA Project. This has been your Assistive Technology Update. I'm Josh Anderson with the INDATA Project at Easterseals Crossroads in Indianapolis, Indiana. Thank you so much for listening and we'll see you next time.