Looking for a new assistive speech app? Swiftable offers the Jabberwocky AAC app (available on iOS devices.) I have written about several augmentative and alternative communication (AAC) apps, but Jabberwocky AAC offers some pretty neat unique features.
BridgingApps sums the app up pretty well:
The app enables a user with limited speech to talk using text-to-speech. Users only need an iPhone or iPad that supports Face ID. Users with iPhone X can use the head tracking feature to type using only head movement, and then use text-to-speech to talk. The app costs $49.99/year with a free 90-day trial.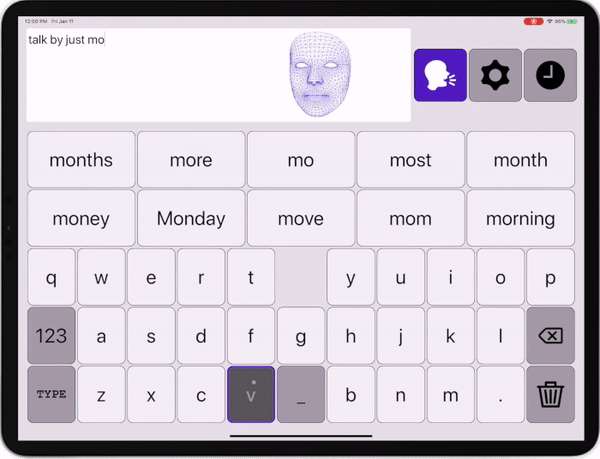 You read that correctly: the app supports head-tracking input on an iPhone X. It translates your head movement into a cursor to type letters and initiate text-to-speech. You also have the option to draw letters and words, so you can "quickly type without dwelling on each individual letter."
Other features of the Jabberwocky AAC app:
Calibration is easy and supports different levels of range of motion and head control
Privacy: what you type never leaves your device
Smart word prediction saves time and learns what you type
History of spoken phrases lets you quickly reuse recent and frequent phrases.
Switch accessible: supports switch control with external switches or by using the whole screen as a switch
Works with or without Wi-Fi access
Check it out on the App Store to learn more!