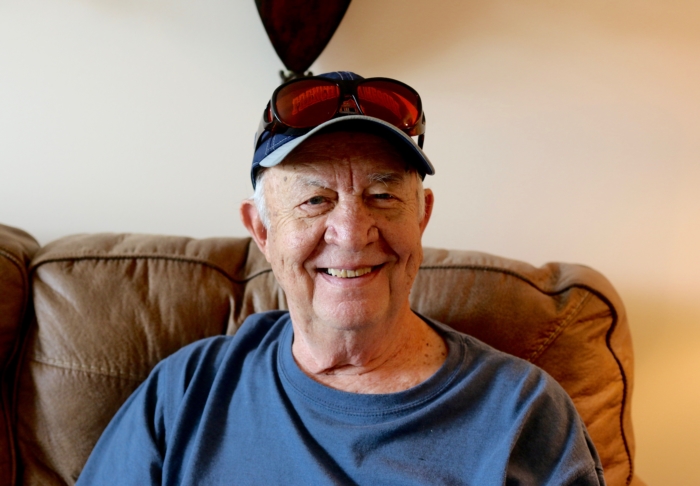 Frank Kontor was born and raised in Gary, Indiana. He graduated from high school in Gary and then attended Purdue University Calumet Campus (Purdue-Cal). His late wife attended the same high school, although he didn't really know her as she was a few years younger than him. One night when he was in school at Purdue-Cal, he went to The Gathering Place, which was a social club for teenagers where they could dance and socialize. It was there that he ran into his future wife that had been a few years behind him in high school and they married when he was 23-years-old.
When he first got married, he was going to school and working full-time at Inland Steel. He was finishing his associate degree with a goal of becoming an engineer when a friend told him about a job at another steel company.
It was then that he started working at US Steel in the IT department. This began a 30- year career with the company. He began as a data processor. He obtained many computer certifications and continued to be promoted in the company working as a computer programmer and retiring as the Manager of the Telecommunications Network.
He and his wife lived in Merrillville, Indiana and raised a son and daughter. He then retired from US Steel and said, "I was fortunate enough to retire at 53-years-old and spend time traveling all over the world with my wife." They also moved to Florida and lived there for 11 years.
Frank started having vision problems twenty years ago. He said, "My entire family has a history of bad eyes. It first started when I got cataracts." He then was diagnosed with dry macular degeneration. Dry macular degeneration is a common eye disorder for people over the age of 50 that causes blurred or reduced vision in the central vision. He took eye medication for the past 20 years to slow the progression of the disease.
Frank started noticing that driving was becoming scary to him. He couldn't see turns very clearly or street signs so his wife started driving at night. He then started to have trouble reading his mail and would need a handheld magnifier to read it and when his vision started to get really bad 5 years ago he and his wife moved back to Indianapolis where both of their children had moved and were raising their families. They enjoyed being close to their children and loved being able to see all of their grandchildren's sporting events.
Frank bought a larger television due to his declining vision and now just listens to television. He enjoys listening to sporting events such as basketball even though he can't see the basketball rim or the ball. He was dependent on his wife for many tasks and then she became ill. She would help him visually and he would help her physically. He lost his wife last year. He shared with me that they had always loved to travel and the entire family was able to grant her last wish and take her to Las Vegas for one final trip. When she passed he struggled with not being able to read his mail or medicine bottles.
He mentioned his vision problems to the manager at his condo and she told him that she had an ex-husband that had vision problems and received services at Easterseals Crossroads and encouraged him to call and find out what services might be available to him. Frank told me that he was familiar with Easterseals Crossroads because his grandson has dyslexia and when he was in high school he used the assistive technology services to get a computer that had Dragon Speech Recognition on it, which is a voice recognition software which allows you to type everything on a computer by using your voice. Frank recalled how helpful that was to his grandson and told me that his grandson graduated college with that computer and was successful in a large part due to having that assistive technology on the laptop.
Frank contacted Easterseals Crossroads and was put in touch with the Equipment  Lending Specialist, Justin Amber, at The INDATA Project at Easterseals Crossroads who told Frank about the Equipment Loan Library. The Equipment Loan library has an assistive technology loan program, which offers a variety of assistive technology that can be used at work, school, home, or in the community. Equipment includes devices for persons with visual, cognitive, hearing, mobility, learning, and other impairments. Individuals who live in the state of Indiana can borrow equipment out of the library for free for 30 days. This allows them to make an educated decision about a piece of technology and determine if it is beneficial to them before they waste their money and find out something is not useful.
He also told him about the Equipment Reutilization Program (aka The Depot). The Equipment Reutilization Program is a program in which we accept CCTV's, video magnifiers, computers, and a few other large assistive technology devices from donors. These items are then sanitized, repaired, and in the case of computers are wiped of all previous data and given to individuals who live in the state of Indiana and have a documented disability for free.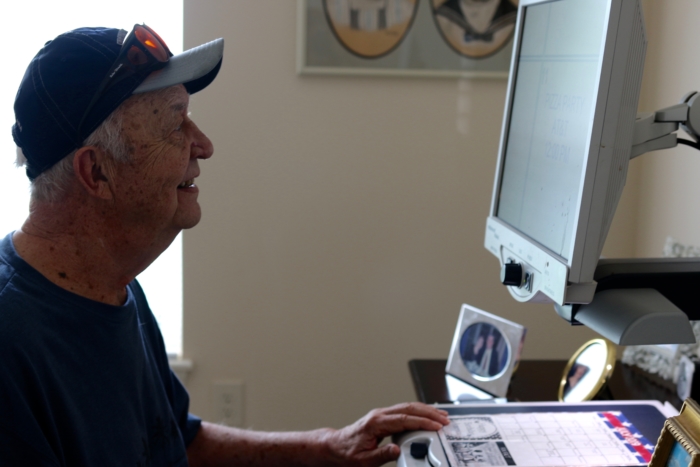 It just so happened that the Depot had a Merlin desktop magnifier immediately available to give away so Justin assisted Frank in applying for that and then brought it to his home to set up for him. Justin showed him how to use the desktop magnifier and told him to try it out and if it was helpful he could keep it. Frank said, "Oh my gosh, it helped so much. This thing is a lifesaver. I can read my own mail without having to be dependent on my family. I can see the event calendar in our condo and even look at pictures of my family."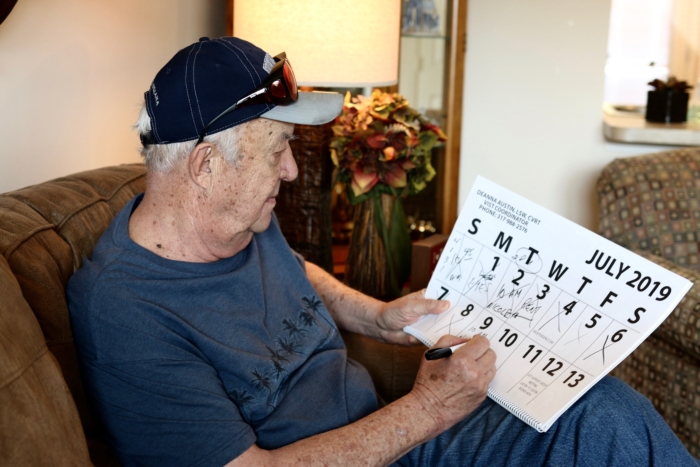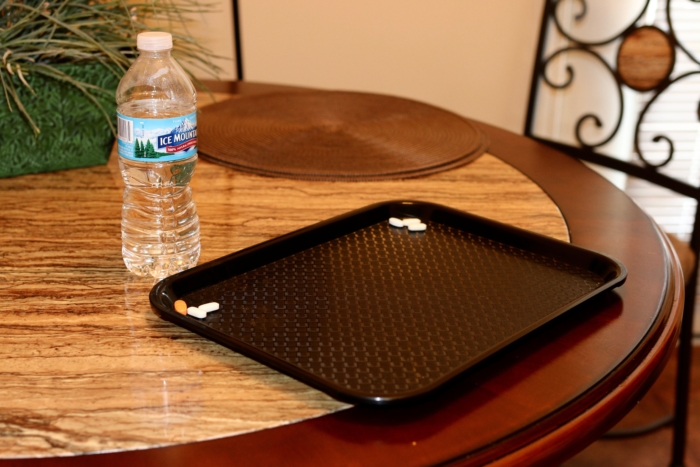 He said, Justin also brought me a low vision calendar and low vision line paper that I use every day. I had not even thought about there being large print items available. My brother-in-law then got me a giant print check register to keep track of my banking. I use the Merlin to look at my bills and then write it down on the large line paper and then transfer the check amount to my check register. I do this for anything that I don't have automatic deductions on. Justin also let me borrow a cutting board that on one side is white and the other is black. I can put a white onion on the black side for contrast so I can see to cut it and then darker fruits and vegetables on the white side. This got me thinking about other ways I could provide contrast and led me to getting a dark serving tray to put my medicines on them. I put my morning pills in one corner and my evening pills in the other corner and I can see them on the black tray. My friend also gave me a handheld magnifier, which is helpful when I am on the go. Justin also told me about the Low Vision Center on Meridian Street and I plan to visit there to see what other types low vision equipment are available."
Frank also uses his apple iPhone. He said, "I had a flip phone and no computer. When I retired, I did not want to mess around with any more technology, but my son insisted on getting me an iPhone and it's been really helpful. The biggest advantage is being able to control the phone with voice commands. I am able to just ask my phone to call someone and can also text verbally. I also use Siri if I need to ask a question like what the weather is today."
Frank was very appreciative of not only receiving the desktop magnifier, but also receiving large print and high-contrast items that have opened his mind up to figuring out more ways to accommodate his daily tasks. Frank is able to live independently due to many of the technologies he now has in place. He loves being independent and enjoys his retirement community where there are many activities he can participate in and opportunities for him to socialize. He told me that he will continue to learn about different types of assistive technology available and will utilize the library to try out things and determine if they are useful to him so he can continue to be as self-reliant as possible.