Virtual reality (VR) has opened up a whole new world to many individuals with or without disabilities. Cyber Eyez takes VR technology and transforms it into something beneficial for individuals with visual impairments. The Cyber Eyez Trifecta offers real-time magnification and so much more for said individuals.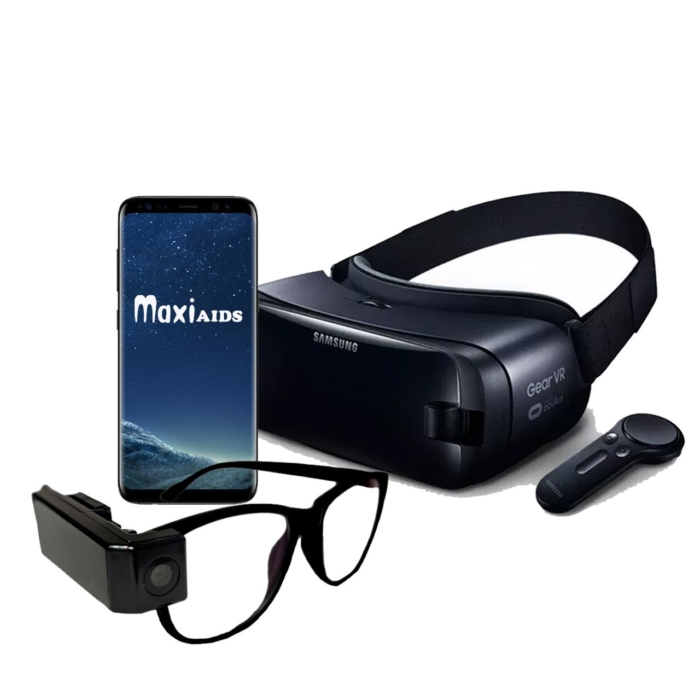 The Trifecta adds Smart Glasses and the Smart App to the original Cyber Eyez VR device. While wearing the headset, users can discreetly scan and read text, identify objects, read barcodes and more. The system comes with the VR headset, Smart Glasses, Cyber Eyez Smart App, Samsung S9+, carrying case, and a remote control (if not using headset touchpad).
Cyber Eyez Trifecta Overview:
Zoom in (up to 20x with no lag) so you can easily fill out forms (e.g. receipts), watch TV at a distance, read, and more – all in real-time
Offline and Online Reading Assistant (OCR)

Offline: read text in over 100 languages with no internet connection
Online: use the "amazing text recognition capabilities of everyone's favorite app Seeing AI"

Object Recognition (online and offline)

Offline recognizes over a thousand common objects
Online recognizes over 16 billion objects right out of the box!

Color Assistant helps individuals identify over 1,500 colors!
Mood Ring Mode: "our mood ring mode gives you the ability to know if the person you're talking to is sad, angry, surprised, etc. within seconds
Scan bar codes: because it's based on computer vision, you don't have to look around for a bar code
Lifetime software updates
Online training
Free technical support
Click here to learn more about the Cyber Eyez Trifecta!