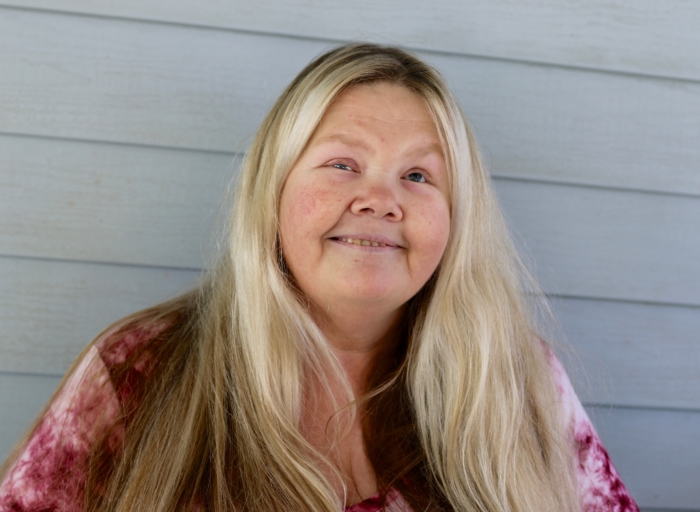 Melissa Lopez is a mother of four children and a published author of over twenty books. She was also completely blind until age twenty-two. She was born blind due to lattice dystrophy, a rare corneal disease, which wasn't diagnosed until she was in middle school. It is a disease of the eye where there is an accumulation of protein clumps, which causes the cornea to harden, crack, and impair vision. Melissa was also born with congenial cataracts.
Melissa's parents raised her as a sighted child, so she learned to adapt and compensate. They knew she was very sensitive to light and was having trouble with her vision, but they did not know she was blind. They took her to eye doctors all over the United States and when she was twelve-years-old she saw Dr. Crebo in Kokomo, who finally diagnosed that she was, in fact, blind. Melissa said, "I had always done everything that a sighted person did and probably many things I shouldn't have done. It was very painful to be in any light and my eyes really ached all the time."
Melissa attended public schools in Kokomo, Indiana. Her mom, who had a limited education, taught her tactile ways of writing the alphabet and numbers. She would trace them on Melissa's hand with her fingers. Melissa went to traditional classes, but was also in what was then known as the emotionally disturbed class support where they had a teacher and aide that could help them. Melissa's senior literature teacher, Mrs. Kay Deluise, would read to her during her lunch hour and that is where Melissa first began to love romance novels. "Shanna" by Kathleen E. Woodiwiss was the first romance book Mrs. Deluise shared with her. Melissa said, "I just fell in love with the genre. I'd borrow her romances so my mom could read them to me in the evenings. I told her they were homework assignments."
Melissa then graduated from high school, got married, and had twins. Her then husband was in the U.S. Army and they moved to Germany. Her ex-husband's captain had a friend who was a corneal specialist in Kentucky and the Army granted them a compassionate reassignment to Ft. Knox, Kentucky. While living in Kentucky, she visited Dr. Eiferman in Louisville. During this appointment, he convinced her to let him "try to give her vision." He performed double corneal transplants and cataract removal with lens implants.
As a result of this surgery, Melissa was the fourth person in the United States to gain eyesight. She said, "After surgery, I remember my head hurting from being over stimulated. My doctor had on a plaid golf outfit. It hurt my head and was so confusing. I also remember noticing the freckles on my ex-husband's face. Later on, Dr. Eiferman explained to me that although now I'm sighted, I had visual agnosia, which means I could see, but I could not recognize or understand what I was seeing. My visual cortex went too long without visual stimuli. I couldn't store pictures in my brain. I can memorize things that I hear, but really struggle with visual information."
While living in Kentucky, Melissa's husband was deployed to the Desert Storm War and she needed transportation so she learned to drive, which she never enjoyed. With visual agnosia it was as if she had constant vertigo while driving. She was raising her twins while he was away and trying to figure out a world with eyesight.
When he returned, they divorced because it had always been an abusive, unhealthy relationship and she moved back to Kokomo. While in Kentucky, she'd taken some classes at Elizabethtown Community College and once back home started taking classes at Indiana University of Kokomo (IUK). She also started toying around with writing. She said, "I had started writing a little and I was told by a few of my professors that I had a really good voice. I didn't really know what that meant at the time and didn't have the confidence to consider myself a writer. I just kept doing it because I enjoyed it."
Melissa said, "I continued to write and during that time I met my second husband who I was with for seventeen years. We had two children and while raising them I continued to work on my degree. I'd kept writing, but wasn't confident about trying to get it published and then 9/11 happened and it really affected me. My best friend had a cousin who died in the towers and I just kept thinking about everyone who lost their lives and how all of their dreams had vanished. It inspired me to try to get a book published and to live my dream. I kept thinking, "I now have some sight and I've always loved books so I should chase my dreams."
Melissa then began to seriously study the craft of story writing. In 2002, she lucked into Sherrilyn Kenyon's fan fiction chat room and writing forums and her world was opened up. Sherrilyn's critique partners who moderated the Yahoo DH groups encouraged Melissa to try writing in her own worlds, so she did!
She had her first book published while she was a student at IUK. She said, "I love writing because I can be anything I want to be in books. My first book was contracted in October 2005 and released in December 2006 and that summer I graduated with a BA in general studies and a core in English. After I graduated, my husband didn't want me to work outside of the home. So, I stayed home and raised the kids and continued writing books. I made some money on the books I was getting published, but my husband was very controlling with the money that I made. We eventually got a divorce over these financial struggles. My second divorce was amicable, and we remain friends."
Melissa has now had published books by dozens of editors and has 25 books in eBook and print. She's written for five publishers and worked with one New York literary agent, Roberta Brown. Recently she began self-publishing, critiquing, and editing for other authors. As the small presses closed one-by-one, she got the rights back to her stories and has begun republishing them.
After fifteen corneal transplants and other procedures, Melissa started to lose her vision, again. About seven years ago, she had her left eye removed and decided it was time to stop having corneal transplants. She said, "Lattice dystrophy is in the chromosomes, so there's no escaping the disease. I would rather live in shadows and accept the loss of eyesight then wind up having the other eye removed."
When she started losing her vision again, she reached out to Vocational Rehabilitation. She had received services from Vocational Rehabilitation when she was in high school. Vocational Rehabilitation (VR) provides employment services to individuals with disabilities who live in the state of Indiana. They provide individualized services and support to help people prepare, obtain, or retain employment. She asked to have her case reopened to find out what services were available to her due to her increased vision loss.
Melissa said, "They are making it possible for me to continue to succeed in a sighted world. I'd met their strict guidelines and have proven that I have the motivation to pursue a career in a field I love so they are paying for me to attend Southern New Hampshire University where I'll be graduating in June 2020 with dual Master's in English and creative writing. I'll be the third blind/visually-impaired student in Indiana to go through and graduate from their program. VR has also provided me with assistive technology. They provided me with a small handheld magnifier called a Candy that I can use on the go to read print. I can use this for menus at restaurants and to read other print when I am in the community. I also received a desktop CCTV that I can use to read print at home.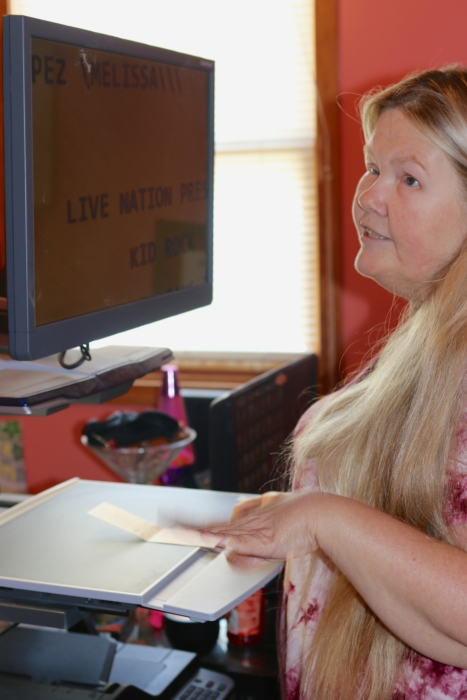 Melissa said, "I was taking classes for a couple months and it was getting harder and harder for me to use a computer. I'd have to put my nose up to the screen and was still having trouble seeing what was on the screen. I mentioned this to my VR counselor and she referred me for an assistive technology evaluation. I was assigned to work with Anna Leung, Assistive Technology Specialist, at Easterseals Crossroads to determine what assistive technology would be the most helpful for me. Anna has been so helpful. She is a technology goddess. Anna recommended Zoom Text for the laptop VR provided and also an iPad. I can take the iPad with me on the go and use the built-in magnification to read print. Anna then helped me get the ZoomText software downloaded to my computer and trained me on how to use all of the magnification and voice output features of the software. The voice over feature is great on days when it's too hard for me to read any print. She also showed me many helpful apps that I can use on my iPad or iPhone. My very favorite is the Seeing AI App. It has so many great features. I can take a picture of something and it'll read it out loud to me. The Seeing AI App can also identify money and it has a barcode scanner that can be used to identify products when shopping. She has also told me about Dragon Naturally Speaking and I'll probably look into that before my eyesight is completely gone. At this point, I still like to type while I can. We're also going to work on how to use all of this technology with LinkedIn, blogs, and social media sites so I can promote my past and future writings. I know that my lattice dystrophy will eventually overtake the rest of my vision and I'll be completely blind. I'm trying to learn everything I can to be prepared. It's so amazing to have the assistive technology I need. I no longer have to write and edit with my nose pressed against a screen. It's wonderful to have Anna here. I practice when she's here and have all of my questions answered during our training sessions. Sometimes I run into problems on my own and I know I can ask Anna for her assistance in solving them."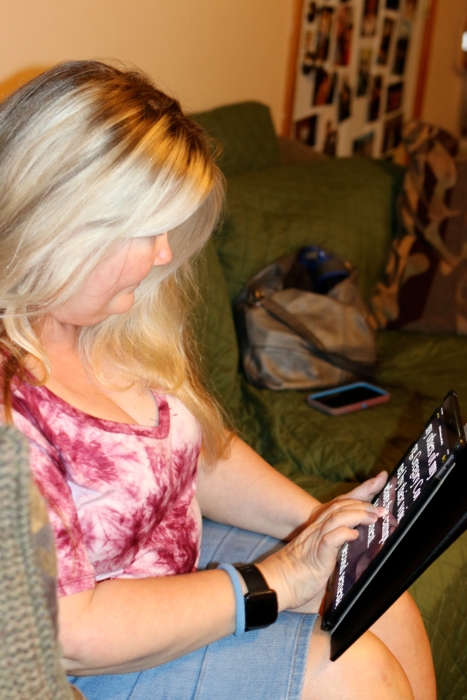 Melissa and I spoke about how important assistive technology is in her life and she said, "Assistive technology allows me the opportunity to do things a sighted person does. Assistive technology makes my life so, so much easier. Having programs that magnify or read what is on a screen allows me to complete my class assignments, blog, and publish books. I really want a career and I want the most out of life. I want to teach college students. Not only am I getting dual master's degrees, I'm learning a dozen writing and video programs. I'm very excited to inspire other's to find their passion for writing. I remember Stephen King saying that you can't teach creative writing, but you could cultivate creating writing and that is what I hope to do when I become a teacher. Assistive technology means everything to me. I wish I'd had all these wonderful programs and apps long before now. I would advise anyone to dive into assistive technology now. The longer you wait the harder it'll be to learn since advances are made all the time in technology. The sooner you get used to working with assistive technology the easier your life will be."