Children of all ages love coloring! It's become common even for adults to color (hence the recent trend of adult coloring books.)  A very common way to unwind is to color; either with traditional crayons and paper, or on an app!  The PicoToONS Colouring Book is a "unique creative colouring book crafted with love and passion, dedicated to children of all ages."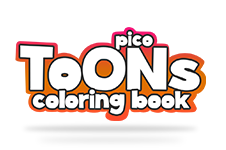 The PicoToONs Coloring Book features simulated drawing tools like crayons, brushes, and pencils.  It also offers a special effects tool so you can easily draw things like water droplets, bubbles, grass, fur, and more.
The developers behind the app, Bigo Bjuo, wanted to make the app as user-friendly as possible.  To do so, they added a "unique customizable user interface allowing you to adjust the app to your child's abilities and/or liking.  We've also added a customizable parental-gate feature which enables you to lock certain functions of the app." 
PicoToONs Colouring Book Overview:
Over 120 "beautiful" toon-like coloring pages in five themes: Occupations, Animals, Fairies and Friends, Robots, and Creatures
Myriad of drawing tools available: pencils, crayons, brushes, sprays, markers, buckets, and sparkling glitter paint, too!
Special effects tool features glowing stars, ornaments, fur, grass, bubbles, etc.
Decorate your drawings with a set of beautiful stickers
Ability to add text to your drawings
Over 50 customizable patterns
Built-in gallery: save your drawings and finish/edit them later!
For parents:
The app features a unique customizable User Interface: this allows you to adjust the user interface to your child's abilities/liking, on/off tools, and other controls
Other User Interface settings like stay-in-the-lines assistant, toolbars auto-hide, etc.
Configurable child-lock: lock access to certain functionalities of the app
Click here to learn more about the PicoToONs Colouring Book app!