You know those classic colorful toys where you stack rings on top of one another? Fat Brain Toys offers their own spin (pun intended!) of this classic toy in their SpinAgain toy!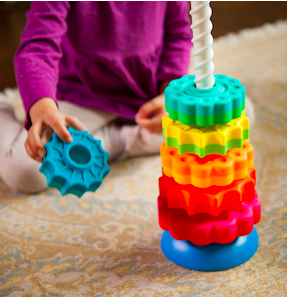 While playing with the SpinAgain toy, children will "drop the vibrant discs onto the threaded corkscrew pole and go 'ooooh' as they spin fast and smooth to settle onto the reversible base." Each disc features two colors, fun shades like magenta, lime, and teal, as well as your more traditional shades of yellow, red, and sky blue! The star-like discs alternate between daisy style and starburst shapes, too.
If you want to make a rainbow, or keep all the round-edged shapes separate, you can! "Even the smallest disc can spin all the way to the base." After all the discs are in order, you can lift up on the "easy-to-release" central pole and all the discs spin off the bottom.
Features of the SpinAgain toy:
Made of coated ABS plastic that is "pleasant to touch"; all discs are solid and BPA free
"First ever stacking and twirling toy"
Encourages hand-eye coordination and baby engineering skills
Also promotes sorting and color-recognition skills
You can choose how to set the base for your child: either a wobbly base or simply turn it over for a solid seat
Instills a "sense of wonder as children watch the discs spin and twirl!"
Chunky discs with unique textures inspire tactile exploration
Cause-and-effect learning
Includes six discs, a reversible wobble base, and a corkscrew pole
Vibrant, eye-catching colors: magenta, lime, teal, lemon, red, sky blue, and more
Click here to learn more about the SpinAgain toy!