If you reside in Indiana, you likely feel the chill of winter in the air. Unfortunately, that also means flu season is among us. If you or a loved one ends up ill and/or on bed rest for any reason, I wanted to write about a few assistive technology solutions to simplify your life.
No one wants to be on bed rest, but at one point or another most of us will spend a significant amount of time in bed. It could be due to temporary/permanent disability, illness, high-risk pregnancy, and more.
If you or a loved is stuck in bed, keep on reading to learn about some simple assistive technology solutions to make your (or their) life easier.
4 AT Products for Bed Rest:
The following list is relevant to individuals resting at home or in a clinical setting.
If you're looking for a way to mount your smartphone or tablet while laying in bed, check out the AboveTEK Heavy Duty Aluminum Tablet Stand. This "three device bracket lazy mount gooseneck holder is perfect for hands-free video watching, browsing, or reading."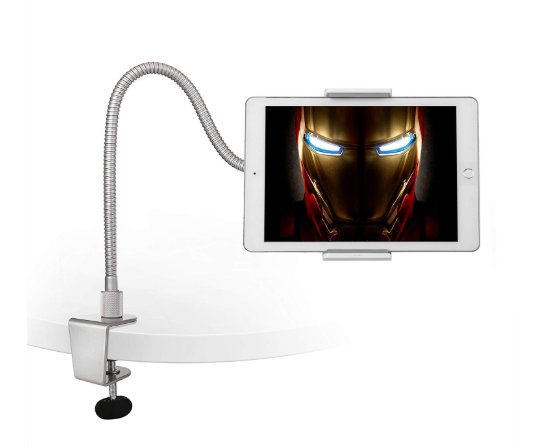 Features of the AboveTEK Heavy Duty Aluminum Gooseneck Tablet Stand:
Fully adjustable: freely adjust your tablet or mobile phone to your most comfortable viewing position

360º rotatable swivel has you covered no matter what position you're in

Skid-proof, anti-slip holder that firmly clamps and stands on your desktop without shaking or slipping
This sleek and portable model can go with you wherever you go
Easy set up: no holes or drill necessary! You can easily clamp this mount to a surface of up to 1.8 inches thick
Fits mobile devices with a 3.5″ to 10.5″ display
Click here to learn more.
Spry Therapeutics has been around for over two decades. They offer an assortment of pillows to suit your needs. One of their available products is the Spry Recovery Roll Pillow. Their Roll Pillow features Flo-Form fluidized technology. According to the website, "Flo-Form allows users to mold and conform our products into any shape without it returning to its original state."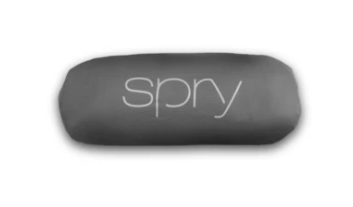 Features of the Spry Recovery Roll Pillow:
Flo-Form technology helps "redistribute pressure, forming a uniquely comfortable and supportive cushion against any surface"
Size of the pillow makes it easy to carry and store
Comes with a soft, breathable cover that can easily be removed and washed
Add a hot or cold pack to help soothe muscles and dull the sensation of pain
Hypoallergenic material
Click here to learn more!
EZ-Access offers the EZ-Shampoo Hair Washing Basin which allows for a refreshing shampoo without getting out of the bed. It is an inflatable basin that provides "secure, form-fitting support that cushions head and shoulders." With this basin, a caregiver can quickly shampoo and rinse your hair without any awkward bending and lifting.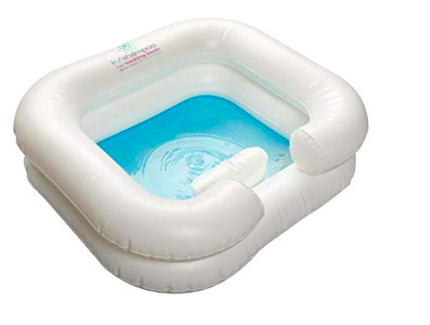 Features of the EZ-Shampoo Hair Washing Basin:
Inflatable and lightweight for portability and convenient storage
Double-tube design helps prevent spills and splashes
Attached to a 30″ drain hose that features a one-way stopper to easily remove suds and water
Provides secure, form-fitting support that cushions the head and shoulders and includes an adjustable built-in headrest
One-year warranty
Click here to learn more!
Whenever I am stuck in bed, I am unable to move myself. I have a Sleep Number bed at home to relieve some pressure as necessary. However, if I'm in the hospital, I often get sore from the hard mattress. The Meridian Alternating Pressure Mattress with Electric Pump is a "medical mattress [pad] that inflates with alternating pressure in order to prevent bed sores and pressure ulcers."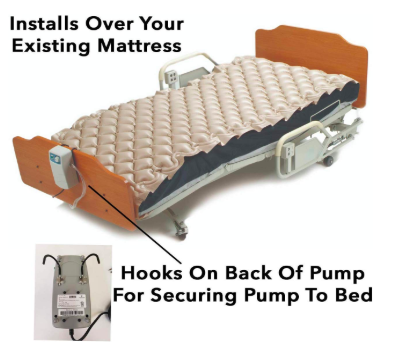 Features of the Meridian Alternating Mattress with Electric Pump:
Can be powered via a standard household electric outlet
Supports patients up to 300 pounds
Bedsore prevention mattress overlay comes with a very quiet, high-quality pump
"Compact pump is the secret for making this medical air mattress the most comfortable in the industry"
Durable, heavy gauge, premium vinyl with 130 individual bubble cells which provide "maximum comfort while being highly effective"
Comes with a 1-year guarantee
Click here to learn more about this mattress pad.