Podcast: Play in new window | Download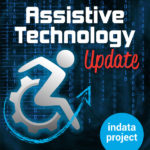 Your weekly dose of information that keeps you up to date on the latest developments in the field of technology designed to assist people with disabilities and special needs.
Show Notes: NaviLens:NaviLens EMPOWERING the visually impaired
LinkedIn — Javier Pita Lozano – Chief Executive Officer – NaviLens
Social Links:LAMAR (@yoavery) / Twitter
Email: lamar@navilens.com 
Medium Article on Tactile Paving:The Future of Accessibility Tech – Avery Lamar Johnson – Medium 
Deconstruct Info:Deconstruct Media – Medium
DECONSTRUCT (@deconstructmedia) • Instagram
Deconstruct Podcast Link: https://anchor.fm/deconstruct
Top 10 AT Podcasts: http://bit.ly/32iKUK6
Buttigieg Story: https://cnn.it/32fnQvJ
——————————
If you have an AT question, leave us a voice mail at: 317-721-7124 or email tech@eastersealscrossroads.org
Check out our web site: https://www.eastersealstech.com
Follow us on Twitter: @INDATAproject
Like us on Facebook: www.Facebook.com/INDATA
—————Transcript Starts Here—————————–
Lamar Johnson:
Hi, this is the Lamar Johnson and I am the business development and UI UX design intern at NaviLens. And this is your Assistive Technology Update.

Josh Anderson:
Hello, and welcome to your Assistive Technology Update, a weekly dose of information that keeps you up to date on the latest developments in the field of technology, designed to assist individuals with disabilities and special needs. I'm your host Josh Anderson with the INDATA Project at Easterseals Crossroads in beautiful Indianapolis, Indiana. Welcome to episode 441 of Assistive Technology Update. It's scheduled to be released on November 8th, 2019.

Josh Anderson:
On today's show, we're very excited to have Lamar Johnson on, from NaviLens, to talk about it, as well as some things he's doing in podcasting. We got a quick story about Mayor Pete Buttigieg, who is running for president and a plan he's come out with to help individuals with disabilities, as well as a major shout out to, well, to us, which is pretty cool. Not to toot our own horn, we don't like to do that all the time, but sometimes I guess we kind of get to.

Josh Anderson:
Also want to go ahead and apologize to all of our listeners who perhaps didn't get the show on time last week. We had a little bit of a technical difficulty and the show did not post on time. Luckily, I do believe that problem has been fixed and hopefully will not happen again. But we do all that we can to get you quality programming, a good show and get that out on time. Unfortunately, this was just an unforeseen incident. Something just didn't quite go through right. Again, hopefully that problem is fixed and we will do our best to make sure that that does not happen in the future. Thank you so much for your patience and let's go ahead and get on with the show.

Josh Anderson:
And if you don't have time to listen to a full podcast, be sure to check out Accessibility Minute, our one minute long podcast that will help you learn about new assistive technology. Check it out wherever you get your podcast. Going to put a link in the show notes over to Feedspot, because I got a story here that says the top 10 assistive technology podcasts you must follow in 2019. First of all, it's awesome to see 10 different podcasts all about assistive technology, but maybe the best part is that Assistive Technology Update, that you're listening to right now, was actually ranked number one. So I am so honored to be a part of this podcast, but also want to thank every single one of you for listening, for checking us out and for just helping us get these great guests so that we can continue to really get the word out about assistive technology.

Josh Anderson:
I'm also really happy to say that also our sister shows, Assistive Technology Frequently Asked Questions and Accessibility Minute were also made the top 10, at number six and number nine, respectively. So again, very cool to be on here to be thought of, of course, to kind of be able to be number one. And hopefully we can continue to do that, well forever and ever, or at least as long as we can continue to go and as long as the assistive technology stays in people's minds. Thanks to Feedspot for posting this, thanks to everyone who helped us become number one and we'll do everything we can to try to stay up there on top.

Josh Anderson:
Don't forget, if you ever have someone you think would make a great guest, please reach out to us. We always love those ideas. Some of our best interviews will actually come from other folks who tell us different people that we might want to interview or might kind of want to know. But don't forget, you can always drop us a line on our listener line at (317) 721-7124. Shoot us a line on Twitter @INDATAproject, or email us tech@eastersealscrossroads.org. Thanks again.

Josh Anderson:
As we get closer and closer to the next presidential election, there's still a lot of folks in the race and still kind of working around. And as you all know, we don't talk about politics on here, so this is not any way, shape or form any kind of endorsement for anyone. But I did find a story over at cnn.com in their politics section. It's titled Buttigieg releases plan to aid people with disabilities ahead of Iowa forum. So basically a lot of the Democrats are releasing different plans for healthcare, for all other kinds of manners of things. But this is actually a plan to aid individuals with disabilities, to kind of dismantle the discrimination against people with disabilities and different things like that.

Josh Anderson:
It talks about some different things, fair labor standards. So kind of getting away from the sub-minimum wage jobs, sheltered workshops, as some people may know them, and trying to get rid of those as well as aim to double workforce participation for individuals with disabilities by 2030. So I thought that was pretty darn cool, that that's an idea. And I'm not saying he's the only one that has it. This is just the story that we kind of found. Also to kind of get away from some of the things that probably still do happen out there, institutional abuse, different stuff like that. So it really looks like it's trying to kind of do a lot of things it should probably already be done, but do still kind of exist out there.

Josh Anderson:
It also says that it wants to expand accessibility at voting locations. So just to make sure that the voting process can accommodate people with any disability. So again, plans from people who want to be politicians don't always kind of happen that way. But at the same time, just the fact that they are thinking about this, that they are kind of putting it in writing and getting plans down is always a step in the right direction. And just always remember individuals with disabilities and all that, because we all do have a voice and all we have to do is vote in order to use that voice. So we'll put a link to that over in our show notes. Again, pretty much anyone could have this kind of plan. This is just the story I found. And it always does make me feel good to think that at least these folks are taking the time to consider individuals with disabilities and how they might be able to help.

Josh Anderson:
So the QR code has been around since, I think 1994, and it's really helped with a myriad of things. Well our guest today is Lamar Johnson from NaviLens, and they've developed their own kind of like QR code, that along with an app, can assist individuals who are blind and visually impaired with everyday tasks and greater independence. And we can't wait to learn more about it. Lamar, welcome to the show.

Lamar Johnson:
Yeah, thank you, really glad to be here.

Josh Anderson:
Yeah. And I'm really excited to learn about NaviLens. But before we get into talking about the technology, can you tell our listeners a little bit about yourself and your background?

Lamar Johnson:
Yeah, so my name it's Avery Lamar Johnson. Just full disclosure, but I also go by Lamar. And pretty much, I went to Spain for my graduate program. I studied human rights and EU studies, European Union. And from there I started getting involved with NaviLens. I saw the opportunity that he posted online, the CEO, Javier. And from there, I started working on their business development and their design of the app. And really just started going full in with NaviLens. Other than that, I am really involved into tech and social political policy. So there's kind of like a large realm of things that I'm really interested in, and NaviLens just happened to be one of those great interests of mine. And I really hope and plan to continue doing it from this point on.

Josh Anderson:
Excellent. It sounds like, yeah, just with your interest and everything that falling into NaviLens was kind of about the perfect storm. So tell our listeners, what is NaviLens?

Lamar Johnson:
So NaviLens is essentially an application. And what this application is able to do is it really is trying to provide autonomy for blind and visually impaired people, at its primary goal. And the reason why this really exists is because all of these different technologies that have existed that are to provide more autonomy for blind and visually impaired people, just people within that community, the technologies end up not really doing exactly what they're supposed to. Because of a myriad of different reasons, from not actually having blind and visually impaired people in the process of creating it, it being way too expensive, or it just not really being what they need. And with NaviLens, we really tried to bridge that gap. And there's the gap with functionality, there's a gap with being able to pay for the actual product. And there's a gap within the actual knowledge of trying to use the technology.

Lamar Johnson:
And that was something that was held very deep within the CEO, Javier's heart. And he really wanted to try and make it so that we could create a technology that would allow the people within this community to have the autonomy they need, in order to move about their world in the exact same way that someone who is sighted would be able to do. And so from this point, they started to recreate the QR code. And there were hundreds of different iterations of what this could be. And they finally came up with this really bright QR code with a bunch of different blocks of colors. And the blocks of colors are really important because blocks of colors, if you are visually impaired, seeing something that's really bright and really piercing to the eye will really show you that this is a code, this is NaviLens And I can use my phone in order to figure out what's going on here.

Lamar Johnson:
And so the main idea from this is that this is something that would be used at the home. Let's say you need to figure out spices or something like that. You can have individual codes just on different spices so you don't have to continue to look at the label really close to your eye, or even try and smell it and hopefully your other senses are going to figure it out for you. And so that's pretty much how NaviLens really started, we just wanted to figure out a way to create that autonomy.

Josh Anderson:
And you kind of touched on it a little bit there Lamar, but what kind of information can all be stored in these? I don't know what to call them, I don't want to call them QR codes.

Lamar Johnson:
Right, right. Honestly, you could literally just call them NaviLens codes, like that's what we called them. There were a few different names that they kind of went through. But when, at the end of my term in Spain, it really just kind of boiled down to just NaviLens codes.

Josh Anderson:
Perfect. So, what all kind of information can be stored on these NaviLens codes?

Lamar Johnson:
When it comes down to personal use, pretty much you can store just about any kind of information on here. So yeah, so it's really interesting. And if you wanted to print these codes off right at your home, which you can do right off of the app that is available on iOS and Android, you can pretty much just print off the codes. And then there are even tutorials on, if you are a blind or visually impaired person, there are tools that you can use in order to make these codes work for you, cutting them out or tearing them apart. Whichever the case is, we made sure that this is something that anybody is able to do, regardless of your level of sight.

Lamar Johnson:
And with that, you can put information, you can put time sensitive information on it. There's really just kind of a world of possibility when it comes down to it. I was even talking to someone through email and they were talking about how they created a game with the NaviLens codes. They stuck the codes onto playing cards. And so that way, the people at this school for the blind, they're actually able to use the cards and they can play just like any other person can. They don't have to hold the card up super close to their face or anything like that.

Lamar Johnson:
And honestly, that's something that I never thought of, but it's something that the consumer or the user thought of. And that's the beauty of NaviLens. The possibilities are so endless that people who created the product, we can't even figure out all of the different ways that this can be applied. And I find that truly beautiful.

Josh Anderson:
Very nice. Now I know usually you have to be pretty close to a QR code to really get it to register and to get everything to pick up the information. With the NaviLens codes, how far away can you be and still have the app pick up the information?

Lamar Johnson:
Yes, this is honestly one of my favorite things. In our office, there are just like a slew of different size NaviLens codes, just pretty much everywhere. And the best part is that you can just walk into an area and a code can be as small as an SD card, let's say that, an SD card. And you can be somewhere around 30 to 40 feet away. And the beauty of it is that our cameras these days in our phones are so powerful and they're so detailed rich that they're able to detect where these codes are at, and they can draw information from them literally within milliseconds. Like it is the quickest thing that I've really noticed. And I think that that is just amazing because you really don't really need to actually even see the codes. If you're in a place that you know is NaviLens ready, all you would have to do is just kind of wave your phone around and it'll just tell you what's there. And it'll tell you how far away it is from you and what content is on that code.

Josh Anderson:
And it's pretty awesome. Now is the app able to pick up more than one at a time? I mean, I think of like a long corridor that might have more than one sitting there. Can it pick up more than one?

Lamar Johnson:
Yes. Yeah, it can pick up as many as there are honestly. And then it will read them out for whichever one is close to you. So let's say you're starting to read something or you're starting to hear something, and it's not the code that you want, but it is the closest. In order to just hear the next one, he would just have to shake your phone and then you can go to the next code. And so it's a really simple process and it's very intuitive and just really easy to use for anybody.

Josh Anderson:
So there's no swiping, no clicking, no anything like that? Just shake the phone and it moves onto the next one?

Lamar Johnson:
Yeah, just shake the phone and you move on. The only like swiping or clicking, I guess there's not really any swiping, but the only clicking you're really going to be doing is either turning the flash on and off, which we have. They just developed the auto flash. So if you're in a dark room, it just turns on automatically, which is beautiful. Other than that, you're going to be typing in your email address or pressing the little microphones so you can add text to the codes. And that's really all that there is to it. There's not really much else there.

Josh Anderson:
Very nice. Now NaviLens has actually been kind of implemented in some kind of large areas. Is that correct?

Lamar Johnson:
Yes, yes. Actually, in Murcia, where NaviLens is based, Murcia, Spain. It's in the Southeastern region. When NaviLens first started, they were trying to contact different transportation services and there's Latbus, and then there's this thing called Tranvía. And then there are two forms of Latbus. There's a yellow and then there's a red one. And so for the red one, the red bus line, this is the one that just goes within Murcia, within the city bounds. So it can get you from point A to point B within the city limits. And this is something that a lot of older people use, like a lot of the elderly, they use this specifically because it's a little harder for them to walk around a lot. And then we have Tranvía, which is used by a majority of everyone and people are able to go to their classes right from the center of the city.

Lamar Johnson:
And so what these codes are able to do, we have them posted up on all of the signs, very nicely there. And you can just scan the code and then you can get a whole entire bus list. If you're trying to do the red bus, the Transportes de Murcia, you can get a whole entire list of where all the buses are going, the next one that'll be here, where that bus will be going to, all right on your phone. And then it literally will actually tell you what bus is going to be there by audio. So let's say you have headphones or something you can just scan and then you can just listen, and hear what's going to be coming next and hear are the entire bus route if you really wanted to.

Lamar Johnson:
And you can do the exact same thing with Tranvía. The Tranvía, it's a tram, an electric tram, and it goes by every like 10, 15 minutes or so. So when you scan these codes, they're live updated. And so you will know the exact second that that train will be there if you're scanning the code, and you'll know exactly which one to get on, depending on where you want to go. And that's made it so much easier for people within this community. And even people with special needs to even get around, like people who have a hard time reading signs and things like that. And so it's made it a lot easier for them to do things like go to school, go to the store, go to the doctor, all the things like that, that they would have originally been very wary of because they didn't understand how to get there.

Josh Anderson:
Oh, I can see how that could be. Yeah, like you said, helpful for a lot of folks even without visual impairments, who maybe have other disabilities and things like that.

Lamar Johnson:
Exactly.

Josh Anderson:
I mean, I'm sure you're looking to expand in the future. But is there anywhere you guys are really kind of trying to make sure that you get into, any areas or anything?

Lamar Johnson:
So basically I can't really disclose a lot of the information because this is kind of a project that is in the works currently. But I can say this, is that we are coming to America and it will be a huge project. And I am so, so, so, so excited to see it in fruition. It's honestly, it is amazing. And this will literally be so revolutionary for so many people, especially in an area that is just incredibly condensed and hard to get through.

Lamar Johnson:
I see the possibilities and I have so much hope for this community to really get that autonomy. And this is just, yeah, it's going to be great. So yes, we're coming to America and we are already in the works of being in the UK. That one, I can talk about a little bit. But there is the UK, I can't remember the name exactly. But there is a transportation system within the UK that wants to utilize NaviLens. And that one, it's going to be a complete project, like any sign that exists and any sign that exists within that transportation system, there will be a NaviLens code that will help. And there will be even more, like seating and aisles and snacks and just everything. And it's just going to be a complete run through project. And I can't wait for it to unveil itself. It's going to be beautiful.

Josh Anderson:
That'll be great. And I'm glad I didn't make you say anything that we have to cut out there. But we'll have to make sure once that, hopefully, send us when whenever that big announcement comes so we can make sure to get that on the show, to let everybody know about it. You guys have implemented more than just NaviLens in some places. Is that right?

Lamar Johnson:
So we have this thing at the Puerta de Atocha station right in Madrid, Spain. And that was one of the second places that we really implemented everything. And with this implementation, we really wanted to take it a step further, just kind of like really do some innovative work in this realm. And so I know some people are familiar with it, some people not. I'm sure people who listened to this podcast will be. But there are things like tactile paving. And these are pavers that allow people with visual impairments to just kind of navigate throughout wherever they are, and this is something that NaviLens really wanted to work with. And so for the people who do know, the lines on tactile pavement means that you keep going. And then the dots, that usually means like a stopping point or a check point of some sort.

Lamar Johnson:
And so what NaviLens did, they literally overlaid a NaviLens code right over all of the different places where you would stop. And they use these codes, so now when you're walking, you no longer have to just remember what place that you have to go in order to get on your train. You literally are walking with your phone in your hand, just like anybody else. And then as you're walking, you're getting the exits to the certain train that you can go to. Rather than having to stop and ask people for what train or going to the information booth, you can be just like every other person and just look at your phone and listen to what the audio is telling you. And this is on every single tactile paver that's in that entire station. And this allows for anybody who is visually impaired or just within that blind community to go to the station, scan the codes, get on the train, find their seat, all with the help of NaviLens and their phone.

Lamar Johnson:
And I think that that is probably one of the most revolutionary things that there could be for this community. Just because that, when I think about going to a station, I have no idea what it is. Like, let's say you're going to an airport or something. You're constantly looking for signs. I literally look at the Google Maps thing of the airport layout. So that way I can find my way around. But even if I had these codes, this would help me out. I'm a sighted person and this would help me out. So I imagine this probably is incredibly useful for people who aren't even able to see those signs. So I think this is like a really good step in the right direction.

Josh Anderson:
No, it definitely is and it really sounds like bringing all that stuff together makes it even a little bit bigger of a help. So I'm glad they're really kind of thinking about that. And Lamar, kind of not to move too far away from NaviLens, but you also are in the world of podcasting. Is that right?

Lamar Johnson:
Yes, yes. That is correct. I am. I'm starting my own podcast, starting in January, 2020. And I'm already writing down episodes. It'll be a 10 episode deep dive into a bunch of different topics that I'm just really, really excited to talk about. These are topics that people really just have questions about. And they're they're topics that people are either afraid to bring up, or they've never been brought up to them. And it's really just giving people a different look as to what's going on. The title of the podcast is Deconstruct. And so what I plan on doing is really going into these topics and really deconstructing all of the issues that surround, in order to get to the core and to talk about what that problem is and what it is.

Lamar Johnson:
So it will be about things like science and technology, sociopolitical discourse, and even things like the sense of self and the individual and that kind of stuff. Because humans are so complex and the world is so complex. And I want to be a factor in facilitating that understanding of what we are, what the things around us are doing and how they implicate the future, and the future of humanity and the future of society, and that sort of thing. So that's really what this podcast is going to be doing. Again, that's called Deconstruct and it'll be available everywhere. I have a trailer coming out very, very soon. So once that's out, I will make sure that you guys can have that and then you can subscribe everywhere and be ready for season one, starting January, 2020.

Josh Anderson:
There you go. We'll definitely make sure to look out for that because it sounds like with your interest and everything, that's going to be a pretty, pretty interesting show. So I'll look really forward to listening to that. Lamar, if our folks want to find out a little bit more about NaviLens or about you, how would they do that?

Lamar Johnson:
Well, yeah, so if you want to focus more on NaviLens, literally if you search anywhere, and search NaviLens, everything will pop up. We have a very expansive YouTube channel. I have done many video demonstrations. They just released a video about a new award that they received from the foundation, MAPFRE, in Spain, about social innovation. And so we're really trying to make sure that we keep up with a lot of the current content. And a lot of the videos will be in Spanish, but we also make sure to provide subtitles in different languages of your choice. The same way that NaviLens is available in 18 different languages, we try to make sure that we can expand that to our other facets as well.

Lamar Johnson:
NaviLens is available on iOS and Android. You can search tutorial videos on YouTube. And if you want to get in touch with me, I can be reached just about anywhere at this point. I am on Twitter as yoavery. I am on Instagram as wowlamar. And you can reach me via email if you so please, if that's something that you'd want to do. You can talk with me further, I'd be happy to listen to anything. And my email is lamar@navilens.com. And that's lamar@navilens.com. And so yeah, whatever you guys want, whatever anybody else wants to do, I'd be happy to talk to anybody who is interested in this technology.

Josh Anderson:
Excellent. We'll put links and all that information into the show notes. Well Lamar, thank you so much for coming on today and telling us all about NaviLens.

Lamar Johnson:
Thank you so much for having me. I honestly, I love talking about this technology so much. So really, thank you.

Josh Anderson:
Do you have a question about assistive technology. Do you have a suggestion for someone we should interview on Assistive Technology Update? If you do, call our listener line at (317) 721-7124. Shoot us a note on Twitter at INDATAproject, or check us out on Facebook. Are you looking for a transcript or show notes? Head on over to our website at www.eastersealstech.com.

Josh Anderson:
Assistive Technology Update is a proud member of the Accessibility Channel. For more shows like this, plus so much more, head over to accessibilitychannel.com. The views expressed by our guests are not necessarily that of this host or the INDATA Project. This has been your Assistive Technology Update. I'm Josh Anderson with the INDATA Project at Easterseals Crossroads in Indianapolis, Indiana. Thank you so much for listening and we'll see you next time.