Looking for a fun toy that encourages correct letter formation? Fat Brain Toys offers the Magnetic Alphatab toy that is a "genius, tactile way" to practice writing uppercase letters correctly.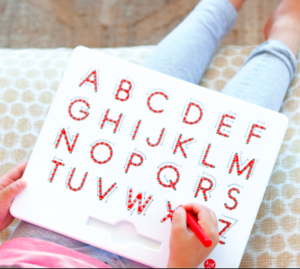 The Magnetic Alphatab is a letter printing toy featuring magnets and a pen stylus. Users simply hold the magnetic stylus, follow the arrows, and pull the pen along the letter lines. "Pop! Pop! Pop! Beads rise up in the tray as you go, making it easy to see your progress in creating the letter." The sound it creates makes printing fun for kiddos!
In addition to the uppercase Magnetic Alphatab, you can also purchase the lower case letter version or the 0-9 Numbers Magnatab.
Features of the Magnetic Alphatab:
Letter printing toy with magnets and pen stylus
Tactile and sound reinforcement
Encourages correct letter formation; easy to follow arrows indicate the path to follow
Erases with the tip of a finger!
Magnets are securely contained inside the toy
Stylus pen simply locks back into the bottom compartment for easy cleanup!
Comes with alphabet tablet and magnetic pen
Made of strong, durable materials
Check it out on Fat Brain Toys to learn more!