Podcast: Play in new window | Download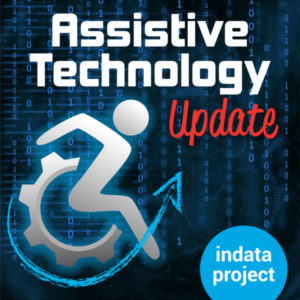 Your weekly dose of information that keeps you up to date on the latest developments in the field of technology designed to assist people with disabilities and special needs.
Show Notes:
Jeremy Buzzell – Branch Cheif for the Accessibility Management Program at the National Park Service
——————————
If you have an AT question, leave us a voice mail at: 317-721-7124 or email tech@eastersealscrossroads.org
Check out our web site: https://www.eastersealstech.com
Follow us on Twitter: @INDATAproject
Like us on Facebook: www.Facebook.com/INDATA
———-Transcript Starts Here———————————-
Jeremy Buzzell:
Hi, this is Jeremy Buzzell. I am the branch chief for the accessibility management program for the National Park Service, and this is your Assistive Technology Update.
Josh Anderson:
Hello and welcome to your Assistive Technology Update, a weekly dose of information that keeps you up to date on the latest developments in the field of technology designed to assist individuals with disabilities and special needs. I'm your host, Josh Anderson, with the INDATA project at Easterseals Crossroads in beautiful Indianapolis, Indiana. Welcome to episode 449 of Assistive Technology Update. It's scheduled to be released on January 3rd, 2020. We hope that everybody had a wonderful New Year and we're super excited to have Jeremy Buzzell on. He is the branch chief for the accessibility management program at the National Parks Service, and he is on to talk all about accessibility at our national parks. So let's go ahead and start the year off right and get right into the interview.
Josh Anderson:
On a cold winter's day here in Indiana, I can only dream about walking through the trails of our national parks. I've always enjoyed hiking, camping, seeing all the natural splendor and just amazing landmarks that they have to offer. I've had the pleasure of making it to a few so far in my life, and I hope to make it to a lot more in the future, preferably in a lot warmer weather than I'm facing today, but what about individuals with disabilities who want to visit our national parks and landmarks, but maybe they don't know if they'll be able to, or if the area is accessible to them? Well our guest today is Jeremy Buzzell, branch chief for the accessibility management program with the National Park Service, and he's here to tell us about accessibility at our national parks. Jeremy, welcome to the show.
Jeremy Buzzell:
Good morning. Thank you.
Josh Anderson:
Well Jeremy, you've had an interesting career in accessibility and assistive technology. So before we kind of get into talking about the National Park Service, can you tell our listeners a little bit about yourself?
Jeremy Buzzell:
Certainly. I am actually a special educator by training. That is where I started out. My career was in special education, working in elementary schools as well as early intervention programs, focusing on children with autism, and over time moved into administering special education programs in schools and districts, and then I had a unique opportunity to become a part of what's called the Presidential Management Fellows program, which brings you into the federal government for a two year fellowship, and when you graduate from that program after two years, it's pretty easy for you to convert to being a full time government employee. So I actually ended up cold calling the Department of Education's Office of Special Education and Rehabilitative Services to see if they would take me on as a fellow and they agreed, and then the rest is history. I worked for the Department of Education in rehabilitation services and in special education programs out of DC for about eight years on programs related to vocational rehabilitation and special education research and spent a decent chunk of time actually working on assisted technology act grants.
Jeremy Buzzell:
There's one of those programs in every state. I was very lucky. I actually was loaned out to the Senate Health, Education, Labor, and Pensions Committee for about 18 months to work on reauthorizations of the Assistive Technology Act, Individuals with Disabilities Education Act, and Vocational Rehabilitation Act, and when I left the Department of Education, it was to go over to Homeland Security and work on how we can make airport checkpoints accessible to people with disabilities, then took my accessibility knowledge from there to where I currently am, which is at the National Park Service, where I focus on figuring out how we can make our national parks more accessible to people with disabilities.
Josh Anderson:
That is a heck of a career in accessibility. So Jeremy, tell us about your current program, the accessibility management program for the National Park Service.
Jeremy Buzzell:
So we … in our office based out of the National Park Service headquarters here in DC, we focus on providing technical assistance and training to the 419 National Park Service units around the country. We're a pretty decentralized organization in the park service because you have parks that are out in pretty far flung parts of the country that need to be able to operate with a significant amount of autonomy. So the folks who are in those parks operating them are experts in all kinds of things. They're experts in cultural resources and historic preservation and wilderness and visitor's services and interpretation and education, which means it's probably a lot to ask for them to also the experts in accessibility, which is where we come in as subject matter experts who can help them navigate the accessibility world when they are putting on programs, when they are new buildings, et cetera. So we really function a lot as a consultation group and consultation, facilitation. We do a lot of work with policy as well and serve as a hub of doing coordination with national disability groups so that when parks are facing challenges that they're not quite sure how to address at the local level, we can bring some expertise to bear to help them address those problems.
Josh Anderson:
Well, that's a great resource for the folks working there, because yeah, like you said, they're already kind of experts on a lot of stuff. It's a lot to ask to have them be experts on disability and accessibility as well.
Jeremy Buzzell:
But we are really focused on empowering people at the local level, in the same way that I think when I was a special education teacher, we really wanted the idea of inclusion is only going to work when it's not something that, "Oh, that's the special ed teacher's job." That's sort of everyone's job. So we are really focused on trying to bake accessibility in, because it's everyone's job. I can't be there as the person who is behind the front desk when a person with a disability shows up at the visitor center and needs something today. I want to be able to arm the folks in the field with the policies, processees, and knowledge to be able to address that visitor's needs on the spot, which a lot comes in as a part of training. So we really focus on developing what is that internal system's capacity that allows folks at the park level to know what they should do and how to do it.
Josh Anderson:
Very good. So yeah, then there's somebody there that can definitely help the individual, like you said, when it's needed right then. Now I know a lot of folks with disabilities may think that they really can't access the national parks because maybe they haven't tried or they just don't think it's something that they could do. What are some of the resources available to them to find out about the parks and their accessibility?
Jeremy Buzzell:
Yeah, it is very interesting in conversations with folks in the disability community that there is a perception that the National Park Service, it's trails and it's camping and it's climbing mountains and it's things that don't necessarily jive with folks who in particular have mobility disabilities, but a lot of people don't realize how many parks we have that are in urban areas. We've got large areas of San Francisco, for example, the Golden Gate National Recreation Area, large parts of New York City, the Statue of Liberty is a national park, philadelphia's Independence Hall is a national park. So I think the first thing is people realizing that the park service also represents a lot of urban and historic areas that we manage, where there is public transportation available to them and where there is a modern infrastructure.
Jeremy Buzzell:
So I think that's an important thing for people with disabilities to know, and then I think another thing that's really important for people with disabilities to know is at a lot of our much larger parks, we really do have a modern infrastructure. If you go to the Grand Canyon, the South rim of the Grand Canyon has a really long paved trail. If you go to Yellowstone, most of the thermal features that we have out there are boardwalked, And the good news is, is a lot of ways, the boardwalks that we put in in places like that serve her both as a resource protection and as a way to provide accessibility, because it keeps people off the grass. It keeps people on the right path and away from walking in areas that they shouldn't be walking in. So I always really encourage people to start with our website, because every national park unit has a plan your visit tab.
Jeremy Buzzell:
And if you hit that tab in scroll down, there is an accessibility tab, and that tab is intended to provide some information about where we have paved trails or boardwalks or the availability of audio description in the visitor center, for example, or the availability of an audio loop associated with a movie. So I think the information is out there. The only challenge we have is that it is not really aggregated, meaning I frequently get the question, "Hey, can you tell me where the best accessible trails are?" We don't necessarily aggregate it by theme as much as you can identify an individual park and then try to figure out, "Okay, how does the infrastructure at that park jive with my assisted technology?" Or, "Do they have a assistive technology available to me if I go there?"
Jeremy Buzzell:
And what I mean by that is we have many park visitors centers that have audio descriptive tours, where you can go to the visitor's desk, ask them for the headset, and there's an audience script tour. In some cases they're triggered by … I don't want to say lasers, but if you walk by a particular spot, there's a trigger that will start the audio description. We have visitor centers where the movies are audio described as well as captioned. Those are the sorts of things that should be captured on there. We also have a number of parks that will have apps for accessibility. Not all of them, but we have an app called the Places app that also provides audio description. There are some parks that we now have audio described, what we call a [inaudible 00:12:26] brochure, which is the classic National Park Service brochure with the black band and the white print, where we've got audio described versions of those available for download. So I think there are a lot of opportunities that we want to make sure we can get the word out about.
Josh Anderson:
Nice. So it sounds like you could really find out a lot of that information before you ever leave the house.
Jeremy Buzzell:
Absolutely.
Josh Anderson:
Jeremy, just to kind of go off that just a little bit, how does your department work to increase accessibility at national parks?
Jeremy Buzzell:
There are a number of ways. According to the way the law operates … and by the law, I mean, we are covered under the Architectural Barriers Act. Every time we rehabilitate a facility, we need to bring it up to modern code compliance, and every time you build a new facility, obviously the code compliance has to be built in. It is less of a challenge for us as we build new buildings, because I think we are a lot better as a society about ensuring that the correct codes are followed if you build a new visitor center, if you build a new a bathroom, et cetera. Where we have a challenge is we are often rehabilitating historic facilities, or we are working on camp grounds or picnic areas or things that traditionally have not been viewed as accessible areas.
Jeremy Buzzell:
So one of the areas where we come in is we help the folks who are working on those projects to figure out creative solutions to solving code compliance issues within the context of a historic building, where you can't necessarily modify everything you need to modify in order to maintain its historic integrity, or we will work with them on modifying an outdoor area where you've gotten resource protection issues to strike that balance between protecting the resource and creating accessibility. So we do a lot of that consultation, or better yet, what we will do is we will connect that park with a local disability group and say, "Hey, can you help them problem solve this so that we know it is meeting the needs of the disability community, particularly the mobile disability communuity?" So that is one way. So we would call that in a lot of cases the technical assistance piece that we do.
Jeremy Buzzell:
The other piece that we do is we provide training, and again, that's one where we usually bring in members of the disability community for significant portions of the training, and that usually is a training … we pick the topics based on the audience. So for example, we will have a training that is very focused on facilities and bring in facilities managers to talk about making facilities accessible, or we will bring in what we call park accessibility coordinators, which are the folks who are supposed to be kind of that park subject matter expert contact on accessibility, and we'll bring them in to learn about the disability experience and how you work with visitors with disabilities within the context of the park, or we'll work with people who do interpretation education on how to make exhibits accessible. So again, we can have people who are empowered, who don't need us there at the table as consultants because they're like, "Oh right. I went to this training and I understand that as I build this exhibit, I need to build in the following accessibility features."
Josh Anderson:
Jeremy, tell me a story about someone you've seen, heard about, or maybe worked with and kind of their experience with accessibility at the national parks.
Jeremy Buzzell:
Years back, there was some controversy that at the top of a mountain in the National Park Service, we had put in a comfort station for folks who had hiked to the top of the mountain to use the bathroom when they were up there, and we had put in an accessible comfort station, and the fact that we included an accessible conversation made it somewhat more expensive to have built it up there, and there was some controversy about why is it that we are building this expensive comfort station at the top of a mountain? Who is it that is going to climb the top of this mountain and use this accessible comfort station? And at the time, the director of the parks service said, "We don't know the capabilities of people. We shouldn't assume that no one who needs an accessible comfort station is going to make it to the top of this mountain," and we really want to make sure that we've got that attitude in everything we do, because if you go online, you will see the articles about people who are wheelchair users that have made it to the bottom of the Grand Canyon, for example.
Jeremy Buzzell:
There is a gentleman whose family figured out a way to rig something up to hike him down and hike him back up. So that tells me, yeah, we don't know who is going to or is not going to make an up or down or the mountains or make it into the Canyon. There are other articles online about blind climbers making it to the top of mountains in the National Park Service. So that's why we really are trying to focus on universal design and focus on baking that in, as well as focus on not telling our audience what features are or are not accessible in a park, and rather providing information about the features that allow someone to make his or her own decisions about whether that trail is accessible to him or her, rather than say, "This is an accessible trail," or, "It is not an accessible trail." Well that really depends on who you are and what kind of experience you have. So we don't want to be in that position. We just want to arm you with the information you need to decide, because if you're going to go through all the trouble to come to the park, we'd like you to come in with the right expectations.
Josh Anderson:
Excellent. You're giving people the freedom to choose for themselves on what's accessible and what they can and can't do. That's very good instead of just pigeonholing everyone into where they can and can't access. Jeremy, where would you like to see your program go in the future?
Jeremy Buzzell:
So I think that what we're facing for the future are going to be some questions really related directly to assistive technology, and what I will say is we are seeing a proliferation of … you've probably seen these wheelchairs, which have almost kind of tank treads on them, and there are now e-bikes and e-kayaks and all kinds of mobility devices that we didn't conceive of and that we have to figure out how to, again, create that balance between resource preservation and accessibility, and it can be very hard for us as an entity to keep pace with those technology changes. We are currently having discussions about the impact of ride hailing services and autonomous vehicles in the national park, and that represents a significant accessibility opportunity for people with disabilities in general, but also in their ability to visit our national parks.
Jeremy Buzzell:
We know that there is a lot of focus on climate change and how climate change will affect sea level rise and the impact that that causes on major storms. Okay, well how are we dealing with emergency evacuations of people with disabilities in alignment with what FEMA does as we're dealing with evacuating people from our parks if there is a hurricane? How are we dealing with rebuilding our infrastructure after the hurricane, because it gives us an opportunity to, again, improve upon our accessibility? So I think that we're going to get a lot of things to keep pace with when it comes to evolving and emerging technology that we haven't even thought of yet, and we haven't thought of how it's going to impact our visitors. A really good example, another good example is the proliferation of just live audio description on your phone that you can call in.
Jeremy Buzzell:
You can call into a service and you can have somebody to audio describe where you're at. That's going to be a huge benefit to people with visual disabilities, and are there ways we can partner with companies that provide that service so that if they have an audio describer, do they know how to capture the description of the Grand Canyon beyond like, "Oh, well it's a big hole in the ground." Can we provide information that gives those people language and context to really capture the story that everyone else is getting who can see. So that's really where we would like to go in the future, because a lot of people associate what we do with wheelchair ramps, and I think it is and has to be a lot bigger than that, and it has to be really about the totality of the disability experience. That's where we have to put a lot of our effort.
Josh Anderson:
Excellent. It sounds like you guys are really thinking about all the different stuff and really keeping that on your radar. So that's excellent. Jeremy, again, you told us this earlier, but if someone wants to find out more about accessibility at the parks and kind of what's available to them, what's the website they go to?
Jeremy Buzzell:
So you can go to www.nps.gov, that's nationalparkservice.gov, and if you go there, then you will be able to find listings of parks that you potentially want to visit, and when you go to any individual park's site, there will be an area you can click on that says plan your visit, and when you click on that, there's a dropdown, and in that dropdown there is a menu for accessibility, and that will take you to a description of their accessibility features.
Josh Anderson:
Awesome, and if folks are interested in maybe supporting the national parks, can they do that from that same website?
Jeremy Buzzell:
I doubt that they can do it from the accessibility tab –
Josh Anderson:
Oh, no. I just meant from the NPS.
Jeremy Buzzell:
From the nps.gov site, yes.
Josh Anderson:
Perfect. Well Jeremy, thank you so much for coming on the show today and talking about accessibility in our national parks, and as the weather gets a little bit nicer, hopefully maybe some folks can get out and maybe get to do some things that they didn't think were available to them before.
Jeremy Buzzell:
Great, and I appreciate the opportunity. I do want to put in one plug.
Josh Anderson:
Definitely.
Jeremy Buzzell:
The other thing that you can do from our website is we do have a disability access pass that is available, which actually provides free entrance to national parks, and it provides discounts on some of the amenities, meaning you might get a discount on a campsite or a tour or something like that that I think a lot of people with disabilities don't know about, and that is something that you can apply for either online or at a park when you go to get this pass, and it's a free lifetime pass. You don't have to do an annual thing. You just sign up for it once and you get a free lifetime pass as an individual with disability, and what they request is that you bring something, let's say from Social Security Administration or the Vocational Rehabilitation Administration, or you can have a doctor's note or whatever certifying you as a person with a disability. So that is another way that we're trying to increase the accessibility of our parks is to make it economically affordable as well.
Josh Anderson:
Yeah, making it financially accessible is almost as important as making it a physically accessible. So very great. Well Jeremy, thank you again, and maybe here in the future, we'll have you back on to talk about maybe some of the new things or changes as they come about, but again, thank you so much for coming on the show.
Jeremy Buzzell:
Thanks for having me.
Josh Anderson:
Do you have a question about assistive technology? Do you have a suggestion for someone we should interview on assistive technology updates? If you do, call our listener line at (317) 721-7124. Shoot us a note on Twitter @INDATAproject, or check us out on Facebook. Are you looking for a transcript or show notes? Head on over to our website at www.eastersealstech.com. Assistive Technology Update is a proud member of the Accessibility Channel. For more shows like this, plus so much more, head over to accessibilitychannel.com. The views expressed by our guests are not necessarily that of this host or the INDATA project. This has been your Assistive Technology Update. I'm Josh Anderson with the INDATA project at Easterseals Crossroads in Indianapolis, Indiana. Thank you so much for listening and we'll see you next time.