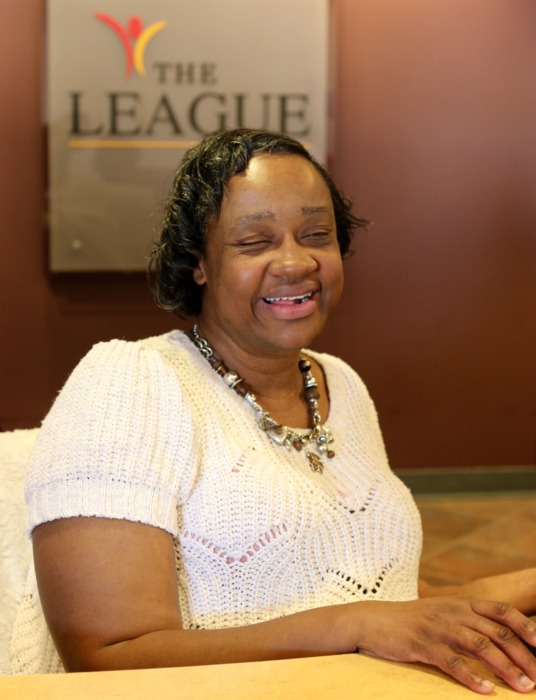 Shanese Simmons was born and raised in Gary, Indiana and graduated from Roosevelt High School in 1994. After high school, she went to Ivy Tech in Gary, but decided to move to Indianapolis for a job with Finish Line. She later went to Davenport University in Merrillville, Indiana and graduated with two associates degree, one in Computer Information and the other in Business Management. She also completed a certificate in Microsoft Office from Sawyer Business School. She then moved back to Gary where she was raising 4 sons and worked several retail jobs.
In 2012, due to uncontrolled diabetes and high blood pressure, Shanese started losing her vision. At this time, she was working at Sears and had to go on short-term disability and then had to give up the position when she completely lost her vision. Shanese said, "My blindness came on gradually. During this time, I was working and taking care of my family and my household. While I was working and taking care of my kids, I was not taking care of my health and my high blood pressure and diabetes got so out of control that my vision started to decline and eventually left me blind. After losing my vision, my kidneys started to shut down. I ended up going on dialysis in 2013. I was sick all the time and got an infection in my right eye and that had to be removed and replaced with a prosthetic."
In 2015, she and her 3rd son moved to Fort Wayne to live with her best friend. She moved there because there were more disability services available and she had the support of her best friend. Her friend helped her find resources that could increase her independence. She helped her get signed up with the National Library Service for Blind and Print Disabled Talking Books program, which provides reading materials at no cost to individuals who have vision impairments and also assisted her in applying for Vocational Rehabilitation (VR) services. VR is a state agency that assists individuals who have disabilities in obtaining or maintaining employment.
In 2016, Shanese and her son were able to get on their feet and move into their own apartment and later in the year she had a kidney transplant. She said, "After I was so lucky to have a kidney donated, I have been determined to take better care of myself and be as independent as possible. After I had the transplant, I had an aide that helped me out, but now I am getting around on my own. Once I started to recover, I started to utilize the resources that were available to me and was ready to start working again so I reached out to Vocational Rehabilitation to assist me in finding a job."
Vocational Rehabilitation referred her to Easterseals Crossroads for an assistive technology evaluation to determine what type of assistive technology she would need so she could obtain her job goal of working in an office. Shanese was assigned to work with Jim Rinehart, Assistive Technology Specialist, at Easterseals Crossroads. Jim assessed that she would need the ability to access a computer to obtain an office position and recommended JAWS screen reader. Shanese said, "The evaluation process identified what my needs were and what equipment would be suitable for me. Learning how to use a screen reader was interesting for me because I had never heard of that technology before. Using it now helps me a lot. With all the technology I have now, I can now read my emails and send and receive emails. I can create documents and forward messages as well."
Shanese needed a computer so she could learn how to use the screen reader Jim recommended. Vocational Rehabilitation purchased a computer and JAWS screen reader so she could build the skills she would need to obtain employment. Jim then set up her desktop computer and trained her on how to use the screen reader. He also recommended a Optelec Clear Reader, which is a desktop video magnifier that Shanese uses to read her mail and other printed text.
During her training, Jim also showed her all the built-in accessibility features and vision apps that can be used on an iPhone. After seeing all of the ways an iPhone can be so beneficial to someone who is blind, Shanese was very interested in getting one, but she was unable to afford one. Shanese learned about the Alternative Financing Program through the INDATA Project, which is a low-interest extended-term bank loan program that can be used to purchase assistive technology, at her vision support group meeting. Shanese contacted the INDATA Project and an application was sent to her.
Shanese said, "There was no way that I could afford my iPhone if it wasn't for the loan program. Since I wasn't working VR was not able to purchase a phone for me and I live on a fixed income and could not afford it. I was so happy to be able to use the loan for it and the process was so easy. I reached out to Easterseals Crossroads who gave me all of the information about the program and then sent me the application. I then sent it back to Crossroads and they helped me get it processed through Star Financial. Once the loan was approved, I worked with Jennifer Van Handel at the bank. She was awesome. She helped me set up a checking account so I could pay the loan automatically each month without any fees and they wrote a cashier's check directly to the Verizon store. I went to Verizon with my check, got my phone, and then was able to have Jim teach me how to use it. I'm so grateful. I really don't know where I would be without my phone. The other great thing about taking out the loan is the ability to build my credit by paying it on time each month."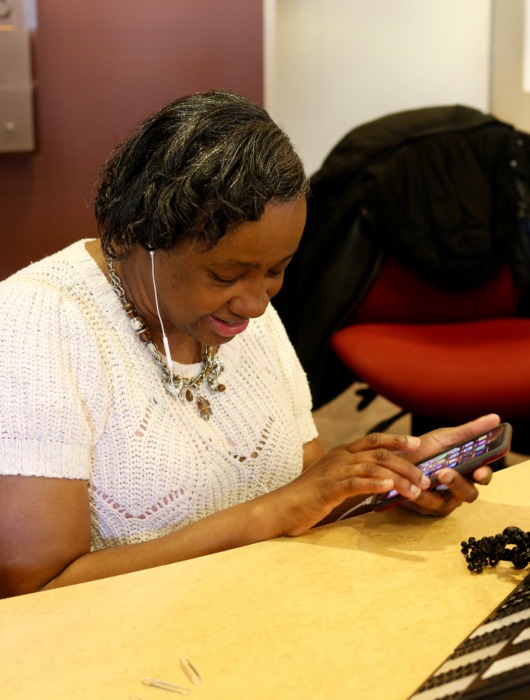 She said, "Working with Jim has been great. He is awesome. He trained me on how to use the screen reader and manipulate the keyboard keys to do everything on the screen without using a mouse. He also created training folders for me to refer to when I needed to refresh myself when I may have forgotten something. Once I got my phone, he taught me how to us Voiceover, which allows me to access by phone through voice commands and he taught me all kinds of shortcuts to navigate the menu on my phone. I can read my emails and have several great apps like Seeing AI. Seeing AI has a money identifier and can scan barcodes to help me shop. I also have a talking books app. I just can't imagine living without my iPhone now."
Equipped with the assistive technology she needs and transportation through Fort Wayne Citilink bus system, Shanese is actively looking for employment. She is doing volunteer work and working with Benchmark Human Services to find a job. She is interested in an office position and for the past 2 years has been volunteering at The League for the Blind to get front office work experience. She volunteers 2 days a week there. She greets and checks in visitors, provides information about the services at The League, and mans the phone lines. She continues to meet with her job coach from Benchmark every couple of weeks to apply for jobs. Shanese said, "I'm so thankful for all the resources I have now to live independently. My advice to anyone not familiar with adaptive equipment or new technology is not to be afraid of it. It helps individuals gain back their independence. I also use a white cane and it has become second nature as well. Being able to move around places and do things on my own is a great thing. I once heard someone say nothing beats a failure but a try and it's true.