Optelec is a company with a simple mission: "Improving the quality of life for the visually impaired and blind by reaching out with simple and effective solutions."  We've previously covered some of their devices (click here to view blog on ClearView C Flex.)  One of the company's newest additions is the Optelec ClearView GO Video Magnifier.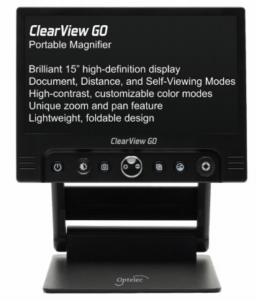 ClearView GO offers the same ease of use and functionality as a desktop video magnifier, but in a compact and foldable design.  If you or a loved one is looking for new a video magnifier you can take on the go, the ClearView GO might just be right for you!  Its foldable design makes it extremely easy to take the device with you or to store it when not in use.
Overview of Optelec's ClearView GO:
Crisp, clear, full HD image on a 15.6″ screen
Monitor's height is fully adjustable so you can angle it and adjust it so you "always have the right reading angle and height"
Convenient 3-in-1 rotatable camera that allows you to magnify text and objects up close, in the distance, and even to look at yourself
Unique zoom and pan features
Magnification range:

Live Mode (Default): 2.0x – 32x;
Selectable: 1.4x – 20x or 3.5x – 60x;
Snapshot Mode: 170x

Weighs 10.36 lbs or 4.7 kg
Comes with carrying case
Up to 5 hour battery life
Easily connect to your TV screen for an even bigger image with HDMI
Visit Optelec's website to learn more!
You can also check out the device's manual to learn more about the ClearView GO magnifier.