Podcast: Play in new window | Download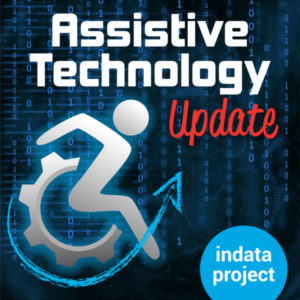 Your weekly dose of information that keeps you up to date on the latest developments in the field of technology designed to assist people with disabilities and special needs.
Show Notes:
Apple Watch Noise App Story: 
http://bit.ly/34AXo0H
——————————
If you have an AT question, leave us a voice mail at: 317-721-7124 or email tech@eastersealscrossroads.org
Check out our web site:
http://www.eastersealstech.com
Follow us on Twitter: @INDATAproject
Like us on Facebook:
www.Facebook.com/INDATA—————Transcript
Starts Here—————————–
Panos Linos:
Hi, this is Panos Linos, and I am the Computer Science and Software Engineering professor, but this is our EPICS Service Learning course at Butler University.
Matthew O'Hern:
Hi, this is Matthew O'Hern. I'm a Software Engineer, major and a sophomore at Butler University and the project lead of the specific EPICS project. And this is your Assistive Technology Update.
Josh Anderson:
Hello, and welcome to your Assistive Technology Update, a weekly dose of information that keeps you up to date on the latest developments in the field of technology designed to assist individuals with disabilities and special needs. I'm your host, Josh Anderson, with the Indata Project at Easterseals Crossroads in beautiful Indianapolis, Indiana. Welcome to episode 450 of Assistive Technology Update. It's scheduled to be released on January 10th, 2020.
Josh Anderson:
On today's episode, we're really excited to have professor Panos Linos and Matthew O'Hern, here from the EPICS Program at Butler University, just down the road from Easterseals Crossroads. And they're on the talk about EPICS, which is a program there at Butler. Some of the great things it's doing, a game that Matthew's helped create, which helps kids with autism to learn facial cues, as well as some other programs that they're working on. We have a story about Irish libraries becoming more accessible, a story about Google's Project Euphoria, partnering with an ALS organization to give those with ALS a voice, and also a story about a father, finding a new way to use the Apple Watch to help his son with autism. As always remember, if you have someone that you think should be on the show, a question, a comment, anything like that you can always reach us through email at tech@EastersealsCrossroads.org. You can call our listener line at (317) 721-7124, or drop us a line on Twitter, @IndataProject. Now let's go ahead and get on with the show.
Josh Anderson:
Do you have questions about assistive technology? Well, don't forget to check out our sister show Assistive Technology Frequently Asked Questions, or ATFAQ, available wherever you get your podcasts. You have assistive technology questions. We try to have the answers. Check out ATFFAQ, wherever you get your podcasts.
Josh Anderson:
Let's go ahead and take our first story from across the pond. This comes from Ireland from the Irish times, and it says public libraries to get sensory rooms for children with disabilities. It talks about a huge amount of funding announced, and all this funding for the libraries in Ireland is for sensory play equipment, toys, and assistive technology. So it's being split up between all the different libraries in Ireland, and it's just to make the libraries a whole lot more accessible for children with special needs. It doesn't really get into exactly what's it's going to be used for yet. It says it could be used for things such as sensory play equipment and toys, assistive technology and autism friendly signage. It does say that they're accepting proposals from the different libraries on what they're actually going to use it for. It says that a few of the ones that have already come through, it says the one library is going to put in a new sensory room in order to accommodate folks with special needs.
Josh Anderson:
In addition, they also said that a toys, technology, and trainee initiative is coming up in one place, as well as a place that's going to try to get sensory toys and assistive technology that they're going to allow people to borrow. So, kind of like the lending libraries that we have over here in the states under the AT Act. So I thought that was very cool that this amount of funding is actually coming out for the libraries just to make them more accessible, so that folks with all different kinds of abilities will be able to access the library, find it a safe and welcoming place to go to learn and to read.
Josh Anderson:
I've found a story over at benzinga.com. It says ALS/TDI collaboration with Google's Project Euphoria highlight in documentary series. And it talks about a documentary series called The Age of AI, which is a YouTube original documentary series. It's actually hosted by Robert Downey Jr. But the second episode of this show, which should be available now, actually talks about a partnership between Google's Project Euphoria and the ALS Therapy Development Institute, the world's foremost drug discovery lab focused solely on finding treatments and cures for ALS. And it talks about a couple of different kinds of things in here, but the main part, and the main thing that Project Euphoria from Google is doing is it's building its AI to be able to give individuals with ALS a voice. So if you ever worked with someone or known someone with ALS, you know that it is degenerative, and eventually the individual is not going to be able to speak for themselves. Usually they're going to use some sort of Aug Comm device, and use that usually with some sort of blink system, or something like that.
Josh Anderson:
And the voices of these devices of course, are usually robotic. They're a whole lot better than they used to be, of course. But if you think of … if you've never seen an augmented communication device, you think of Siri, or your assistant on your phone, and how those sound talking back to you. That's probably at the higher end of what they sound like. So what this does though, Project Euphoria, what they're working with is to try to work with folks with ALS while they're still able to talk, and actually get a lot of their voice put into this AI. So that then later on, whenever they need to use a device to speak for them that they can type into, or perhaps again, use an Eyegaze system, a controller. However they're accessing that, the voice can sound a lot more like their own voice did. So very, very cool that they're putting this together.
Josh Anderson:
We may have talked about this a little bit before when this was in the very, very developmental stage, but it looks like they're continuing to really work on it, and put this together. We'll put a link to that story over in our show notes. And within the story is actually a link to the YouTube episode, so that you can actually watch The Age of AI, if you want to watch a little bit more of that. I'm not sure what all else is is in there, but at least it will give you definitely that story. And it does follow along with a former NFL player, Tim Shaw, and his experience with ALS, and working with Google. So I have not actually watched it yet. So I couldn't tell you if it's actually good. I just found this story and thought it was great that Google is really leveraging the power of their AI, and this Project Euphoria to really change something that's been there for a long time. Being able to speak with one's own voice can really change a lot of things. And I'm sure it can make communication a whole lot easier with loved ones, with friends, and with others.
Josh Anderson:
Some of my favorite stories are folks using technology in a new way to help. So I found a story and this is over at mactrast.com. It's by Chris Hauk. It's called Texas Dad Says Apple Watch Changed the Life of His Son with Autism. So, just seeing that title, I can think of a lot of different ways maybe, the timers, communication all different kinds of queuing, and things like that. But this was something I hadn't really thought about. So Sam Bennett is the son's name. And his father Scott is telling the story about how his son has a problem with the level of his voice. He does actually talk to people. He does get out of his shell more than you would think maybe some folks with autism might do, but he really struggles with keeping his voice at a volume that's, "Acceptable," and acceptable is in quotes there in the story. Actually, his father says that he talks really, really, really loud, and he throws all three reallys in there. So I'm pretty sure that perhaps Sam is talking at a very uncomfortable level for other folks. It says the Sam does a great job responding well when asked to lower his volume. But as time goes on, it just gets louder, and louder, and louder, and back up to those levels.
Josh Anderson:
It says that Scott, the father, stumbled across an app in the Apple Watch, and it's called the Noise App. So what this does is it uses the built in microphone to measure decibel levels in your surroundings, and it flashes yellow when the surrounding noise is too loud, so as to not risk hearing damage. So what he did was he used this with Sam doing it, and every single time it turns yellow. Sam just knows that he's getting loud again, and he quiets back down. So again, this is just using something that's built in there. This wasn't made for this task. This was not made to help individuals with disabilities in any way, shape, or form. This is probably actually made to save your hearing, and make sure you're not in places where things are way too loud.
Josh Anderson:
But this father figured out how to use this for his son to just make it to where he, of course can function a little bit better in society, because he's not yelling and raising his voice, which he doesn't really realize he's doing. But now he's got that queuing, that a little bit of extra push, so that people don't have to say, "Hey, you need to quiet down a little bit to a normal level." He can have this and do it. So just another really cool way that somebody used technology in order to help individuals with disabilities. Next up, please join me in welcoming Amy Fuchs from BridgingApps to the show with an app worth mentioning.
Amy Fuchs:
This is Amy Fuchs with BridgingApps. And this is an app worth mentioning. This week's featured app is called Our Home. The Our Home app is a digital family chore chart to help parents and caregivers manage household task. Based around a customized to-do list, the app guides building a plan for chore assignments, communication of task completion, and a point-based reward system. The interface of the app is clear and simple with a white background and calm color coding for each user and task. Set up is straightforward. Each family member downloads the app, and sets up their profile by selecting a color and a cute animal cartoon to represent them. A task, which can be created by any user is set up to include information such as its title, the frequency it needs to be completed, who is responsible for completion, and the point value earned when completed. Each task set up also has an optional area for pictures and instructions, which is great as it should tutorial and as a reference. The task can be created in any platform, iOS, Android, or web, and still sync with the family account.
Amy Fuchs:
BridgingApps trialed Our Home with a family with older children and an adult with a brain injury. It helped the family to stay disciplined and keep up with their responsibilities. Our Home was particularly useful for family members to coordinate shared, but time sensitive task. For example, they used to record that morning and evening medication was successfully taken by their family member with cognitive impairment. The family felt that using Our Home helped to reduce some negative interactions between family members, but impersonally reminding and coordinating chores. BridgingApps sees the Our Home app as a great household and individual task organizer for families of all abilities. Utilizing an app and mobile device for chore, and routine reminders, instructions, and rewards goes beyond convenience. And app like Our Home can help engage children and adults with special needs to accomplish activities of daily living task, and support their contribution to their family's household responsibilities. And that's the best reward. Our Home is available for free at the iTunes store and Google Play Stores, and is compatible with iOS and Android devices. For more information on this app and others like it, visit BridgingApps.org.
Josh Anderson:
So just down the street from our organization lies Butler University, and I was super excited to hear about a new project that they were working on, making a game for individuals with autism through their EPICS Program. And we're lucky enough to have Panos Linos and Matthew O'Hern from the university here to talk with us today all about it. Gentlemen, welcome to the show.
Matthew O'Hern:
Thank you for having us.
Panos Linos:
Yeah, it's good to be here.
Josh Anderson:
Yeah guys, I can't wait to hear about the technology, but before we start talking about that, can you tell our listeners just a little about yourselves?
Panos Linos:
Yes, I am a professor of Computer Science and Software Engineering here at Butler for the last 19 years, and I teach all different kinds of courses on software engineering. And in particularly, I'm teaching a course called EPICS, Engineering Projects In Community Service. And this is of course where we have teams of students working for non-for-profit organizations in our community to help them with any IT needs. It's a win/win situation where our students receive academic credit, and for the non-for-profits to receive IT help, which usually don't have the resources to have available to them.
Matthew O'Hern:
And I'm Matthew O'Hern, a sophomore Software Engineering student, and the project lead, game director, and main developer for this video game project we created.
Josh Anderson:
Excellent. Well guys, thanks again for being on the show. Matthew, go ahead and start telling us a little bit about the game that you developed.
Matthew O'Hern:
We developed a game for people with autism to be able to develop their social cues. It's a RPG-style hack and slash old school Legend of Zelda, all of those type of mish-moshed together for a game that has pictures of faces, that have different emotions, different cues. And people with autism that are playing the game will be able to start to correlate those with emotions and be able to properly respond to certain situations.
Josh Anderson:
Excellent. So basically the interactions with folks, they get a choice of things to say. And then, I don't know, I guess the avatars would project back some facial things, is that correct?
Matthew O'Hern:
Yeah. That's pretty much how that works.
Josh Anderson:
Perfect. Because I know for a lot of folks with autism, that's really … One of the hardest things is just reading those facial cues. Where did the for this come from?
Matthew O'Hern:
So this project was started about a year ago, I believe, by Sycamore Services, who came wanting a video game for children with autism. And in talks with other students at Sycamore Services, it seemed to be that the idea was to have a game for them to be able to make friends, or talk to people without and be able to properly communicate. So that idea was started about a year ago, and people in other projects I've just started make a little bit of headway, and started getting a lot of the foundation down, and we moved it to a very good state this semester.
Josh Anderson:
Very nice. I've got to ask what made you decide to go with the old school Legend of Zelda style graphics and game play?
Matthew O'Hern:
So one of the students at Sycamore Services, he was adamant about having a Legend of Zelda game, and we thought it would be a great way to just have an easy game that can be run on pretty much any device. Because I don't know of a device that can't run an old school type game, and that way it can be more accessible to everyone.
Josh Anderson:
So you're looking at making this available on all different kinds of platforms then?
Matthew O'Hern:
In the longterm goal, yes.
Josh Anderson:
Do you have a name for the game yet?
Matthew O'Hern:
Not yet. We are still developing a story, and we'll pick a title that fits with that.
Josh Anderson:
Perfect. I just thought, I'd see if maybe they had that kind of stuff. And Matthew in the EPICS Program, you actually leave this open so that future students can work with it as well. Is that correct?
Matthew O'Hern:
Yup, all EPICS projects are passed on to future students of the EPICS Program, and this one is no exception. It has a lot of room to grow. There's a lot of features in there that can be further optimized by future groups.
Josh Anderson:
Excellent. That's a great way to make sure that, I guess, it just stays relevant, and can keep up with the times. The technology won't fall away. That's really great. Professor Linos, can you tell me a little bit more about the EPICS Program and maybe some of the organizations it's been able to work with, and help out?
Panos Linos:
Yes. The EPICS idea has initially started from Purdue University, and we adopted this idea, and then we customized it to our own Computer Science and Software Engineering students about 19 years ago. And the idea there was to provide to the students a platform where they can utilize all the skills they learn in a classroom. They had the opportunity to go out and work with a real customer that had a real need, and apply those tools in a real scenario where people had to produce something under pressure, and it was already a pain point for them. So this was a course that was created, as I said, a long time ago as an elective course. And then it evolved to be a required course, because of the endorsement, and the popularity of the course. And everybody provided very positive feedback, including our advisory board. And they said, "This is a great course. You need to make it a required course."
Panos Linos:
And since then, most students that have graduated from our program, they take this course. And the interesting thing is that although they're required to take once, they get so excited about this. As an example, Matthew is a student who has taken this multiple semesters, because they're committed to the project, they're excited, and they want to continue the project another semester, and they become the leaders of this team. So we had projects that spanned from one semester, all the way to, say, years. It's a great vehicle for us as a university to reach out, help our community, and also provide our students an opportunity to learn, and apply their skills in a real environment.
Josh Anderson:
Oh definitely, be able to use those skills to not just help someone out, but also get those deadlines, and that really work experience as opposed to just learning things in the classroom.
Panos Linos:
That's correct. Yes, yes. In addition to the technical skills, they also improve what we call the soft skills, how to work in a team, how to interact with a real customer that has a real need, and how to manage the whole project. These are all communications, skills. These are all important skills as you know, and when they get out and they seek for employment.
Josh Anderson:
Oh, definitely. So Matthew, you've taken this class a few times. What are some of the other projects you've worked on?
Matthew O'Hern:
So the previous semester I worked on a project called Invascular, where it was with IUPUI and their grad students. And they had the idea of a project to help doctors get a view of people's … have 3D models of their arteries, and be able to show that to doctors.
Josh Anderson:
And speaking of other projects, Professor Linos, I know you've worked on something called Guide Dog. Can you tell us a little bit about that?
Panos Linos:
Yes, Guide Dog is another example of a project that started as an EPICS project a long time ago. And it evolved to become an independent project that was funded by our a President's Innovation Fund here at the university. And with that funding, we were able to employ some research students to continue working on that, and actually bring it to a stage where it could be used by the Indiana School of the Blind and Visually Impaired. And we went there, and we started with students there, who were helped by navigation instructors to go from one point on their campus to another point. And I quickly realized that our mobile app, which we called Guide Dog was going to be something helpful for not only the blind and visually impaired students, but also the navigation instructors, who were helping students memorize a path around on campus. And they created a mental model of that path, but it was a good thing to have the app to help them practice their route, remember that route. And then also, a feature of the app was to actually give them step-by-step instructions on how to navigate on their campus.
Panos Linos:
So this project has been taking a different direction, and it has been attracting a lot of philanthropic donations. And we're hoping now to move onto the second version of it, what we call Guide Dog 2.0, which is going to be customized for modeler's specific campus. And you might know that our campus here is expanding, and there's a lot of construction going on. So we're incorporating a technology known as iBeacons, which are low energy Bluetooth devices that are put on different areas that are hazardous for visually impaired students. And this is our project going on right now, and we're hoping to help students who will come in, get a schedule. This schedule as specifies exact locations for classrooms that the students can have to navigate. And we are using a cloud database that stores that information, and sends me notifications through the app to the blind student, where to go every day to attend their classes.
Josh Anderson:
Oh, that'd be great. Then they don't actually have to have the person guiding them all the time, and can do all that independently. That would be wonderful. And I've been to Butler quite a few times. We actually run a summer camp there for kids that use augmented communication devices. And I know that it's always under construction. I always have to park somewhere differently, and it seems like something is always getting expanded, or worked on. So those iBeacons will really be helpful for those folks to keep them up to date and up in time.
Panos Linos:
That's correct. Yes, we're hoping to get something working in the next academic year or so, so that we can give it to a former blind student here at Butler, who is volunteering her time. She has already graduated, but she's a part of our team, and we are shadowing her to see how she navigates from campus. And we're getting some feedback from her. And she is very instrumental in us reminding ourselves that this is an app that is the developed for a differently-abled people. So this is a great assistance we have from her. And we're hoping to get it out there, so that other, either students from Butler or prospective families that come here with visually impaired students. And the plan is to have them also navigate on campus by using the Guide Dog 2.0 app.
Josh Anderson:
Well gentlemen, if our listeners want to find out more about the EPICS Program, how would they do that?
Panos Linos:
Well, our EPICS website is epics.butler.edu, and it has information about other EPICS teams and other interesting projects that we have that help community partners we have. And it has a lot of history behind the EPICS Program, and a lot of other information about it. And anybody is welcome to visit our site to find out more about our EPICS Program.
Josh Anderson:
Perfect. We'll put a link to that over in our show notes. We'll Professor Panos Linos, Matthew O'Hern, thank you both so much for coming on the show, talking about the EPICS Program, about the game for kids with autism, about Guide Dog, and about all the great things you guys are doing.
Matthew O'Hern:
Thank you.
Panos Linos:
Well, you're welcome. It was a pleasure being here, and thank you for giving us the opportunity to spread the word.
Josh Anderson:
Anytime guys, thanks again. Do you have a question about assistive technology? Do you have a suggestion for someone we should interview on Assistive Technology Update? If you do call our listener line at (317) 721-7124, or shoot us a note on Twitter, @IndataProject, or check us out on Facebook. Are you looking for a transcript or show notes? Head on over to our website at www.EastersealsTech.com. Assistive Technology Update is a member of the Accessibility Channel. For more shows like this, plus so much more, head over to AccessibilityChannel.com. The views expressed by our guests are not necessarily that of this host, or the Indata Project. This has been your Assistive Technology Update. I'm Josh Anderson with the Indata Project at Easterseals Crossroads in Indianapolis, Indiana. Thank you so much for listening, and we'll see you next time.