I have been looking for different types of calming lights.  These can be useful for individuals with autism, ADHD, anxiety, insomnia, and more.  One affordable option I've stumbled upon is the Noa Store Calming Autism Sensory LED Projector Light.
According to its description on Amazon, it projects relaxing water waves on the ceiling for a calming effect.  In addition to providing soothing light, it can also play your favorite relaxing music.  Its built-in speaker allows you to simply plug in your mobile device and select your favorite music.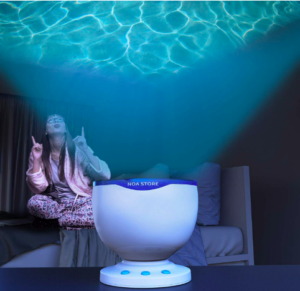 One parent left the following review:
"My daughter is on the autism spectrum and like all kids hates the dark. But for her, it's ten times worse because of her autism. We had noticed how calmed [sic] she was around water sources so we got her this projector for when she sleeps. It has done wonders for her, getting her to sleep through the night, and for us as a family."
Overview of the Calming Sensory LED Light Projector:
Reproduces a sparkling sea effect to help you feel immersed in a "deep sea calm"
The lamp can help users achieve a calming effect on both their mind and body
You can have the projector change colors or stay the same color (whichever color relaxes you or your child the most)
Requires 4 AA batteries for portability (not included), or you can plug it in with the provided USB cable
Click here to learn more!