Looking for an all-terrain wheelchair?  Check out the AdvenChair!  AdvenChair is "an all-terrain, human-powered vehicle that allows people with mobility challenges to experience the serenity and grandeur of wild places with family and friends."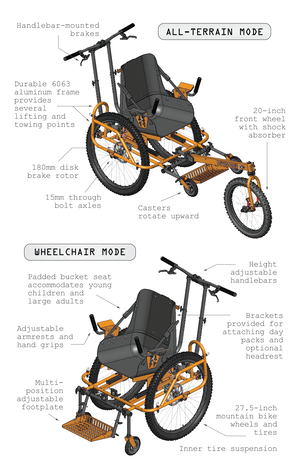 The AdvenChair opens up a world of outdoor adventures to individuals with physical disabilities.  It is designed for those with limited arm and upper body strength to be pushed and pulled by one or more people.  With its adjustable handlebars and hand brakes, a team of one to five individuals can help maneuver the chair through soft or rugged terrains.
The website describes many variables to consider:
"Important variables to consider are the weight of the rider, strength and number of the driver and pullers, the slope, trail width and surface, and size and number of rocks and roots.

The large wheels easily roll up and down curbs and over roots and rocks.  On a generally flat or mildly hilly trail, a driver (pusher) and puller shouldn't have any trouble.  For steep, rocky terrain with tight switchbacks, as many as five people may be needed."
The AdvenChair easily converts from a three-wheeled all-terrain mode to wheelchair mode (as demonstrated above.)  It's 31″ wide in wheelchair mode so the chair will easily fit through doors, allowing access to restaurants, elevators, ADA restrooms and more.
Overview of the AdvenChair:
Human propelled wheelchair for all terrain types
Weighs 55 pounds in wheelchair mode, or 60 pounds with all three wheels on
Frame width is 31″, length is 48½" in wheelchair mode, 74″ in all-terrain mode
Height is 44¼" with the handlebars in highest point
Comes in one standard frame size but three seat sizes (13″, 15″, and 17″ wide)
Seat back is adjustable with ratchet straps from 45 to 120º
Footrest is adjustable to many lengths and angles to fit various sizes of riders
The wheelchair will become available late spring/early summer 2020.
Click here to learn more!
Looking for an all-terrain powered wheelchair option?  Check out our blog on the Action Trackchair by clicking here.