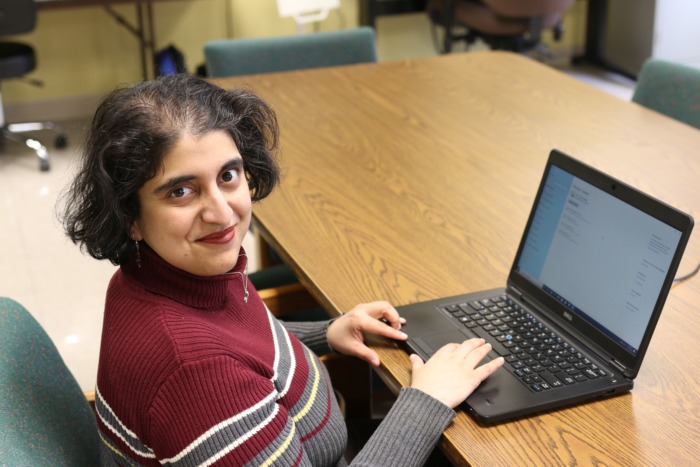 Radha Warty was born in India and moved to the United States when she was 5-years-old. She was born deaf. She attended the deaf school in New Jersey and learned sign language there. She was born to parents who both had their hearing and she struggled with communicating with them and others until she learned sign language and her parents also learned to sign. Her parents then decided that she would have a cochlear implant at 12-years-old. She now wears hearing aids and can hear sounds. She had speech therapy and now has some speech and can read lips. Her hearing aide allows her to hear sounds and music. Radha says she believes anyone who is deaf should study, research, and give cochlear implants serious consideration. She said, "It's most effective when done early in life especially if someone is born deaf. If it is done when someone is an infant they have a better change at becoming very proficient in speech. Assistive Technology allows me to hear sounds. I am able to communicate with people and when I am driving I can hear police and ambulance sirens. I also use a video phone to talk to people using an interpreter."
Radha received services from Vocational Rehabilitation (VR) services, which is a state agency that assists individuals with disabilities in obtaining or maintaining employment. Radha obtained a bachelor's degree in Economic from IUPUI. VR referred Radha to Easterseals Crossroads Employment Services to assist her in her job search after graduating. During her job hunt, Radha's job coach mentioned a volunteer opportunity in the INDATA Project's Equipment Reutilization Program (The Depot) because Radha loves working on computers.
In the Depot, computers, CCTV's, video magnifiers, and other assistive technology devices are received from donors and these items are sanitized, repaired and given to individuals with disabilities in Indiana for free. Donated computers are received from donors, wiped of all previous data, refurbished and provided at no charge to individuals with disabilities who live in Indiana and have no other means of obtaining a computer. After learning about this program Radha volunteered and did so for four years. Through her volunteer work in "The Depot", Radha learned new skills and continued her job search.
Radha said, "After my college graduation, my hopes were high to get a good paying job. Soon these were dashed as I struggled to get a suitable job that would complement my education. Positions that paid low hourly wages and tasks that required routine data entry work were the only options available to me. While I worked hard to overcome my deafness and graduate in 4 years along with main stream college students, it took me considerable time to deal with and accept the reality of the corporate world and its innate discrimination; its basic resistance to deal with and accept a person with a deaf disability. It was Crossroads that served as the big pillar of support to me. I was warmly welcomed and my volunteer work done there helped me learn new skills to repair and refurbish desktop and laptop/notebook computers, install Operating Systems and application software, wipe donated hard drives to meet DOD compliant level, and remanufacture computer components to usable parts and scrap. Alvin Alviar helped me learn all these new tasks and regain my confidence. I am grateful to Crossroads, and to Alvin in particular, for his patience in teaching and guiding me; and his constant support and encouragement that helped me finally recover from all early disappointments and get gainful employment in Indiana State Government."