Talking products help provide more independence for individuals with visual impairments.  If you're looking for something to make your kitchen more accessible, check out the Talking Microwave Oven from MaxiAids.
The Talking Microwave Oven is a microwave that's been "enhanced with talking functions in order to increase its accessibility."  It looks like your traditional microwave measuring 1.1 cubic feet, but with a male voice on the built-in speaker.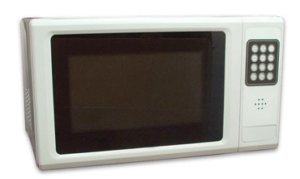 The microwave will be ready to use as soon as you plug it in!  When the microwave first turns on, it will automatically be in microwave mode with the power level on "High."  To use, simply set the cook time, select power level, and press "START".
Overview of the Talking Microwave Oven:
You will be able to hear announcements such as:

Running cook time
Setting cook time
Current power level
Microwave running
Attend to food
Current time
Adjustable speech volume

The microwave features a male voice with 8 volume levels
Two modes of operation: Microwave Oven and Kitchen Timer
Removable turntable and rotating ring; hand-wash with a mild detergent and soft cloth

Never use cleaning powders, steel wool or rough cleaning pads

1000 Watts
4 power levels
One year manufacturer's warranty on parts and labor
Measures: 20.2 x 12 x 16.7 inches