Podcast: Play in new window | Download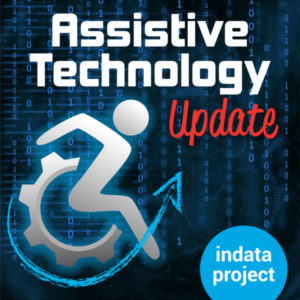 Your weekly dose of information that keeps you up to date on the latest developments in the field of technology designed to assist people with disabilities and special needs.
Show Notes:
————-Transcript Starts Here——————————-
Sam Seavey:
Hi, this is Sam Seavey, the creator of the YouTube channel The Blind Life. And this is your Assistive Technology Update.
Josh Anderson:
Hello, and welcome to your Assistive Technology Update a weekly dose of information that keeps you up to date on the latest developments in the field of technology designed to assist individuals with disabilities and special needs. I'm your host, Josh Anderson with the end data project at Easter Seals Crossroads in beautiful Indianapolis Indiana. Welcome to episode 461 of Assistive Technology Update it's scheduled to be released on March 27th, 2020. On today's show, we're excited to have a bit of a YouTube superstar. We have Sam Seavey on from The Blind Life. We also have some information about the census and how accessible it's going to be for individuals with disabilities to ensure that they get counted this year. This is also our last show during Disability Awareness Month. So hopefully you saw some great things, your community, or maybe people you know we're doing during the month, and hopefully maybe we can continue some of that for the rest of the year.
Josh Anderson:
Are you looking for more podcasts to listen to? Do have questions about assistive technology? Are you really busy and only have a minute to listen to podcasts? Well, guess what? You're in luck because we have a few other podcasts that you should really check out. First one is Assistive Technology Frequently Asked Questions or ATFAQ hosted by Brian Norton and featuring myself Belva Smith, and a bunch of other guests. What we do is we sit around and take questions about assistive technology, either about accommodations, about different things that are out there or about different ways to use things. We get those questions from Twitter, online, on the phone and in many other ways. We're also trying to build a little bit of a community as sometimes believe it or not, we don't have all the answers. So we reach out to you to answer some of those questions and help us along.
Josh Anderson:
You can check that out anywhere that you get your podcast and wherever you find this podcast, we also have Accessibility Minute. So Accessibility Minute is hosted by Laura Medcalf. And if you've never heard her voice, it is smooth as silk. And you should really listen to that podcast. She's going to give you just a one minute blurb about some different kinds of assistive technology, kind of wet your whistle a little bit and just let you know some of the new things that are out there so that you can go out and find out a little bit more about them yourself. So again, check out our other shows, Assistive Technology Frequently Asked Questions and Accessibility Minute available, wherever you get your podcasts.
Josh Anderson:
Every 10 years here in the United States, we do a census and 2020 is the year that the census is being run. And here in March is when you should have started maybe seeing some information about filling out the census and getting everyone counted. A lot of people have some fears about the census and really the census is pretty important. It's how they tell you how many representatives your state and area gets. It's how funds are distributed for roads, for schools and for other things like that. So it's very important to actually have it filled out, but I just wanted to make sure that folks, especially individuals with disabilities know how they can fill out the census. Just to ensure that they are counted in this year's count.
Josh Anderson:
So I'm going to put a few links in the show notes. One is to a PDF talking about the accessibility of the census. And then the other one is just to the actual census' site itself, but there are different ways that you can respond. Starting in mid-March, you can respond online and this can be done in English or 12 other languages. It says that the online questionnaire is fully accessible following the latest web accessibility guidelines. And they also have a video on there in American sign language that can guide you through responding online. If you prefer, you can always respond by phone and it gives you the phone number right here on this, and they can do that in English or 12 additional languages, or by TTD.
Josh Anderson:
Starting in April, they're going to be sending out a paper questionnaire for any household that hasn't already responded and actually says that some folks may have got this questionnaire with the first invitation in March. So it may have kind of come. It says that they'll also have braille and large print guides available online to assist you with completing the paper questionnaire if you want. And then of course come mid May. People that haven't responded, we'll start having in person visits, but it does say that they have American sign language interpreters available for individuals, if you need that and prefer to wait and talk to someone in person. Or it says you can always have another member of your household, that kind of help as well. But remember here, we really like to talk about independence and doing things on your own and just making sure that you're counted.
Josh Anderson:
So again, whatever you think about the census, it is how they divvy up those federal funds to different states, different localities. It's how schools are planned. It's how tax dollars go. Roads, fire departments, police, a lot of very important things are decided. And not only that, but how many representatives you have in Congress is decided by this count as well. So if you do not get a good count, you could end up not being completely represented. And that is definitely something we don't want for anyone in this nation. In particular, individuals with disabilities. I will put a couple of links over in the show notes again, to the document that just talks about the accessibility of the census, as well as 2020census.gov, which is where you can go with any questions or to respond online.
Josh Anderson:
Folks, our guest today has 20,000 subscribers on YouTube and gets tens of thousands of views for his videos. Our guest today is Sam Seavey from The Blind Life. And he's been nice enough to come on our show and talk about his show, Sam, welcome to the show.
Sam Seavey:
Thank you very much. Yeah, it's my pleasure. Happy to be here.
Josh Anderson:
Yeah. It's nice to actually get to talk to you in person, but before we start talking about The Blind Life, tell our listeners a little bit about yourself.
Sam Seavey:
Well yeah, so I am 43, father of two children, married, probably the most notable thing about me is I'm visually impaired. I'm legally blind and have been since childhood. Everybody always wants to know the acuity. So I'll let you know, it's 2,400 in my good eye, 2,800 in my bad eye. And my vision impairment is Stargardt's disease.
Josh Anderson:
Wow. You got into really deep there. And I would say that being known for being a parent is pretty good too. Because I'm 40 years old and I have three kids. So yeah, I would definitely say that, that's something to be known for as well, but I do know that that has kind of led to what you've ended up doing. So tell us about The Blind Life.
Sam Seavey:
Sure. Yeah. Well The Blind Life is my YouTube channel. I've been doing it for about seven years now. Yeah. About seven years. And it's basically a channel dedicated to helping individuals affected by vision loss. As I said, I myself, am legally blind and I've lived with it a long time and I know what works and what doesn't work and all the tips and tricks. And I'm happy to share those with anybody that wants to learn how to live an amazing blind life.
Josh Anderson:
So what made you decide to do a YouTube channel?
Sam Seavey:
Long story short. I was looking for a job. I needed something to do. I was a stay at home parent for many, many years of my daughter and I had odd jobs here and there. I had to quit my job in a restaurant because my eyes were getting so bad that I couldn't do it. Among other things, other reasons why I had to leave the restaurant. But so at this point, I needed something to do. I was bored. And so I started working for another YouTube channel, making videos about mobile technology, Android systems, Android phones, and tablets, things like that. Teaching people how to modify those Android devices. And that led into making videos about apps for Android phones, assistive technology apps, and accessible apps. And based on the very positive reactions I was getting from those videos, I decided to start my own channel dedicated specifically to vision loss.
Sam Seavey:
And because at the time this was 2013, there really wasn't much out there. There weren't very many visually impaired YouTubers. I think Tommy Edison was probably one of the only ones at that time. So I decided, yeah, I'll go ahead and start my own channel. I had all the equipment. I knew how to make videos and I did. And at the time it was called The Blind Spot, I've since changed the name, but The Blind Spot was an homage to my vision impairment Stargardt's disease, which is a juvenile form of macular degeneration. So I don't have any central vision and thus the blind spots. But it just started out slow at first, as most things do. And continually plugging along and here we are many, many years later and it's going pretty strong.
Josh Anderson:
Very good. Sam, about how many videos would you say you've created?
Sam Seavey:
Oh, goodness. On that channel alone, Now once again, I was making videos for this other channel as well, but on my channel alone, I have upwards of 550 videos.
Josh Anderson:
Wow.
Sam Seavey:
I know it's mind boggling.
Josh Anderson:
That that is awesome.
Sam Seavey:
They're not all winners though. I will say.
Josh Anderson:
They never are. They never are, but you know what, the ones that aren't winners make you realize how good some of them really are.
Sam Seavey:
Oh yeah, absolutely.
Josh Anderson:
So I know you said you kind of talked about dealing with sight loss. What are some like kind of overarching topics on the show?
Sam Seavey:
Well, a lot of it is geared towards people who are new to vision loss and they don't know anything about it. And I tell people all the time, I said, "That's perfectly normal." It's a lot like, I don't know anything about airplane mechanic, or how to fix a broken engine on an airplane because I don't live in that world and that's perfectly fine. So it's understandable that people don't know how to be blind. And unfortunately, a lot of people, it kind of happens suddenly, unexpectedly. And so I wanted to have a place where they could come learn how to do that and get that resource. So we do a lot of or I do a lot of videos about … A lot of how to videos, tips and tricks videos. Little things that we take for granted being visually impaired, little things we do all the time, but like I said, are brand new to a lot of people. And then the main focus of the channel right now is assistive technology. So a lot of assistive technology reviews and videos, feature videos and things like that.
Josh Anderson:
And in your reviews, do you really kind of endorse products or are you really just giving information kind of a pros and cons?
Sam Seavey:
Yeah, a lot of times I don't like to call it a review. I like to call it an overview and it depends, I'll do both really. I will have a video that it's strictly a review, and this is what I like about it. This is what I don't like because I was an assistive technology trainer for about four years. And so working with clients every day and also using assistive technology since I was 11 years old. You learn a lot about what works, what doesn't work, what is going to work for the majority of people. Keeping in mind that all vision impairment is different. And so just because what works for me, doesn't mean it's going to work for you. And that's a theme in a lot of my videos. Just because I think this is terrible, doesn't mean it might not necessarily work well for you. And I always encourage people to try these things out if they have the opportunity.
Sam Seavey:
So a lot of my videos keeping with that frame of mind, I say, "This is what it does. These are the limitations of what it does. And now you need to make your mind up. Is this going to work for you?" And it's difficult. Like I said, everybody is different. I got another email this morning, someone saying, "What CCTV is going to work best for me?" And I always have to reply, "I have no idea." Because everybody's different. And it is also goal dependent. What do you need this CCTV? Is this for school? You just want something to do the crossword puzzle? Well, that's going to be completely different of a device than someone that travels a lot. So I do my best to show what these things do and let the viewer make up their mind, whether it's going to be the right device for them.
Josh Anderson:
Excellent. You said you've been using AT since you were 11 years old.
Sam Seavey:
Yes.
Josh Anderson:
What was really the first device you can remember using that just made a huge difference?
Sam Seavey:
Well, probably my first CCTV. I think it was in middle school. I believe it was an old Aladdin. In fact, I know for sure it was an old Aladdin. The old reliable. When I was an AT instructors, this is just two years ago. We had a couple of Aladdins in our office and I would use that over the brand new digital, so-and-so or whatever. I would go to the Aladdin because they are just faithful. They will always turn on. Even after 20, 30 years. They still work great. But yeah, probably my Aladdin. I had magnifiers, of course. And I still use a magnifier. I carry a magnifier with me everywhere. So that's an important part of my assistive technology kit. But yeah, probably a CCTV was the first one that really made an impact.
Josh Anderson:
It's funny that you mention the Aladdin. I was just walking by our depot that takes in donated goods, donated computers and stuff. And I happened to notice that there was one in there. Turned on, working perfectly.
Sam Seavey:
Oh, yeah.
Josh Anderson:
I mean, it probably weighs 350 pounds, but still working perfectly. Big CRT monitor, but it works great. Still works great.
Sam Seavey:
As long as, as long as the light bulb doesn't go out because those are hard to find.
Josh Anderson:
Yeah, then you're in trouble. But yeah, I was like, "Oh, sweet somebody's going to be able to get that and it's going to work great for them."
Sam Seavey:
Yeah.
Josh Anderson:
You mentioned it a little bit there and you've done lots of reviews and talked about tons of equipment in AT, is there something that you was going to be just amazing and you found out it really wasn't?
Sam Seavey:
I can't say anything specifically. Nothing comes to mind. I get a lot of, and I saw this a lot as an AT trainer too, that the manufacturers always are for certain that this is going to change everyone's life. And this is going to be the device that's going to solve all the problems. And not really wanting to call anybody out, but I kind of will, eSight was one of them that drives me crazy because their marketing slogans were just the worst. One of them was bringing sight to the blind. And it's like, "No, you're not." It's basically electronic binoculars. You're just enhancing the sight that someone already has. Things like that really rub me the wrong way.
Sam Seavey:
But like I said, just some of these new devices, some of the wearable devices. People are like, "Oh, it's going to be the answer to all of my problems." And then they get it and they realize, no, it really isn't. It does some things great in some situations, but not all. And that's unfortunate.
Josh Anderson:
Yeah. And I know we run into that every time. Especially when it seems like the local news will pick up on a story of somebody kind of getting a piece of AT, that maybe does make a giant difference for them. But then we'll get calls, and well, I have sight loss can this help me? And maybe, I'm really not sure. And again, it depends on your goals, depends on this. And it really just depends on so many different factors, but yeah, some of them do have some very good marketing and I know we've run into that here kind of as well.
Sam Seavey:
Like I said, some of these news things will pop up or the device will be featured on a talk show and it's just amazing. Oh, he sees his fiance for the first time. It's like, "No, he's seen her, he's seeing her detail for the first time, maybe." Her eye color, things like that. But then I see these videos on YouTube and the comments are just ridiculous and I will spend so much time and get so frustrated going through comments and answering comments. No, he's not totally blind. Yes, he's considered legally blind. Blindness is a spectrum. It's just like, "Oh." The misinformation out there is ridiculous.
Josh Anderson:
It really is. It really is. Yeah, and kind of like you said, they have very good advertising agencies and they're paid to kind of help that kind of stuff out. Sam, what technology are you looking forward to in the future? I mean, there's so much new stuff coming out and things like that, but is there a certain kind of technology or certain way technology is going that you're really looking forward to?
Sam Seavey:
Well, I'm excited about wearable devices. I'm excited about the future, how everything is getting smaller and more streamlined. There's this new emerging battery technology that's supposed to replace lithium ion batteries. And that's really exciting. And if it does, then a lot of devices are going to get smaller, which for wearables that'd be great. Cell phones, no. Don't make them any smaller.
Josh Anderson:
Yeah.
Sam Seavey:
If they can get a pair of wearable devices down to what looks like a pair of wraparound sports sunglasses, that would be fantastic. I would love that tremendously. And then there's the new emerging field of haptics and haptic languages that seems really, really cool. There's some companies that are working on not just alerting you. You get a buzz when something is nearby or something like that, but fully being able to detect objects just by vibration and detecting like shapes and sizes and distances of objects just by vibrations. It seems really cool.
Josh Anderson:
Sam, I work with a lot of individuals who experience some degree of sight loss, and I've noticed that a positive attitude isn't always an easy thing to come by. Yet kind of in your videos, and really just in talking to you, you always seem to have a positive attitude and kind of see the glass as half full. How do you keep that positivity and kind of what advice would you give to others to try to keep that positive attitude?
Sam Seavey:
Well, I like to preface it by saying I wasn't always a positive person. I did not like growing up visually impaired much like a lot of people I'm sure. Going through school was tough. I've always had the glass is half full kind of attitude, but it probably wasn't until my late 20s, 30s before I fully accepted my vision impairments. And this is the way it is. There's nothing I can do about it. It's exhausting to keep hiding it and trying to fake that I'm sighted when I'm not. And so I might as well just accept it and be my true self. Like they always say these days. Live your best life. And so that's what I did. I started living my best blind life.
Sam Seavey:
I really credit it to my wife also for helping me with that because giving me that tough love of her basically saying you're being ridiculous, knock it off. One way I look at it is, I don't know actual numbers, but I think there are way more people with some sort of vision impairment in the world than people who are just perfect, 20/20 vision. A lot of it's corrected by glasses and things like that, but a lot of people have something going on. So we are definitely in the majority. And so we should remember that, but I also think, it could be a lot worse. I have my health, I have a beautiful family. I have this great outlet on YouTube that I can reach people and everybody has this outlet. That's the nice thing about YouTube and things like this, podcasts. Everybody can have a voice if they want. I just saw a brand new channel this morning, this beautiful young lady. Through the Eyes of Abby is her YouTube name. I'm going to give her a plug on here. Through the Eyes of Abby. I think she's young. I'm not sure how old, probably about 13 or 14, but just doing daily vlogs in her room and sharing her life. And she's just an amazing young lady.
Sam Seavey:
So positive attitude, attitude is important. That being said, everybody has bad days. I have bad days all the time still, but it helps to know that you're not alone. There's amazing community on Facebook. Now, the YouTube community is just blowing up. There's all types of channels. So it helps to know that it's a big world out there, but it makes it a little bit smaller when you see that there's others going through the same thing that you are.
Josh Anderson:
Now, if somebody would want to get into to maybe making YouTube videos and kind of getting that outlet. What kind of advice could you give them?
Sam Seavey:
Well, I actually just made … A couple of weeks ago, I made a video how to start a channel, a YouTube channel with vision impairments. So I would definitely encourage someone to go watch that, but there's little tips and tricks. I talk about those in the video, setting up your camera, setting up some … I'm a big proponent of creating systems, systems for success. So YouTube, you can create a system that works well for you that's repeatable. Regarding how to set up your camera, how to record so that you know you're actually in the shot every time. And for most of us, we can't see the screen on the back of the camera or the phone screen. So having a repeatable system that's reliable every time is important.
Sam Seavey:
But the most important thing I can tell people is, if you're thinking about doing a channel, just do it. Just to get started. That's the biggest hurdle that most people have is they just keep putting it off or there's that fear that it's not going to be great. It's not going to be good. Who's going to want to watch this? And I tell everybody and this is true. You can look at my first several videos. Everybody's first videos are generally terrible. Everybody starts, it's going to be bad, but you have to do that. You have to start. A quote that I gave in that video. I believe it was in that video is, "You don't have to be great to start, but you do have to start to be great." And it's so true. It's like I said, it's going to be bad at the beginning and that's fine, but you just get a couple under your belt. Practice makes perfect and soon you'll be putting out videos on it on a weekly basis.
Josh Anderson:
Excellent. So what is next for The Blind Life and for you Sam?
Sam Seavey:
Well, I'm just continuing to grow the channel, trying to reach as many people as possible. I go to conferences every year. So if you guys go to an AT conference, you'll probably see me. I'm going to be at CSUN here in a couple of weeks in California. So that's going to be a lot of fun. I'm working on my websites. The official Blind Life website should be up and running hopefully soon. And that'll be a great central location where people can go to learn everything about The Blind Life. What's going on in my life and on the channel and things like that. And just working with companies, bringing new information about emerging technologies to the community. That's one of the benefits of my channel I think is that not everybody can get to a conference, not everybody can travel.
Sam Seavey:
And so I hear that all the time. People say, "Well, I didn't know that was even a thing. That piece of technology even existed." And it can be so helpful. The goal of the channel is to hopefully get as much information out there so that people can benefit from it.
Josh Anderson:
Well, it's always nice to get that perspective too, from somebody who's used AT or knows about it, but not someone who's trying to sell the AT. So you can actually kind of say, "Yeah, these are the good things. These are the bad things, as opposed to, it's going to change your life and be amazing." That always does kind of help. Well, Sam, how can our listeners find out more and how do they find The Blind Life?
Sam Seavey:
Sure. Well basically, if you even just Google The Blind Life, you will find my YouTube channel. One of the benefits of having over 500 videos out there, it's pretty easy to find. Or if you just go to YouTube, you can search The Blind Life. The actual URL is youtube.com/theblindlife. You can also send me an email, theblindlifesam@gmail.com.
Josh Anderson:
Perfect. Did you want to plug that website that's going to be coming out soon or do we not want to have anyone go there before it's ready?
Sam Seavey:
Yeah, I got to wait.
Josh Anderson:
Okay, that sounds good.
Sam Seavey:
It's still under construction. I'm very eager to do that, but not quite.
Josh Anderson:
All right. Sounds good. Well, maybe we can work that into show notes kind of as it actually comes out. Well, Sam, thank you so much for coming on here today. Taking time out of making those videos to talk all about The Blind Life.
Sam Seavey:
It was my pleasure. Thanks for having me.
Josh Anderson:
Do you have a question about assistive technology? Do you have a suggestion for someone we should interview on Assistive Technology Update? If you do call our listener line at (317) 721-7124. Shoot us a note on Twitter at INDATA Project, or check us out on Facebook. Are you looking for a transcript or show notes, head on over to our website at www.eastersealstech.com. Assistive Technology Update is a member of the Accessibility Channel for more shows like this, plus so much more head over to accessibilitychannel.com. The views expressed by our guests are not necessarily that, of this host or the INDATA Project. This has been your Assistive Technology Update. I'm Josh Anderson with the INDATA Project at Easter Seals Crossroads in Indianapolis, Indiana. Thank you so much for listening and we'll see you next time.