Sensational Learners is a company with a passion to "bring the joys of learning through play to children of all ages and abilities."  For many individuals with autism or other special needs, recognizing emotions can be a challenge.  Sensational Learners offers the My Feelings board game, which makes exploring, recognizing, and acting out emotions fun!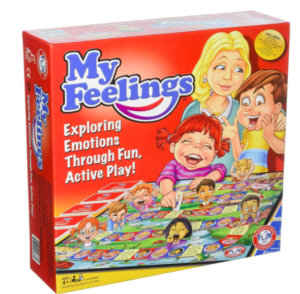 Claudia Faierman-Shulman is the founder of Sensational Learners Inc.  Here's the story behind the company:
"When one of her own children encountered a language delay, Claudia immersed herself in the world of special needs and education. She began attending every conference, workshop and lecture she could find on topics such as Autism, Sensory Integration, Social Skills Training and Feeding Management. She began reading, researching, educating herself and connecting with renowned clinicians. The more she learned, the more she realized the importance of learning through play!"
The My Feelings board game features seven basic feelings that players will first identify, then explore by drawing cards. As they play, children will "discover how to recognize feelings in themselves and in others, and to cope with them in socially appropriate ways."
Overview of the My Feelings Board Game:
280 scenarios to help children explore and talk about feelings
Objective is to be the first player to reach the end of the game path by recognizing, exploring, and acting out emotions
Game comes with a colorful booklet titled All About Feelings – this booklet introduces children to seven different characters with seven different feelings (that they'll also meet in the game)

For example: Happy Hannah, Frustrated Freddie, Tired Tomiko, Excited Ethan, and more!

The My Feelings game was developed in collaboration with leading speech-language pathologists and occupational therapists to "promote the social-emotional development of young children by encouraging them to express their feelings in an exciting, engaging activity"
Game comes with:

Gameboard
4 character pawns
4 blank pawns for personalization
140 blue "What makes me feel ____?" cards
133 red "When I feel ____" cards
24 Silly Time cards
Spinner
All About Feelings booklet
Game guide

For children ages 4 and up
2-4 players
Please note that reading is necessary to play the game
Check out Sensational Learners' website to learn more!